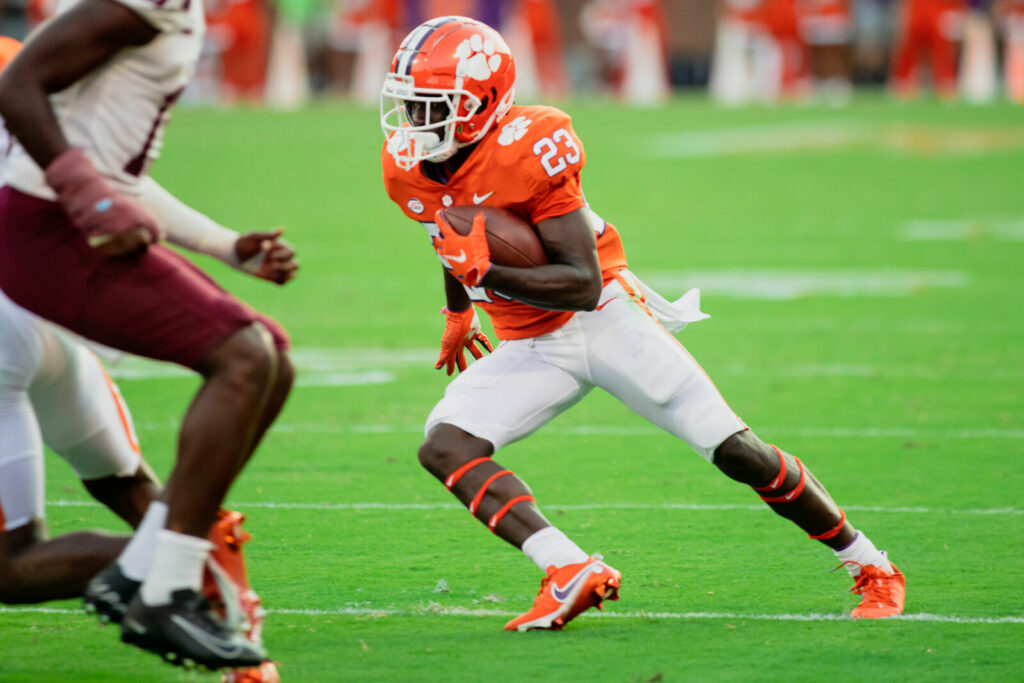 With the season over for a lot of teams, attention has now turned to coaching hires and the new free agent transfer portal. Coaches leaving certain programs has triggered several previous top talents to leave their current school for greener pastures.
Clemson has not been shielded from this new phenomenon, having six players currently leaving the Tigers and into the fray. Running backs Michel Dukes and Lyn-J Dixon have taken to the portal to try and find playing time somewhere. Dixon has landed at West Virginia. Safety Joseph Charleston saw his playing time dwindling towards the end of the season as freshman Andrew Mukuba continued to see the field more and more. LB's Kane Patterson and Jake Venables have both decided the depth chart did not look good to them. Venables will graduate soon and have one year of eligibility somewhere else. OT Paul Tchio, from Alpharetta, GA, has decided to get closer to home by transferring to Georgia Tech.
Speaking of Georgia Tech, the Yellow Jackets are losing their starting quarterback, Jordan Yates, AND one of the top young running backs in the ACC, Jahmyr Gibbs, to the portal. Gibbs rushed for over 700 yards and four touchdowns this year, and also caught 35 passes for 465 yards and two more touchdowns.
The Oklahoma Sooners lost head coach Lincoln Riley to the west coast USC team, but what makes it worse is losing QB Spencer Rattler and WR Jadon Haselwood (former 5-star WR) to the portal. Rattler began the season as the starter and possible Heisman hopeful but was replaced by Caleb Williams part way during the season. After losing Riley and two talented players to the portal, the Sooners also had 5-star quarterback Malachi Nelson decommit and possibly look to follow Riley to USC (the real one). Three other top recruits for the Sooners have also decommitted but no reports on where they may be headed. It has not been a good weekend for Oklahoma fans.
LSU coach Ed Oregron played out his career with LSU, and just recently hired Brian Kelly, coming over from Notre Dame. 5-star CB Eli Ricks committed to LSU in 2020 and, although no reasons are given, has decided to enter the transfer portal as well. Backup QB Myles Brennan had entered the portal earlier in the season.
No one appears to be immune (no pun intended) to the transfer portal, including our own Clemson Tigers. There will be more players utilizing the portal, no doubt, but will Coach Dabo Swinney relent and start recruiting it? He has stated in the past "I don't like it, but that's the way the world is." He didn't say HOW he would use it but my bet is he continues to recruit the best high players he can and develop the ones that WANT to be a Clemson Tiger. As for the transfer portal? All I can say is "wait and watch."