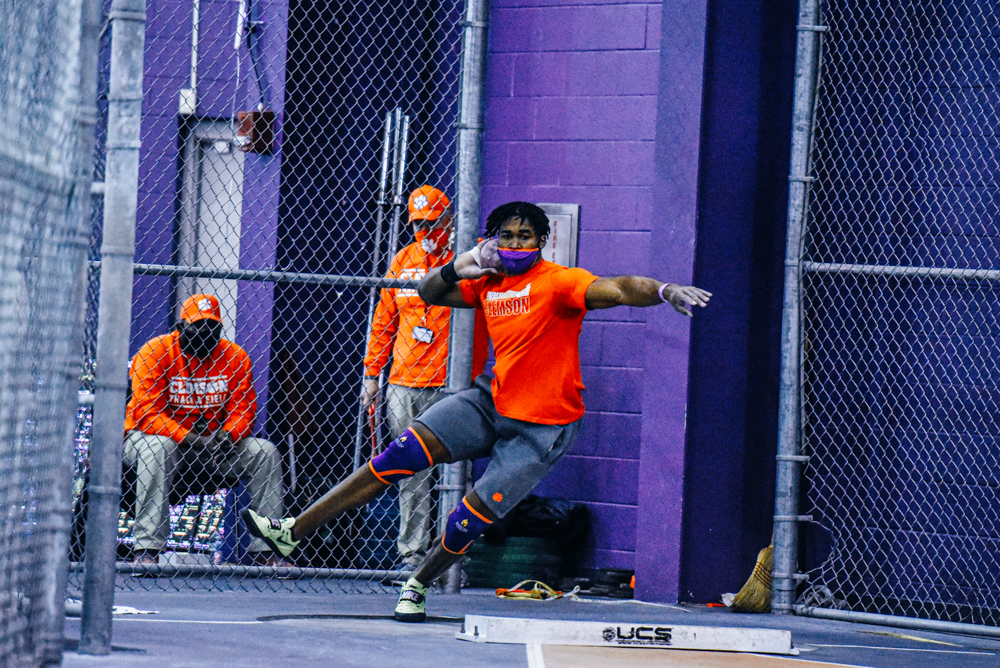 CLEMSON, S.C. – On his third attempt during the men's shot put competition, Roje Stona threw his name into the Tigers' top 5 all-time list thanks to his toss of 17.94 meters (58 feet, 10 and one-quarter inches). Entering the weekend, Stona touted a personal best of 17.56m — previously the No. 6 mark on the Tigers' all-time list — set at the 2020 ACC Indoor Championships. Stona's performance on Friday now places the sophomore discus specialist ahead of teammate Zico Campbell by one centimeter.
"Talking to coach [Shawn] Cobey, we knew that he was ready to hit one in what is his second event," said Mark Elliott, Clemson's Director of Track & Field. "Two weeks out from ACC's, we know that he [Roje] is going to be ready to compete, and Zico [Campbell] will be right there with him."
Trishauna Hemmings showed that she is rounding into championship form in the 60-meter hurdles after contributing a pair of top-class performances Friday afternoon. During her preliminary heat, the senior hurdler ran 8.14 seconds and nearly duplicated the effort later in the day, running 8.15 during the event's final. Entering this weekend's Tiger Paw Invitational, Hemmings had only ever run 8.15 or faster on one occasion. Hemmings became the No. 3 performer in Clemson's storied short-hurdles history earlier this season by running 8.12 at the Bob Pollock Invitational.
John Ward continued his impressive run of form this season, as the senior from Greenville lowered his personal best in the mile on Friday, running 4:07.18 during the event's opening heat. Ward entered the season with a best of 4:16.21 from the 2019 Clemson Invitational. On Friday, Ward's final 800 meters was clocked at 2:02.76, capped by a 30.21 split during the last 200 meters.
"John Ward is definitely becoming a [high-level] division one miler, and you can tell that there is more room to improve… he's doing extremely well," remarked Elliott. "To see Trishauna get back into the 8.15's, and in talking to coach Lennox [Graham], there's still a few little mistakes that she can fix to improve."
Inside the track, Caroline Johnston and Jessica Brewer each set season bests during their respective field events this afternoon. In the long jump, Johnston soared to a mark of 5.85m (19-2.5) on her third trip down the runway to finish seventh overall. Brewer cleared the opening bar — 5.56m (11-8) — in the women's pole vault to eclipse her best mark this season by six centimeters.
In the quarter-mile, Jevon Williams was the star of the day for Clemson, running a personal best in the event with his time of 47.90. Williams has set a best in each of his three efforts at 400m this season. On the women's side, Aliyah Mallard and Ken'Naria Gadson were the Tigers' pair of entries, with Gadson leading the way thanks to her season's best of 56.32 during her preliminary heat.
Riley Coggin led the Tigers during the women's mile, setting a new season's best by crossing the line in 5:00.70. Coggin helped freshman teammates Meredith Finley (5:04.23) and Lauren Hayes (5:04.45) set personal bests on Friday. Finley has improved upon her season-opening mark in the event by 15 seconds this season.
To conclude the day's action, junior Veronica Fraley recorded a season's best in the second round of the women's weight throw, recording a mark of 15.76m (51-8.5) to finish third overall. Fraley's finishing position was the best for the Tigers during Friday's competition.
As a program, Clemson recorded seven personal bests and 10 season bests on Friday.
"Today, the first day of Tiger Paw, we missed the crowd, but I think the kids are taking advantage of it [the opportunity]," added Elliott. "Having a complete team is what we strive for, and it's very difficult on an NCAA level. Looking forward to the conference meet, hopefully everyone stays healthy and is ready to go."
Clemson will return to action tomorrow, Feb. 13, as day two of the Tiger Paw Invitational will get underway at 11 a.m. with the men's weight throw, women's high jump, men's triple jump, and men's pole vault. Live results for this weekend's meet can be accessed here.
For all of the most up-to-date information regarding Clemson's Track & Field programs, be sure to reference clemsontigers.com and follow @ClemsonTrackXC on Twitter.