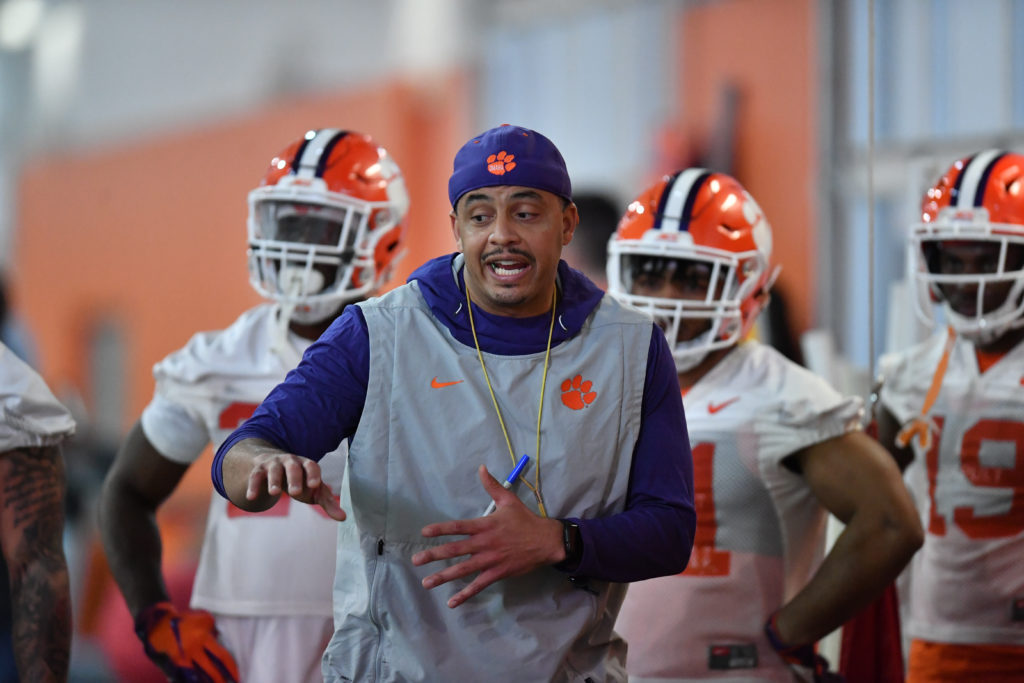 The Story of Tony Elliott
By Makenna Biehl

   "It always challenged me to have a plan. Going through all the adversity, overcoming so much, and finding a relationship with the man above revealed my purpose. It gives me a peace and calmness that not only prepares me for the job but helps me in life in general," said Tony Elliott. These wise words from Clemson football offensive coordinator, Tony Elliott, pushed him to continue to succeed when he faced adversity. Elliott overcame a tragic childhood and has now become one of the best assistant coaches in college football. 

   Elliott's parents split up when he was four, which meant he and his sister, Brandi, were left to live on the streets of Los Angeles with their mother. At the same age, he was hit by a truck outside of his mom's salon in Watsonville, California. The accident left him in critical condition, and he was left with a broken arm, four broken ribs, severe road burn, and a lacerated spleen. Elliott had life-saving surgery and later learned how to walk again after the traumatic experience. 

   But that wasn't the end of the struggle for Elliott. On June 11, 1989, Elliott and his family were headed to church when they got into a tragic car accident. He rescued his younger sister and stepbrother from the car while his stepfather was lying injured next to the van. But that wasn't the worst part, Elliott then saw his pregnant mother on the street, not moving. She was thrown through the windshield of the car upon the collision. Being only nine years old, it was a lot for such a young kid to take in. "When I found her, she was lifeless on the ground in a pool of her blood. That's the last time I saw her. It was a sight you wouldn't want to see as a 9-year-old," said Elliott. 

   Elliott knew that things were going to change after that, he said, "It was a day that changed my life forever. It caused me to grow up. It was a gift and a curse. I honestly believe if that situation hadn't taken place, I wouldn't be the person I am. I hate that I had to experience a lot of things without my mom, but ultimately, I believe she sacrificed. Her time was done, and the Lord took her away so I could have life." Tony and Brandi were reunited with their biological father, Jerome Elliott, after the accident. Jerome was in and out of jail, so they were left needing somewhere to go regularly. Tony and his sister moved to Atlanta to live with their father's brother, but they knew they would need something more permanent. Tony ended up moving to James Island, South Carolina, to live with his aunt and uncle, Blondell and John Kidd. However, they weren't financially stable enough to take care of Brandi too so she moved to Atlanta to live with another aunt. The split was especially hard for Tony because he helped raise his sister for the majority of her young years. "There were a lot of nights when I cried myself to sleep, wanting answers. I wasn't mad at anyone. I just wanted answers. The entire time, I had a little girl who looked up to me and saw me as her dad, mother, and big brother," he said.

   James Island High School was the start of a new life for Elliott, and he soon became a basketball and football star for the school. He was recruited to multiple D1 schools like Furman, Wofford, and The Citadel. However, in the end, he decided to attend the U.S. Air Force Academy Preparatory School in 1998. After spending a year there, Elliott moved back to James Island because he realized the military wasn't for him. He enrolled at Clemson University in 1999, where he walked onto the football team as a freshman wide receiver. Elliott lettered four straight seasons, earned a scholarship as a junior, was a co-captain his senior year, and even finished top of his class. At the time, his position coach was Dabo Swinney, who described Elliott as a great leader that was always there to serve his teammates. Elliott finished at Clemson with a bachelor's degree in industrial engineering, and he picked up a job with Michelin North America in 2004. He had a successful future ahead of him with the company; however, he felt like there was a missing piece inside. Elliott realized that missing piece was football, so he began working as a volunteer football coach at a high school in Easley, South Carolina. He later quit his job and married his wife, Tamika, and then a week later started his first official coaching job at South Carolina State in 2006. South Carolina State was a strong start for him because then two years later, he became the receivers coach for Furman University. Then, in 2011 Swinney invited Elliott and Tamika to dinner at his house on Sycamore Drive in Clemson to offer him a job as his team's running backs coach. "I told him I wanted him to accept it right here. It was [the same street name] where he'd had such a traumatic experience as a kid, and I wanted him to have a great experience now. I think God winks at you and gives you confirmation from time to time. I think God winked to me. I was kind of contemplating things, and that was the confirmation I needed," said Swinney. Elliott took the job and coached the team's receivers for four years until Swinney wanted to give him the prominent role of the team's offensive coordinator alongside Jeff Scott. 

   This past December, Jeff Scott was hired by South Florida, meaning Elliott will be leading the Clemson offense solo for the first time this 2020 season. This left the fear that Elliott would want to leave to coach at his own program, but he said that he wanted to stay and help lead the Tigers. "Something we talk about all the time is just bloom where you're planted. There will come a time where I'll be uprooted and have to move on, but I'm not looking for that. It's going to have to be something that is led by the spirit, the right opportunity. Right now, focusing on being the best version of myself where I am, and that has helped this program. For everybody in the program, being committed and loyal to the program is why you see the way our players play," said Elliott. Elliott will be leading a dominant offense this upcoming season and hopes to bring a championship home to Clemson.