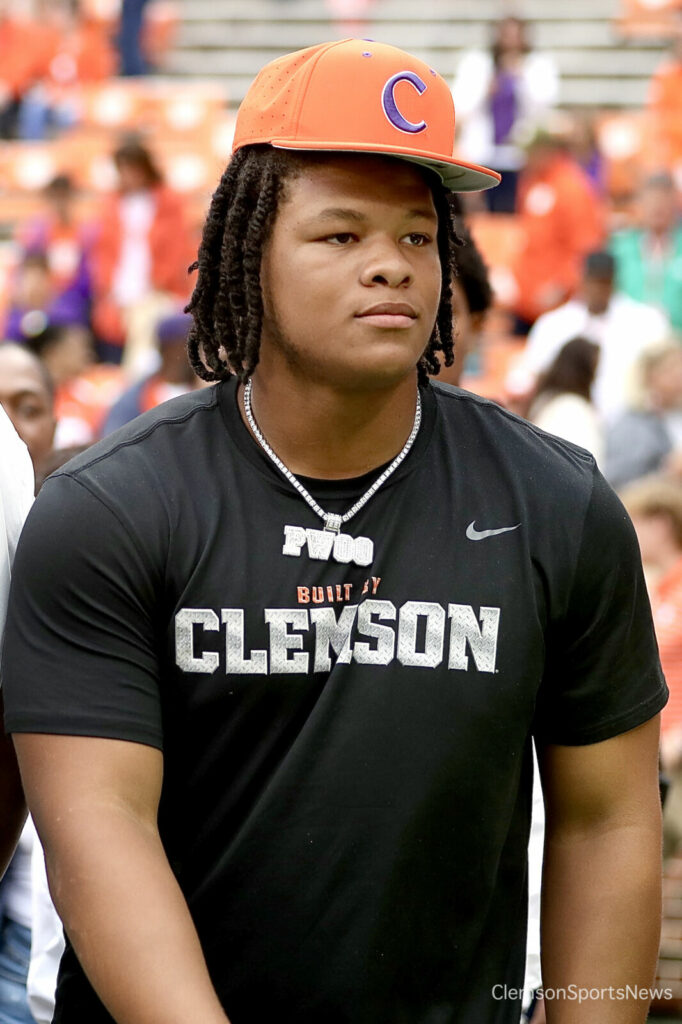 Visitors for Saturday's Game
The Clemson Tigers are not only hosting #10 NC State. A bevy of prospects are also making their way to Death Valley. Several Clemson commits will be in attendance.
Below is a list of current Tiger commits in the Valley today:
5-star Christopher Vizzina, QB, 6-4 207, Birmingham, Ala. 4-star Jamal Anderson, LB, 6-4 202, Hoschton, Georgia 4-star Ian Reed, OL, 6-6 315, Austin, Texas
4-star Harris Sewell, OL, 6-4 300, Odessa, Texas
4-star Branden Strozier, CB, 6-2 175, Alpharetta, Georgia
The Tigers welcome back several high target prospects, including 5-star LB Sammy Brown and 5-star Athlete KJ Bolden.
Brown, 6-2 225, is the #1 ranked LB in the 2024 class and listed as the 2nd best player in the state of Georgia. He is a Top 5 player nationally. In 5 games for Jefferson High School in Jefferson, Georgia, Brown has registered 31 tackles and one interception. He also leads his team in rushing with 636 yards on 86 rushes (7.4 ypc) and nine touchdowns.
Bolden, 6-1 185, is ranked as the #1 safety in the 2024 class, as well as the #1 player in the state of Georgia. His offer list features all the big guns, including Alabama, Georgia, Florida and Clemson.
To say 4-star offensive lineman Kam Pringle is a big prospect is not doing him justice. Pringle is 6-7 330 and currently listed as the #1 player in the state of South Carolina in the 2024 class and the #2 OT in the country. One site currently has Pringle favoring USC. He lists Clemson, USC, and Ohio State among his 21 offers.
4-star Asaad Brown is one of the top cornerbacks in the country and the 2nd best player in the state of Virginia in the 2024 class. Among his 35 offers are Power 5 schools Georgia, Clemson Michigan, LSU and Florida State.
Big time 4-star safety Tavoy Feagin, 6-0 170, has picked up 47 offers to date. Feagin, from Tampa, Florida, is currently ranked as the #6 safety in the 2024 class.
4-star Defensive lineman Champ Thompson, 6-3 275, is out of Norcross, Georgia. Among his offers are your usual SEC powers Alabama and Georgia, as well as Arkansas and Florida State. He ranks as the 20th best player at his position in 2024.
Huge OL, Fletcher Westphal, 6-7 330, has been making his visits lately. The 4-star lineman has picked up 30 offers to date, including offers from Auburn, Georgia, Michigan, and Miami.
4-star offensive lineman Waltclaire Flynn Jr. out of Loganville, Georgia, will be on hand to watch the Tigers take on the Wolfpack. Flynn, 6-1 305, is listed as the #6 ranked interior offensive lineman in the country in the 2024 class. The Tigers are going up against the likes of instate Georgia, Auburn, and Florida State for his services.
Defensive lineman 4-star Justin Greene is just another Georgia lineman the Tigers are coveting. Greene, 6-4 250, ranks as the #8 defensive lineman in the 2024 class, and the #11 overall in the state of Georgia.
Below is a list of additional visitors making their way to Death Valley to take in the sights and sounds of one of the top games in the country.
Nolan Hauser, PK, 6-1 180, Cornelius, NC, 2024
Mekhai White, ATH, 6-2 182, King George, VA, 2024 3-star
Jonathan Payler, ATH, 5-9 170, Burlington, NC, 2024, 4-star (NCST lean)
Jaylen-Brown Wallace, WR, 6-2 185, Central, SC, 2023
KingJoseph Edwards, TE, 6-5 242, Buford, GA, 2024.4-star (UGA Lean)
Jake Guarnera, OL, 6-3 290, Ponte Vedra Beach, FL, 2024 3-star
Dakarai Anderson, WR, 5-8 165, Perry, Georgia, 2024
Marshall Pritchett, ATH, 6-5 200, Charleston, SC, 2025
Ian Flynt, TE, 6-5 248, Kety, Texas, 2024 3-star
Caleb Odom, TE, 6-5 204, Carrollton, Georgia, 2024 4-star
Sacovie White, WR, 5-8 162, Cartersville, Georgia, 2024 3-star
Adonis McDaniel, ATH, 5-11 160, Columbia, SC, 2023