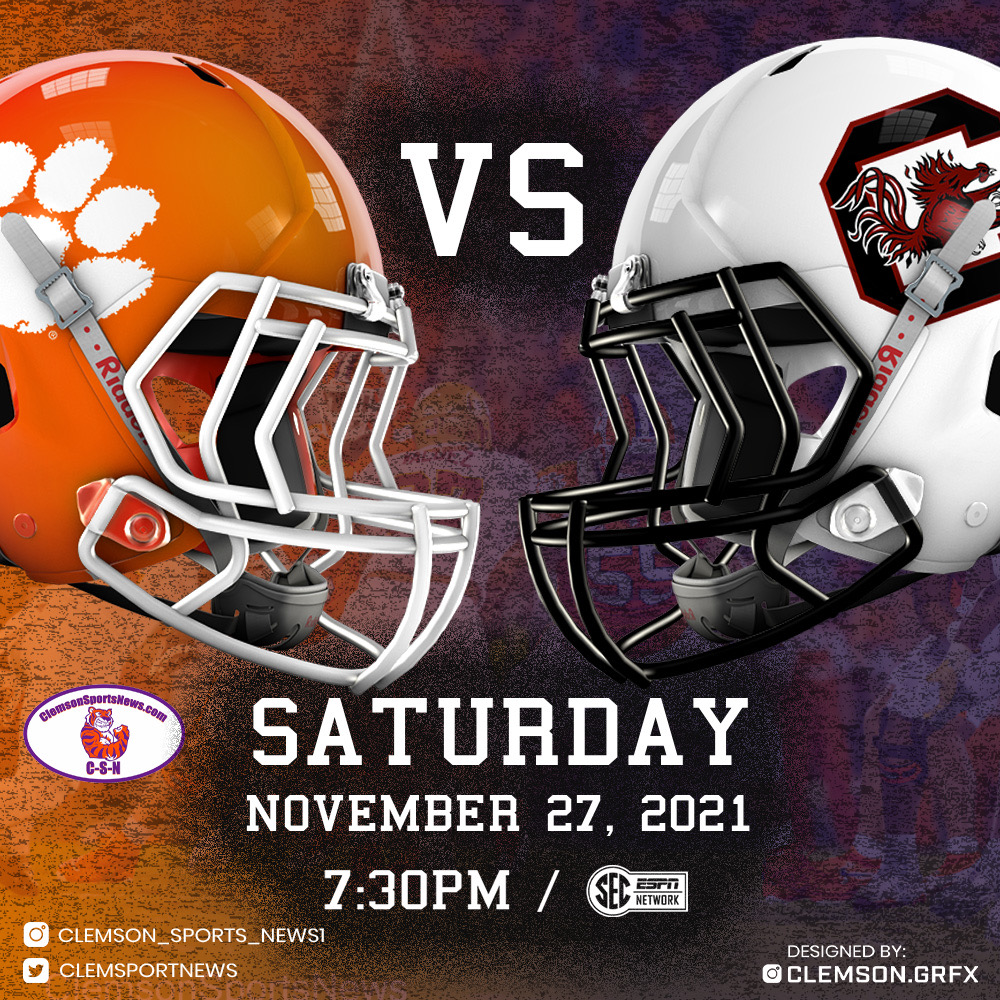 Clemson and South Carolina play Saturday night in Columbia, SC. It will be the second game in a row that the Tigers will have to travel to the chicken coup. This is due to USC dropping all of their Out of Conference games last year because of Covid. Makes sense, right? They cancelled the games so they could limit exposure by not having to travel to four more games, but they can travel hundreds of miles to go play in Louisiana, Mississippi, and Tennessee. Yeah, USC claims they "wanted" to play in Clemson last year but who are they kidding.
Let's put out a few facts. How about a numbers game. 2,891. The number of days it's been since Clemson lost to USC. November 30, 2013. That is 6 Christmas seasons where Clemson fan family members have had the upper hand at Christmas dinner. 6 Thanksgiving dinners where you could hear "wait till next season." There is a lot of pent up frustration in these numbers. That's also 6 straight seasons of Clemson winning conference championships and making five visits to the College Football Playoffs, winning two National Championships.
Meanwhile, down in Columbia, since their last victory over Clemson, the Gamecocks have a record of 44-53, with a 2-2 bowl record. Clemson, on the other hand, the 2103 Clemson team went 11-2 that year, and after losing to USC in Columbia, went on to beat Ohio State in the Orange Bowl. So, between the loss to USC in 2013 and this Saturday's game, Clemson's record is 108-13. This includes a bowl record of 8-4. The losses were to LSU (National Champion), Alabama twice (National Champion twice) and Ohio State. Let all this sink in.
Saturday night, the Tigers will travel to Columbia again. Clemson is currently favored by 11.5 points. How could that be? I mean, the Tigers are 8-3, won 6 of the last 7, have lost to three ranked teams and beat one, and yet, can't get a single vote in the AP Poll. Here is what FanNation had to say about the game:
"Clemson enters its annual state rivalry game against South Carolina with three losses on the season and an offense that's ranked among the worst in its own conference. The Gamecocks have a new, first-time head coach in Shane Beamer and have overcome their own share of quarterback issues and injuries to reach bowl eligibility, something they didn't do a year ago."
See how this resonates? Simply put, Clemson has a terrible offense and have not had to overcome any injuries while the Cocks have overcome injuries to reach bowl eligibility. I swear, you can't make this stuff up.
Let's look at this terrible Clemson offense and see if the above statement is justified. For the record, it's not.
Clemson's first 7 games, the Tigers were 3-3 against Power 5 teams, scoring 91 points and giving up 99 points in those 6 games. Yeah, the Tigers struggled, and regardless of what outlets tell you, Clemson was dealing with more injuries than they have at any point in Clemson history. In their last three games against Louisville, Florida State and Wake Forest, the Tigers have outscored their opponents 108-71. Holding those three schools to about 24 points a game has been a chore as those are three of the best quarterbacks in the country. There is no issue about saying the offense has struggled, but as of late, they are finding their "legs".
Let's be realistic about USC's schedule. Any team that has any semblance of an offense have scored at will against this porous defense. The proof is in the pudding. Tennessee (45), Texas A&M (44), Georgia (40), and then there is Missouri (31). USC will point to victories over Auburn (6-5 playing with their 2nd string quarterback and getting help from an inept Auburn coaching staff) and Florida (currently 5-6 and just recently fired their coach) but these were not great wins. For USC, they were good wins.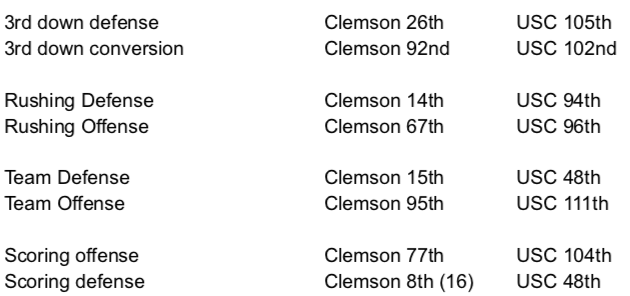 Looking at these NCAA stat numbers, it is clear. Right?
Saturday night, Clemson will travel into hostile territory where fans have been known in the past to heave full water bottles, batteries and other assorted projectiles. There will be numerous fans and players making bulletin board statements and the "surrender flags' ' will be going crazy before the game to a guy dressed up in a chicken outfit jumping up and down in a makeshift cage that a 6-year old makes in his backyard. Adrenaline rush is defined as "a physical feeling of intense excitement and stimulation caused by the release of adrenaline from the adrenal glands."
USC has tried "adrenaline" tactics in the past. Remember when Syvelle Newton led his team over to the bottom of the hill and Clemson missed a bowl game that year due to a brawl? The iconic image of the "brawl" was of Clemson's Yusef Kelly kicking a helmetless South Carolina player in the head as he lay face down, attempting to protect his head with his hands. What the "iconic" photo doesn't show is this same player on the ground having Kelly in a headlock shortly before that. It's all about optics, isn't it. How about a couple of years ago (2016) when Clemson players supposedly used racial slurs in pregame warmups. Adrenaline will last about half a quarter, sometimes less.
"We are going to get our get-back. We definitely have this game circled next year," former Gamecock player Bryson Allen-Williams said. "They disrespected us. We are waiting 365 days to get this team back. They did a lot of disrespectful things on the field. We are on a mission. We are definitely going to be ready." In 2017, Clemson travelled to Columbia and promptly beat USC 34-10. Adrenaline.
By the time Clemson takes the field against South Carolina Saturday night, the Tigers will know their fate with regards to the ACC Championship. If UNC beats NC State on Friday night and Boston College takes care of Wake Forest, the Tigers will be going back to the ACC Championship game. Either way, Clemson will be playing for the state championship at the very least. Adrenaline alone won't do it.