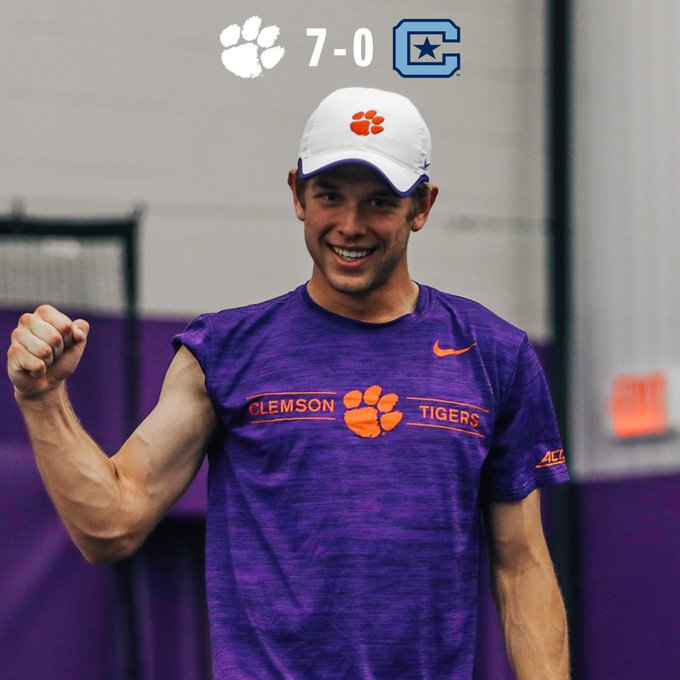 CLEMSON, S.C. – The Clemson Tigers (8-5, 0-2 ACC) battled from the first point of the day and didn't stop, defeating UNCW (6-5) and The Citadel (4-16) on Saturday at the Duckworth Family Tennis Facility.
The UNCW Seahawks started out strong in doubles, winning on Court 3 for the early lead. Shortly after, Clemson rebounded with yet another Teodor Giusca/Ryuhei Azuma win on Court 1. It all came down to Court 2 as Max Smith and Spencer Whitaker battled back from down 2-5 to clinch the doubles point for the Tigers, propelling them into singles play.
The momentum was the difference-maker, as every Tiger took victories on each of their respective courts to take the match over the Seahawks, 7-0.
The Tigers continued to impress in its second match of the day, making quick work of The Citadel in doubles play, taking down the Bulldogs 7-5 on Court 1, 6-2 on Court 2 and 6-0 on Court 3.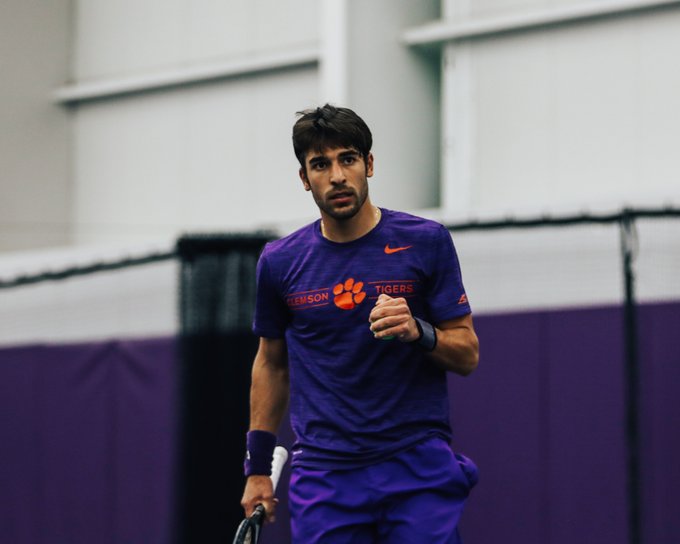 Clemson kept rolling as Giusca, Whitaker, Matt Pitts, Jorge Plans Gonzalez, Max Smith and Trey Stinchcomb all picked up victories on their respective courts, securing the 7-0 win over The Citadel which marked the Tiger's third sweep of the season. Daniel Labrador and Tim Pitts also saw time at singles.
"It was a good day for us," says Head Coach Robbie Weiss. "It is always nice to get back in the win column. UNC Wilmington is a tough team, and we were happy we got the win, especially in such a convincing way. The doubles point was big. We saved three match points at No. 2 doubles, which ultimately was the deciding match. It was not the prettiest doubles, but we found a way, which was big for us. We did a good job carrying over the momentum into our night match with Citadel and won another convincing match. We will get back to work and prepare for Virginia Tech and Virginia next weekend."
Up next, the Tigers will be back home on March 18 and March 20 at the Duckworth Family Tennis Facility as they play Virginia Tech and Virginia. First serve against the Hokies will be Friday at 1:00 p.m. while Clemson plays Virginia Sunday at 11:00 a.m.
For complete coverage of the Clemson men's tennis team, follow @ClemsonMTennis on Twitter and Instagram.
BOX SCORE (UNCW):
Doubles
No. 39 Azuma/Giusca (CU) def. Gooch/Rasamatov (UNCW) 6-4
Whitaker/Smith (CU) def. Innocent/Falck (UNCW) 7-6 (7-5)
Hurtado/Mallory (UNCW) def. Plans Gonzalez/M. Pitts (CU) 6-3
Singles
No. 125 Giusca (CU) def. Rasamatov (UNCW) 6-1, 6-2
Azuma (CU) def. Falck (UNCW) 7-6, 6-4
Whitaker (CU) def. Innocenti (UNCW) 6-1, 3-6, 10-5
M. Pitts (CU) def. Huens (UNCW) 6-3, 6-3
Plans Gonzalez (CU) def. Hurtado (UNCW) 2-6, 6-2, 10-5
Smith (CU) def. Mallory (UNCW) 6-3, 6-3
BOX SCORE (The Citadel):
Doubles
Whitaker/Smith (CU) def. Robins/Shoemake (CIT) 7-5
M. Pitts/Plans Gonzalez (CU) def. Bencedic/Kamieniecki (CIT) 6-2
Giusca/Labrador (CU) def. Schainblatt/Barkley (CIT) 6-0
Singles
No. 125 Giusca (CU) def. Shoemake (CIT) 6-3, 6-3
Whitaker (CU) def. Bencedic (CIT) 6-3, 6-2
M. Pitts (CU) def. Robins (CIT) 6-2, 6-0
Plans Gonzalez (CU) def. Schainblatt (CIT) 6-1, 6-0
Smith (CU) def. Kamieniecki (CIT) 6-2, 7-6
Stinchcomb (CU) def. Minnich (CIT) 6-0, 6-1