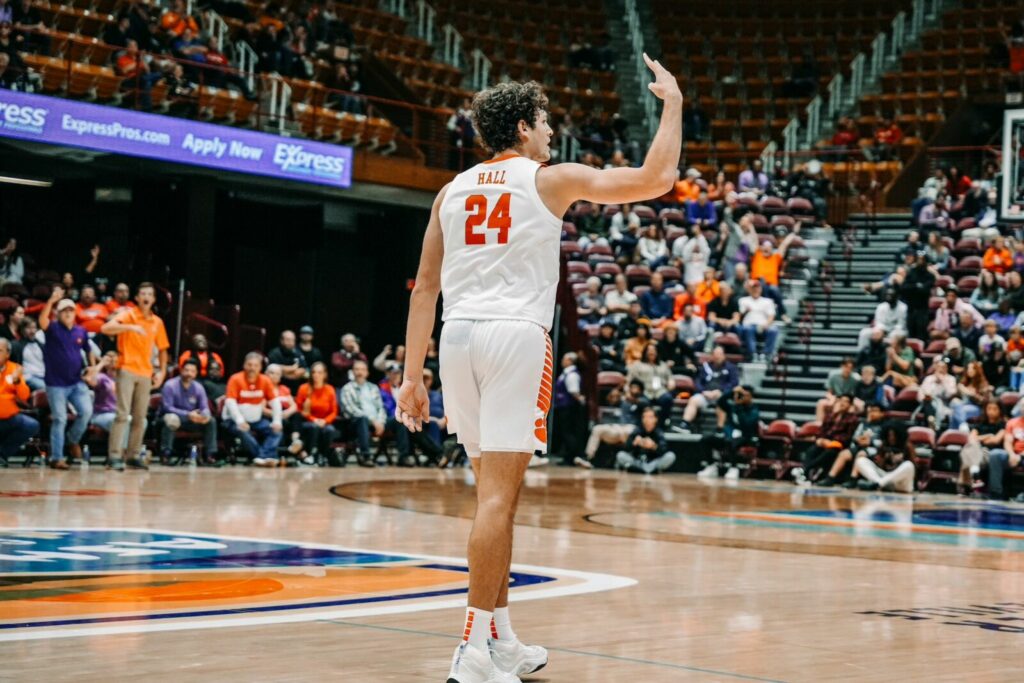 ASHEVILLE, N.C. – Clemson University men's basketball clinched the 2023 Asheville Championship with a 68-65 victory over Davidson on Sunday. Clemson trailed by as many as 18 points in the first half, which now ties a Clemson record for the fifth largest come-from-behind victory in program history.
The Tigers (3-0) were led offensively by PJ Hall (Spartanburg, S.C.) and Joseph Girard III (Glens Falls, N.Y./Glens Falls) who combined for 34 points – 17 a piece. Girard hit five threes, including three in the second half. Girard tallied a game-high five assists.
Having averaged 22.0 points per game for the tournament, Hall was awarded Tournament MVP honors.
At the 8:45 mark of the opening stanza, Clemson University men's basketball had mustered just five points and trailed by its largest deficit of the game at 18 points, 23-5. Clemson engineered its own 18-2 run to get back into the game and trailed by just five at the break.
Clemson would get down as many as nine in the second half, 34-25, but another massive 16-3 run would propel the Tigers into a four-point advantage with 14:29 left. The Tigers pushed its lead to as many as nine in the second half before Davidson would narrow the score to just one on two occasions.
Clemson held on in the waning seconds of regulation to secure the three-point victory.
RJ Godfrey (Suwanee, Ga./North Gwinnett) totaled 10 points and seven rebounds, while finishing 5-for-6 from the floor. Godfrey matched his career high with three blocked shots. Josh Beadle (Columbia, S.C./Cardinal Newman) asserted himself in the first half and added five points, a rebound and a steal.
Ian Schieffelin (Loganville, Ga./Grayson) tied for the team lead with seven rebounds, while Chase Hunter (Atlanta, Ga./Westlake) added seven points, two rebounds and three assists.
Clemson returns to the floor on Sunday, Nov. 19 when it hosts Boise State at 1 p.m. inside Littlejohn Coliseum. Tipoff is set for 1 p.m.