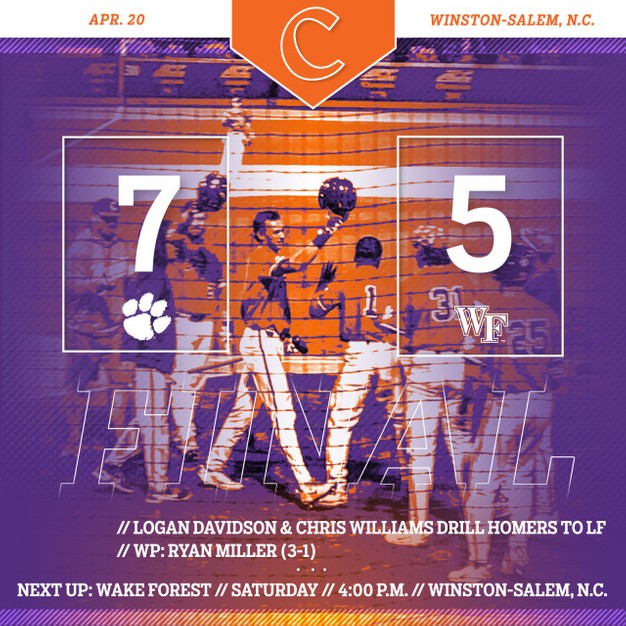 WINSTON-SALEM, N.C. – Logan Davidson hit a solo homer in the eighth inning to break a 5-5 tie and lift No. 12 Clemson to a 7-5 victory over Wake Forest at David F. Couch Ballpark on Friday night. The Tigers, who took a 1-0 lead in the series, improved to 27-11 overall and 12-7 in the ACC. The Demon Deacons fell to 18-21 overall and 10-9 in ACC play.
The Tigers jumped out to a 2-0 lead in the top of the first inning on Seth Beer's two-run single, then Wake Forest responded with a run in the bottom of the first inning and four runs in the second inning, highlighted by Chris Lanzilli's two-run homer. Grayson Byrd and Kyle Wilkie both hit run-scoring singles in the third inning, then Clemson tied the score 5-5 in the fifth inning when Kier Meredith was hit-by-pitch with two outs. The Tigers regained the lead in the eighth inning on Davidson's solo homer, his sixth long ball of the year. Two batters later, Chris Williams crushed another solo homer, his 10th of the season.
Ryan Miller (3-1) pitched the final 3.2 innings to earn the win. Tyler Witt (0-3) allowed the two home runs in the eighth inning and suffered the loss.
The series continues Saturday at 4 p.m., on ACC Network Extra.