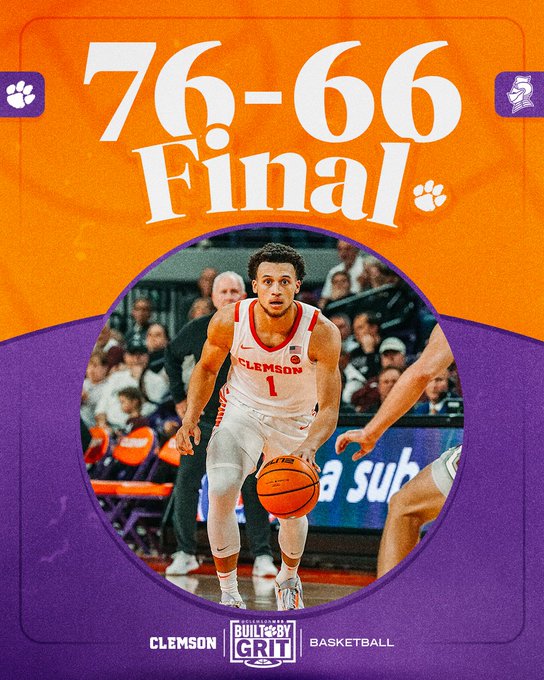 Four Double-Digit Scorers Pace Tigers in 76-66 Victory Over Bellarmine
Hunter Tyson nets double double; Chase Hunter sets career mark with eight assists
CLEMSON, S.C. — Clemson University men's basketball built as much as a 15-point lead in the second half against Bellarmine in a 76-66 victory on Friday night.
The Tigers (3-1) were paced by Chase Hunter (Atlanta, Ga./Westlake) and his team-high 15 points and career-high eight assists. A total of five Tigers netted double-figures, including two off the bench in Ian Schieffelin (Loganville, Ga./Grayson) (13 points) and PJ Hall (Spartanburg, S.C./Dorman) (10 points).
Hunter Tyson (Monroe, N.C./Piedmont) notched his third career double-double and third double-digit rebounding game of the season with 11 points and 10 boards. Brevin Galloway (Anderson, S.C./Seneca) added 14 points.
Clemson worked as high as a six-point lead in the opening stanza and headed to the locker room with a 33-28 advantage.
In the second half, the Knights (2-2) fought back and took a game-high three-point lead at 44-41, but the Tigers wouldn't go away. With Clemson leading 52-51, the Tigers engineered a 22-8 run to put the game out of reach and built a game-high 15 point advantage.
Clemson finished 13-for-28 from distance and 19-for-22 from the charity stripe in the win.
The Tigers return to the floor on Monday, Nov. 21 when they take on the Greyhounds of Loyola Maryland. Tipoff is scheduled for 7 p.m. and will air on ACCNX.