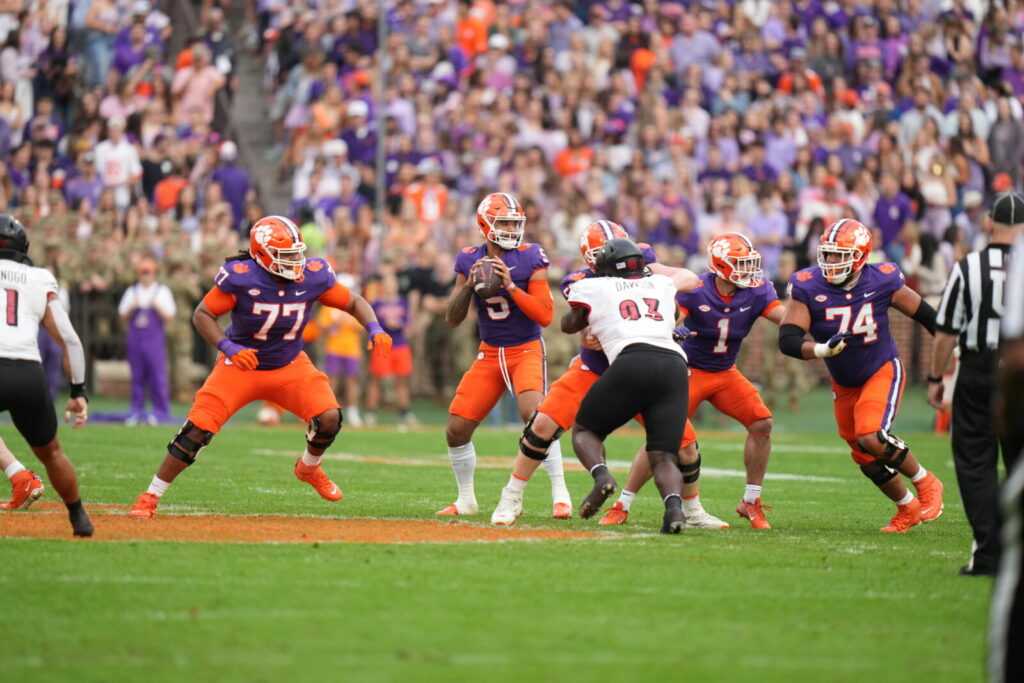 The Louisville Cardinals rolled into Death Valley last Saturday bringing with them a four game winning streak and high ESPN hopes that the Tigers would lose two games in a row. Well, that didn't happen. Clemson did not play the "perfect game" so many fans have been waiting on for almost two years. However, the Tigers go back on track with a solid 31-16 victory. Anyone who watched game saw a garbage time TD with zeros left on the game clock. 31-10 surely would have looked better.
This Saturday, the Miami Hurricanes come to town, trying to break the Tigers 39-home game winning streak. This Miami team is a mixed bag.
Mario Cristobal's Hurricanes started out like gangbusters, albeit against powderpuffs in Bethune-Cookman and Southern Miss. In game three, they played their mirror-image "sister team", Texas A&M. How so? Both of these teams unloaded a TON of NIL money for players to go to their schools. They both have heralded coaches that were supposed to turn these teams around. They are a combined 8-12 on the season and of course neither are ranked. Texas A&M was preseasoned ranked #6 and Miami was 10th after week 2
QB Tyler Van Dyke came into the season totally hyped as one of the best quarterbacks in the ACC and the country. Last year, as a freshman, he threw for 2,900+ yards, completing 62% of his passes, and had 26 TD passes vs six interceptions. Sky's the limit, right? 2022 hasn't gone as well.
Injuries have plagued him throughout the year, and it's been a rollercoaster type year. For example, in a humiliating loss to Duke, he was 11 of 16 for 81 yards and one touchdown. Similarly, in a close loss to UNC, the completed 42 passes out of 57, 496 yards, with three touchdowns and one interception. Which TVD is Clemson going to see Saturday? His injury status is still up in the air.
Jake Garcia is first off the bench if TVD can't go, and this is not a good sign for the Hurricanes. He has three starts under his belt, with losses to Duke and Middle Tennessee State. Garcia has completed 38 of 71 (53.5%) with two TDs, four interceptions and has been sacked 9 times in those three games. Note of interest: freshman Jacurri Brown got the start for Miami against Georgia Tech, and led them to a 35-14 win. He completed 14 of 19 passes for 138 yards and three touchdowns. He also rushed 19 times for 87 yards. He is more of a dual threat than either TVD or Garcia. The question is……who will start against the Tigers.
WR Frank Ladson Jr. transferred from Clemson last year and is one of four Miami receivers that have brought in at least 27 receptions. The leading receiver is sophomore wideout Brashard Smith with 31 receptions but has not recorded a TD pass this season.
The running game is led by sophomore Henry Parrish, Jr. In eight games, Parrish has rushed for 569 yards (4.7 YPC) and four touchdowns. Misnomer, 217 yards and all four touchdowns came against the powder puffs in the first two games. He did manage 114 yards against UVA (albeit it took four overtimes). Take away the two runs of 70 yards in the 1st half against Louisville, Clemson held the Cardinals to 80 yards on 28 rushes for the rest of the game. Don't expect Miami to be too successful against the hungry Clemson defensive front.
The Hurricanes are 5-5, and checking their schedule, it has been roller coaster ride, depending on the level of the team on the other side of the ball. Losses to Duke, FSU, Texas A&M, UNC and Middle Tennessee State shows the Hurricanes don't fare well against teams with a pulse. Victories over Virginia Tech, Virginia (4 overtimes), Georgia Tech (14-7 Miami heading into the 4th quarter), Bethune Cookman, and Southern Miss are not impressive.
So which Miami team shows up in Death Valley on Saturday? Whichever team Coach Cristobal brings in better be prepared for a heavy dose of Will Shipley, Phil Mafah, and maybe even the return of Kobe Pace. This Clemson team is still angry from two weeks ago and is still out to prove Notre Dame was a fluke. The Tigers moved up to #9 in the polls this week. Miami picked a bad time to play Clemson.