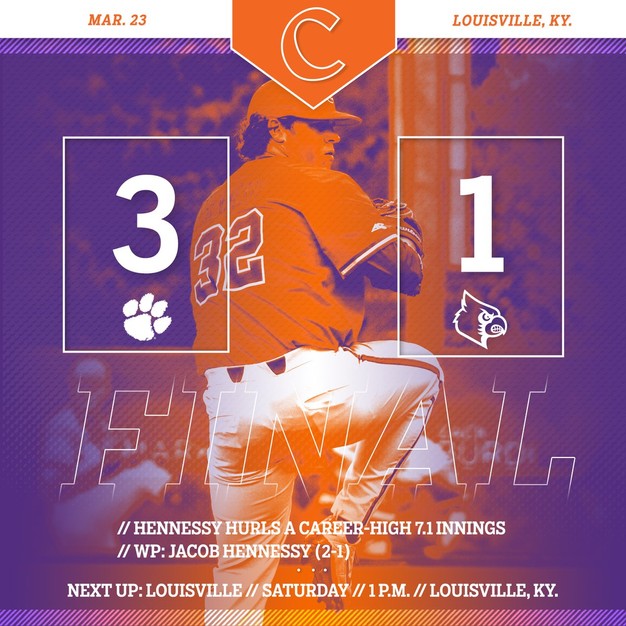 LOUISVILLE, KY. – Jacob Hennessy pitched a career-long 7.1 innings to lead No. 10 Clemson to a 3-1 victory over No. 11 Louisville at Jim Patterson Stadium on Friday night. The Tigers, who took a 1-0 lead in the series, improved to 17-5 overall and 4-3 in the ACC. The Cardinals dropped to 17-5 overall and 3-4 in ACC play.
Hennessy (2-1) earned the win by allowing just five hits, one run and two walks with six strikeouts. Ryan Miller pitched the final 1.1 innings to record his second save of the season. Louisville starter Adam Wolf (3-1) suffered the loss, as he gave up four hits, three runs (one earned) and three walks with nine strikeouts in 8.0 innings pitched.
With two outs in the top of the second inning, Kyle Wilkie belted a two-run double, then the Cardinals responded with a run in the bottom of the second inning. Chris Williams led off the fourth inning with a walk and scored on a double by Drew Wharton, who had three hits in the game.
The series continues Saturday at 1 p.m., on ACC Network Extra.