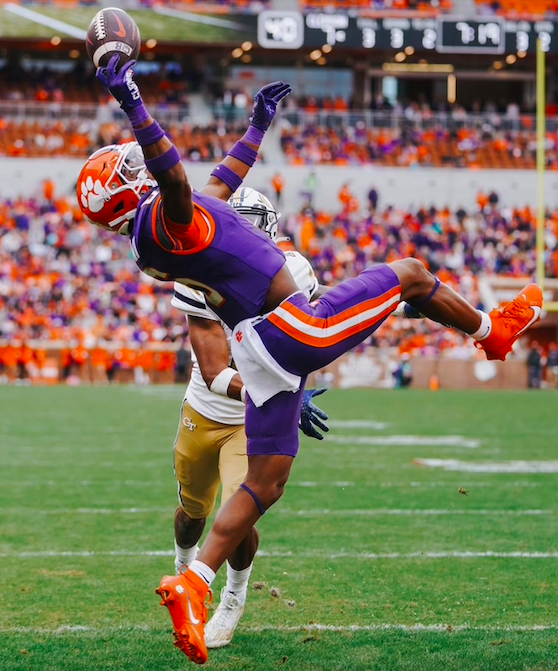 CLEMSON, S.C. – Clemson (6-4, 3-4 ACC) scored 42 consecutive points and the defense tallied four interceptions to race past Georgia Tech (5-5, 4-3 ACC) in a 42-21 win on Military Appreciation Day. Sophomore quarterback Cade Klubnik threw for 205 yards and tied a career-best with four touchdown passes, and Clemson piled up 260 rushing yards.
Defensively, Clemson recorded a season-high 11 tackles for loss from 10 different players, four sacks and four interceptions, including a one by Shelton Lewis that was returned 46 yards for a touchdown. Clemson outgained a Yellow Jacket program that entered the game 14th nationally in total offense in the game by a 465-254 margin.
Phil Mafah led the ground attack with 96 rushing yards, while Will Shipley added 77 rushing yards with a 32-yard touchdown. Freshman Tyler Brown had a team-high seven receptions for 41 yards and a spectacular one-handed touchdown catch. Beaux Collins added five catches for 65 yards and a score, and tight ends Jake Briningstool and Josh Sapp each added touchdown receptions from Klubnik.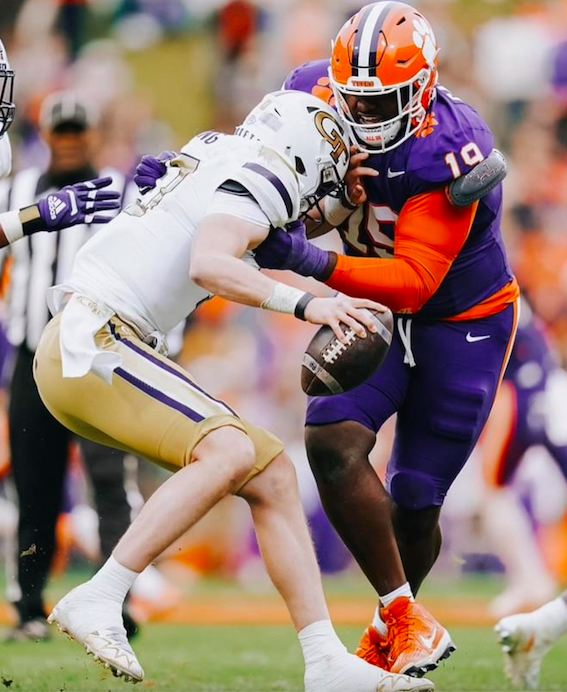 After being held scoreless in the first quarter, Clemson's offense exploded with three touchdowns in the second quarter, one more in the third and two in the fourth. Lewis ran back a Haynes King pass for a touchdown to extend the Clemson lead to 42-7 before Georgia Tech added two late touchdowns.
The teams combined for three punts on the first three drives of the game. Georgia Tech started its third drive in the red zone after stopping a fourth-down conversion attempt by punter Aidan Swanson, and the Yellow Jackets converted the ensuing possession on a four-yard rushing touchdown by King.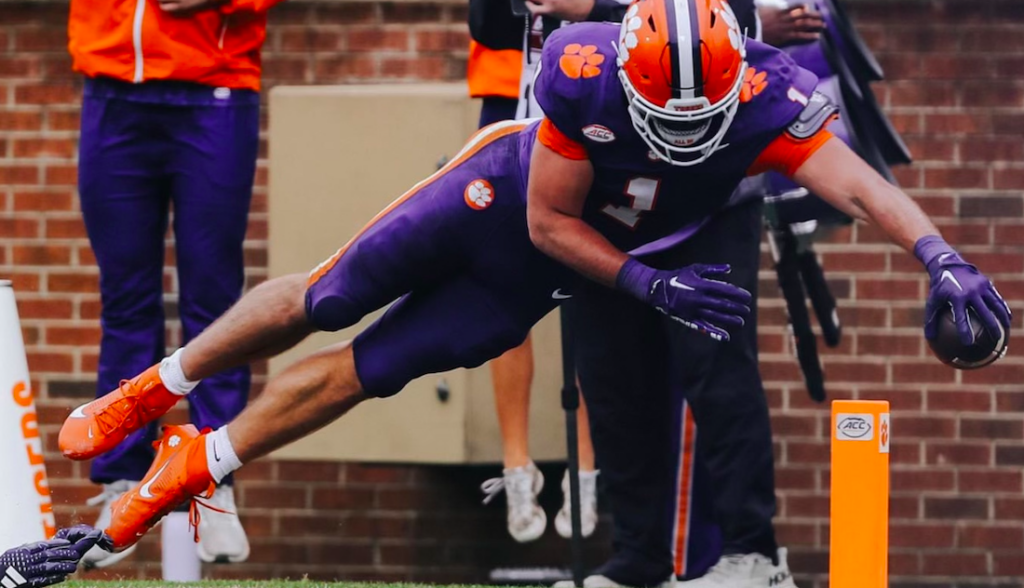 On Clemson's next drive, two successful fourth down attempts set up Klubnik to throw a five-yard touchdown pass to Beaux Collins to tie the game 7-7 in the second quarter. Klubnik connected with Collins for a 20-yard gain on 4th-and-7 earlier in the drive, and four plays later, Phil Mafah powered his way one yard to convert on 4th-and-1 at the nine-yard line.
The drive lasted 9:51 of game time. It was Clemson's longest scoring drive in school history and its second-longest drive overall, trailing only its 10:02 drive to run out the clock against Alabama in the National Championship Game to end the 2018 season.
Clemson continued to play aggressively and recorded another fourth-down conversion on a six-yard completion to Jake Briningstool. Later in that drive, Tyler Brown reached back to make an impressive three-yard one-handed catch in the end zone, giving Clemson a 14-7 lead with 7:17 left in the first half.
After another defensive stop, Will Shipley made his presence known on Clemson's next drive, totaling 63 yards. Shipley converted on fourth-and-1 and then immediately after hit an open gap, running 32 yards and extending himself over the goal line for the touchdown.
With 41 seconds left in the first half, Khalil Barnes came up with an interception to keep the score at 21-7. It was one of four Clemson interceptions of the day, all of which came from Clemson freshmen.

Klubnik further increased Clemson's lead with 3:33 left in the third quarter to 28-7 as he threw a five-yard dart through traffic to Briningstool.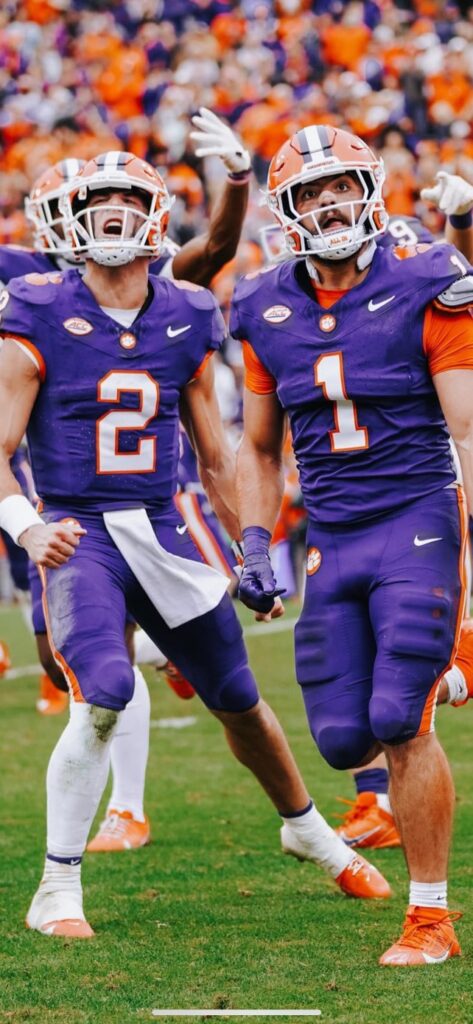 Clemson's defense then forced Georgia Tech's fourth three-and-out of the day. Georgia Tech would get the ball back shortly as Jaylon King intercepted a Klubnik pass. However, Clemson's defense would respond with interceptions on three consecutive drives from freshmen Avieon Terrell, Kylon Griffin and Shelton Lewis.
The Tigers took advantage of the good field positioning after the second interception and put up another seven points when Josh Sapp went up to complete Klubnik's 13-yard touchdown pass. Then on the third, Lewis read the quarterback, stepped up to make the interception and returned it all 46 yards for the touchdown, giving Clemson a comfortable 42-7 lead with 12:46 left in the game.
Dontae Smith got Georgia Tech in the end zone in the second half on a 32-yard completion, making the score 42-14 with 10:11 left to play. After Clemson turned the ball over on downs, Georgia Tech capped a 67-yard drive with a four-yard touchdown pass to Dylan Leonard to make the score 42-21 with 1:49 left in the game.
Clemson then ran out the clock to secure the 42-21 victory over Georgia Tech.