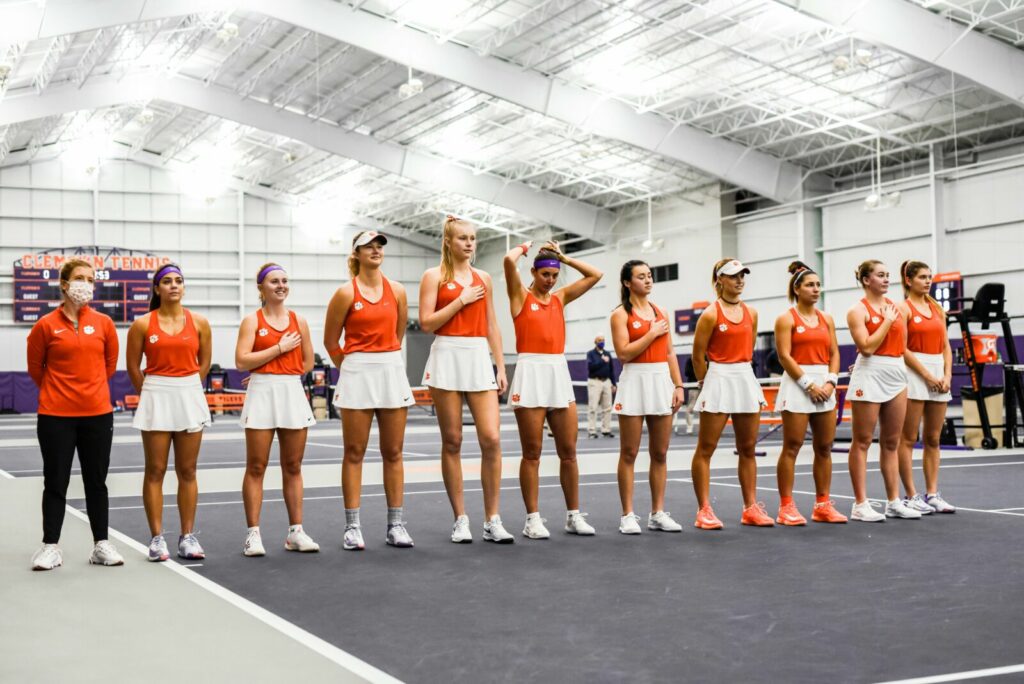 CLEMSON, S.C. – The Clemson Tigers (6-3) split its doubleheader, falling to Charlotte (5-4) in the afternoon before rallying to defeat Coastal Carolina (4-4) Saturday evening at Duckworth Family Tennis Facility.
The doubles point against Charlotte was hard-fought, as Ryuhei Azuma and Teodor Giusca came up big on Court 1, taking down the No. 16 49er pair in Savva and Simon 6-4. The Tigers dropped the match on Court 3, 7-5, shortly after until Max Smith and Jorge Plans Gonzalez secured the win on Court 2, 7-5 to take the doubles point.
The 49ers registered singles wins on Court 6 and Court 1, but the Tigers rebounded as Teodor Giusca and Matt Pitts were victorious on Courts 2 and 5, respectively. The 49ers gained momentum near the end of the match, picking up wins on Court 3 and 4, sealing the 4-3 win.
The doubles point against Coastal Carolina was up for grabs as the Chanticleers struck first on Court 3 with a win, but the Tigers came right back with a win of their own on Court 1, Azuma and Giusca's second doubles win of the day. Ultimately, Coastal Carolina came up with the win on Court 2, 7-6, to take the doubles point.
The Tigers continued to battle as Jorge secured the first doubles win on Court 3, followed by Max Smith on Court 6 and Teodor Giusca on Court 1. With the match tied 3-3, Azuma was clutch, winning his third set and securing the victory for the Tigers.
"It was a tough day for sure," says Head Coach Robbie Weiss. "The loss to Charlotte definitely stings. We did not compete well on a few courts which is very disappointing and cost us the match. With a quick turnaround, we had to regroup and play Coastal Carolina. We lost the doubles point and had to dig deep to pull out the match. We had a few players injured which made things a bit more interesting than I was hoping for. I give Coastal Carolina a lot of credit for the way they competed. I am proud of the boys for finishing strong and finding a way to get the win. We have work to do the next few weeks and need to get healthy heading into ACC play."
Up next, the Tigers will hit the road to take on Louisville on Friday, March 4 at 5:00 p.m. and Notre Dame on Sunday, March 6 at 12:00 p.m.
BOX SCORE (Charlotte):
Doubles
No. 45 Azuma/Giusca (CU) def. No. 16 Savva/Simon (CLT) 6-4
Plans Gonzalez/Smith (CU) def. Brown/Prata (CLT) 7-5
Vannemredd/Thomson (CLT) def. M. Pitts/Stinchcomb (CU) 6-3
Singles
Singles
Brown (CLT) def. Azuma (CU) 3-6, 6-3, 6-1
Giusca (CU) def. Sokolovskiy (CLT) 7-5, 7-5
Savva (CLT) def. Plans Gonzalez (CU) 5-7, 7-6, 6-1
Simon (CLT) def. Stinchcomb (CU) 6-4, 3-6, 6-4
M. Pitts (CU) def. Vannemredd (CLT) 7-6, 7-5
Prata (CLT) def. Smith (CU) 6-3, 6-2
BOX SCORE (Coastal Carolina):

Doubles
No. 45 Azuma/Giusca (CU) def. Garnier/Giraldo (CCU) 6-4
Bastien/Niccolo (CCU) def. Smith/Plans Gonzalez (CU) 7-6 (4)
Mundt/Berna Ruiz (CCU)def. Labrador/Stinchcomb (CU)
Singles
Giusca (CU) def. Huon (CCU) 6-3, 7-6
Azuma (CU) def. Garnier (CCU) 6-2, 6-7, 6-1
Plans Gonzalez (CU) def. Berna Ruiz (CCU) 6-1, 6-4
Giralodo (CCU) def. Stinchcomb (CU) 6-0, 6-1
Rossi (CCU) def. Labrador (CU) 0-6, 6-4, 6-1
Smith (CU) def. Tanabe (CCU) 6-3, 3-6, 6-1