Tigers Ready for ACC Championship
Clemson, S.C. — Clemson will take the course this weekend when it competes at the ACC Championship. All nine ACC squads will be in attendance including No. 3 Virginia, No. 10 Syracuse, No. 16 Duke, Notre Dame, Louisville, Miami, North Carolina and Boston College. The two-day event begins on Friday and will take place at the Clemson Rowing Docks on Lake Hartwell.
In its last appearance at the conference regatta, the Tigers finished tied for fourth, their best finish in four seasons. Additionally, Clemson tallied its highest point total in an ACC Championship since 2015 with its 58-point effort. The 2V8+ was the top finisher for the Tigers, placing third with a time of 6:46.093. Clemson also fared well in the fours competitions, where the 1V4+ (7:34.133) and 2V4+ (7:46.183) finished fourth and fifth, respectively.
The Tigers enter the ACC Championship after a stellar performance at the Lake Wheeler Invitational where the 2V8+ and 1V4+ put together gold medal performances, besting the Blue Devils in both events. Clemson also took silver in the 1V8+, 3V8+ and 2V4+ races. In the team standings, the Tigers were ultimately edge by Duke by one point.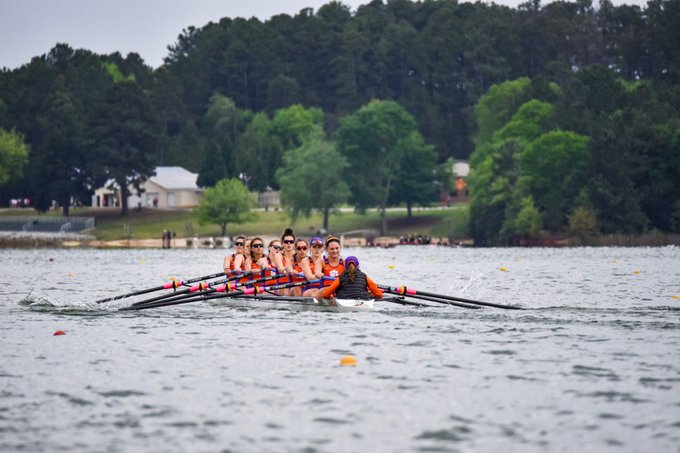 Races on both Friday and Saturday will begin at 8:05 a.m and will be streamed live on ACCNX. Live results will also be posted on HereNow.com.
Complete Race Schedule l Seed and Lane Assignments l ACC Championship Page
For complete coverage of the Clemson rowing team, follow @ClemsonRowing on Twitter, Facebook and Instagram.
Clemson Lineups
1V8
Kate Hadley (Cox), Rachel Twitty (Stroke), Anna Luttrell, Lori Belanger, Cate Schrieber, Kaley Wojciechowski, Isabel Velasquez, Claudia Scherbin, Maura Chozick
2V8
Katie Herbolsheimer (Cox), Bridget Kane (Stroke), Jaysen Hall, Meghan McLean, Ikelle Iturbe, Karli Robinson, Elise Sum, Auburn Dantice, Alex Thull
3V8
Christina Minyo (Cox), Charlotte Taylor (Stroke), Ameilia Rinehart, Isabella Dudley, Abby Dutton, Alex Dow, Alexis Holliday, Summer Ratley, Emma Randolph
1V4
Emily Ash (Stroke), Ellie Loehrer, Jasmine Lewis, Cate Smith, Julia Suplick (Cox)
2V4
Emerey Sampson (Stroke), Pepper Kolman, Avery Howard, Caroline Emerson, Sarah Adams (Cox)