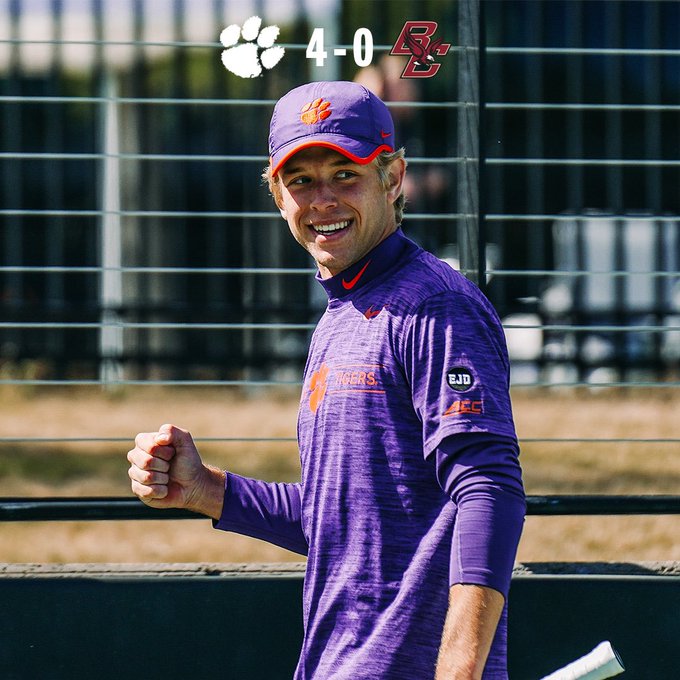 ROME, Ga. – Clemson (12-13, 2-10 ACC) impressed in the first round of ACC Championships on Wednesday morning, sweeping Boston College (5-17, 0-12), 4-0. The win saw the 12th seeded Clemson Tigers advance to the second round of the ACC Tournament.
The No. 62 Tigers came out firing in doubles, as Ryuhei Azuma and Spencer Whitaker took Court 1 over the No. 90 ranked pair in the nation convincingly, 6-2. Teodor Guisca and Max Smith clinched the point on Court 2 with a 6-4 win. Guisca's tremendous day continued in singles play with a dominant 6-1, 6-3 win on Court 2.
Then, within seconds of each other, Whitaker and Trey Stinchcomb won their matches to clinch the victory for the 12th seeded Tigers. Whitaker took Court 3, 7-6, 6-1 while Stinchcomb put his opponent away 6-4, 6-4 on Court 6.
Up next, the Tigers will play No. 5 seed Duke in the second round of ACC Championships in Rome, Ga. at the Rome Tennis Center on Thursday. First serve is slated for 10:00 a.m.