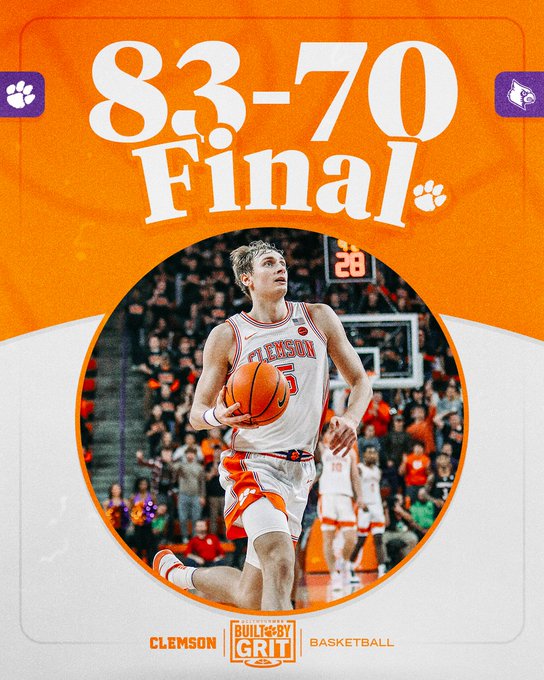 Tigers Down Cardinals 83-70; Move to 6-0 in ACC
Tyson's double-double helps give Clemson its first 6-0 ACC start in program history

CLEMSON, S.C. – Clemson University men's basketball moved to 6-0 in ACC play after a 83-70 win over Louisville on Wednesday night.
The Tigers (14-3, 6-0 ACC) were once again led by Hunter Tyson (Monroe, N.C./Piedmont) as he recorded fifth straight double-double, tallying 28 points and 11 rebounds. It's also his sixth consecutive double-double this season in league play.
Chase Hunter (Atlanta, Ga./Westlake) added 13 points, seven rebounds and four assists to aid Tyson, while both PJ Hall (Spartanburg, S.C./Dorman) and Brevin Galloway (Anderson, S.C./Seneca) scored 10 points each.
Clemson got off to a sluggish start against the Cardinals (2-15, 0-6 ACC) and trailed by nine with 12:40 left in the opening stanza. An RJ Godfrey(Suwanee, Ga./North Gwinnett) layup sparked an 18-2 run, giving the Tigers control of the game.
The Tigers built on a 12-point halftime advantage, leading by as many as 17 in the second half before coasting to a 13-point victory.
Thirty-eight of Clemson's points came in the paint, while the Tigers shot 52.8 percent overall from the field.
The Tigers return to the floor on Saturday, Jan. 14 when they host No. 24/21 Duke at 5 p.m. on ACCN.