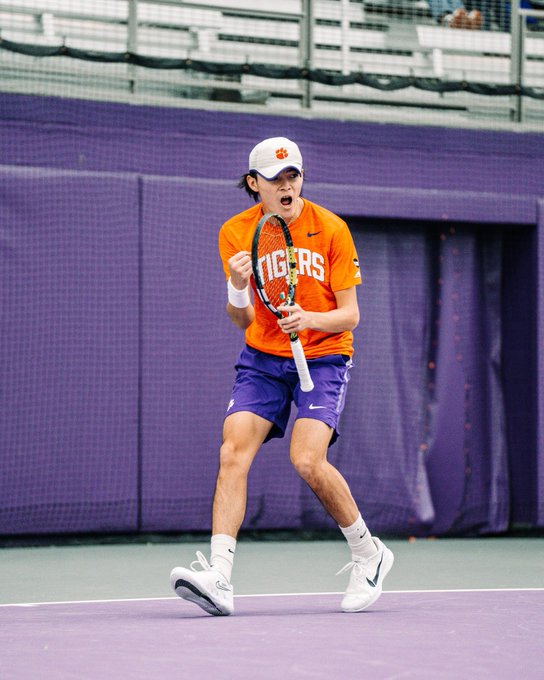 CLEMSON, S.C. – The Clemson men's tennis team (6-0) competed well and earned a gritty 4-0 victory over Nebraska (2-1) on Sunday afternoon at the Duckworth Family Tennis Facility.
"I was really happy with the way the boys competed and brought really good energy all day," said Head Coach Robbie Weiss. "The tennis was a bit up and down at times, but they responded well to the dips. They were resilient and played with passion which was fantastic to see. I am so darn proud of this team and super excited for the South Carolina match Friday night here at home. Can't wait to get back on court Tuesday. Go Tigers!"
The Tigers battled in doubles play for over an hour, dropping the first match on Court 3 6-3, but Ryuhei Azuma and Spencer Whitaker quickly reversed the momentum in the Tiger's favor by securing a victory on Court 1 by a score of 6-3. It all came down to Court 2 where Jorge Plans Gonzalez and Max Smith were down 3-0 on the deuce point and continued to climb their way back into the match. The Huskers didn't go away though, going up 5-4 until the Tigers ran away with it for a 7-6 (7-4) victory for the doubles point.
Clemson didn't let up in singles as Azuma continued to dominate on Court 1, defeating his second ranked opponent in three days. He beat Nebraska's No. 75 Hietaranta, 6-4, 6-4 to make it a 2-0 lead. Shortly after, Smith also registered a clean 6-4, 6-4 victory on Court 6. Plans Gonzalez maintained his perfect record on the season, taking down the Husker opponent on Court 2. After a 6-0 first set win, he grinded out a 7-6 (7-4) second set victory for a Clemson 4-0 win.
The Tigers return to the court on Friday, Feb. 3 at 5 p.m., taking on in-state rival South Carolina at the Duckworth Family Tennis Facility.