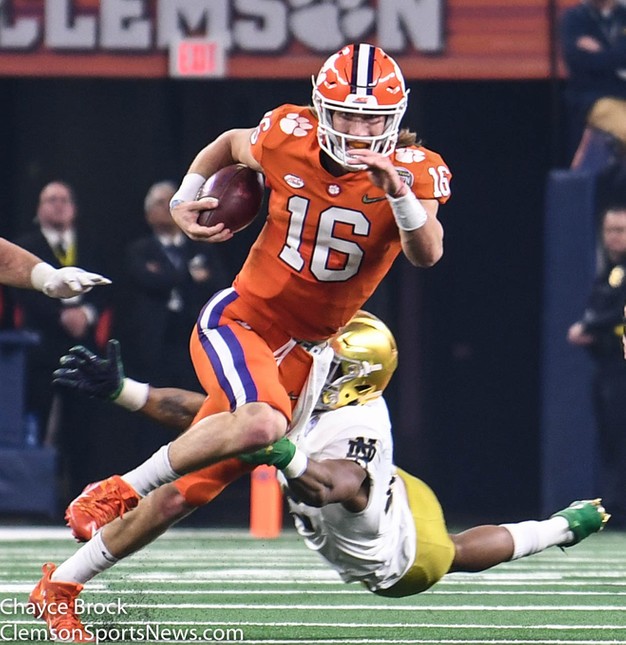 The Luck of the Irish runs out in the Cotton Bowl:
ARLINGTON,TX- The Tigers traveled to Arlington, TX to take on Notre Dame Fighting Irish in the Goodyear Cotton Bowl. This was the Tigers fourth consecutive College Football Playoff appearance, while the Fighting Irish were making their first appearance. Things did not get started off well for the Tigers, the Tigers had a quick three and out on their first possession of the game, the Irish were putting an immense amount of pressure on Trevor Lawrence forcing him out of the pocket. The Tigers were unable to capitalize on an Ian Book fumble; the Tigers were only able to turn that possession into a field goal.
Freshman quarterback, Trevor Lawrence was unable to get much of anything started in the first half. The freshman was facing immense pressure from the Notre Dame defensive line. However, in the second quarter, Lawrence was able to connect with freshman Justyn Ross for a 52-yard touchdown pass to put the Tigers up 9-3. The score would stay the same after Notre Dame would block Greg Huegel's extra point. Lawrence was able to rush for 10 and 12 yards, connect with Hunter Renfrow for 12 yards. Before the end of the second quarter, Lawrence would connect with Justyn Ross again, this time for a 42-yard touchdown run. Lawrence would connect again with Renfrow for 32-yards and would complete a 19-yard touchdown pass to Tee Higgins.
Freshman kicker BT Potter continues to kick bombs placing Notre Dame deep into their own territory.
First Half Stats
Clemson – 23 Notre Dame – 3
Total yards 306 141
Pass yards 264 107
Rush yards 42 34
Justyn Ross has 137 receiving yards in the first half.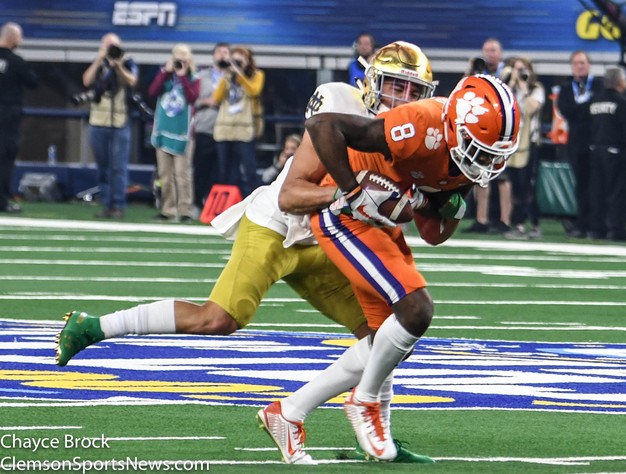 Second Half
Trevor Lawrence came out in the second half with a 24-yard pass to Tee Higgins. Lawrence got lucky on the next play, Trevor threw an incomplete pass that was called an interception but quickly called back after the receiver did not maintain possession of the ball. After a Nolan Turner interception for 24 yards, Lawrence would handoff to Travis Etienne, who would break free and run 62 yards for a touchdown and would extend the Tigers lead. Lawrence would find TJ Chase for a pass completion of 13 yards.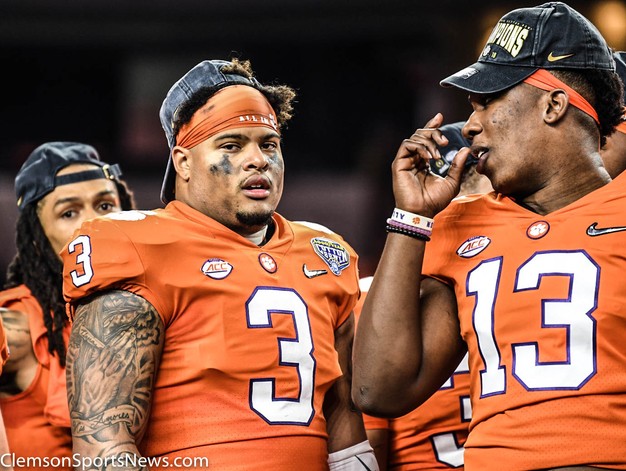 BT Potter continued into the second half with the 65-yard kickoff, touchback putting Notre Dame into their own territory.
Xavier Thomas tackled Ian Book for a loss of 4 yards and caused a quarterback hurry late in the 4th quarter.
With 5 minutes left to go in the game, redshirt freshman quarterback, Chase Brice took over for Trevor Lawrence, who had a handoff for a rush of 10 yards by Lyn-J Dixon. Brice had a 23-yard rush.
Drew Swinney appeared in the game with 2 minutes to go.
Final Game Stats
Clemson Notre Dame
Total yards – 538 248
Pass yards – 327 160
Rush yards – 211 88
Brought to you by our Sponsor: