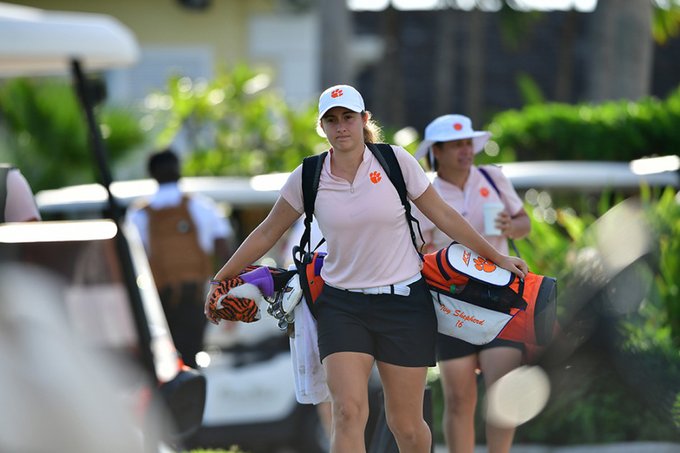 Shepherd in Solo First Heading Into Tomorrow's Final Round, Tigers in Sixth
CLEMSON, S.C. – Clemson junior Ivy Shepherd knocked one stroke off her opening round 69 in the second round of The Clover Cup, firing a four-under-par 68 to place her in solo first on the players leaderboard. The Tigers improved four spots as a team, finishing the day in sixth place with a 289 team score, 10 strokes better than yesterday's 299 score.
The No. 8 Linn Grant of Arizona State sits one shot behind Shepherd with a three-under 69 on the day – six-under through 54-holes. Her teammate Alexandra Forsterling boasted an equal mark for the second round but remained in a two-way tie for third with YouSang Hou of Arizona.
Arizona holds a six-stroke lead as a team with a 565, 54-hole team score. Host Arizona State sits in the second position at five-under as a team while UNLV rounds out the top three at even par.
Shepherd's second round 68 was the first time since Sept. 28-29 2018 and just the second time in her career recording back-to-back rounds in the 60s after going 69-69-72 at the Schooner Fall Classic in Franklin, Tenn. Today's round featured seven birdies for the Peachtree City, Ga. native, moving her tournament birdie total to 12, a mark that leads the 71-player field. 
Shepherd ranks second among the field for scoring on par fives, averaging a 4.38 score across those holes. She similarly holds a top-3 mark on par fours with a 3.90 average.
Starting on the 10th hole, Annabelle Pancake, who is playing out of Clemson's top spot, recorded all four of her birdies on the back nine of the Longbow Golf Club. After double bogeys on holes four and 17, Pancake finished her day at even par and in a tie for 25th place. Her 54-hole total remained at four-over-par.
Savannah Grewal and Gracyn Burgess, who is playing as an individual, both recorded one-over-par 73s on the day. The 73 score for Burgess tied her season-best round which she recorded at Clemson's last outing at the FSU Match Up, also coming in the second round.
Lindsay May and Callista Rice wrapped up the second round with scores of 76 and 78 respectively. May, who had 12 pars on the day, ranks third across the field for total pars with 25.
Clemson will close out The Clover Cup in Mesa, Ariz. tomorrow with tee times beginning at 8:00 a.m. off of hole one. All live scoring of the tournament can be accessed via Golfstat.