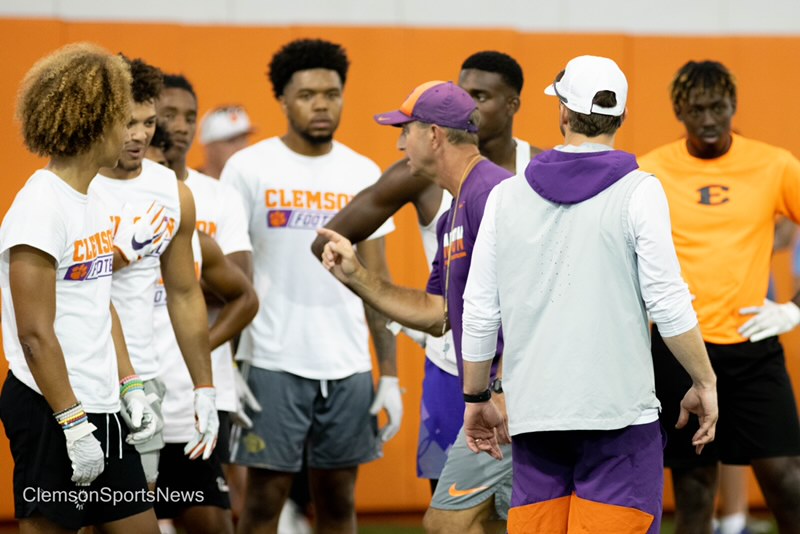 Clemson's first week of football visits, and Dabo's Football Camp, was a huge success. The sounds of close to 800 kids filled the air and the Clemson coaches and players barked out commands and gave out coaching advice to all who came. The week ended with 5 new offers, and now the staff gets ready for week #2.
The Tigers are not expecting the huge numbers for the 2nd weekend compared to June 5-6, but there is a very talented group making their way down to Clemson.
The week will start with a visit on June 9th from the #1 LB in the 2023 class Drayk Bowen, as well as DE prospect 3-star Beau Atkinson out of Raleigh, NC. Bowen, according to 247, is a ND lean but never count out this Tiger staff.
Thursday, June 10, will see a handful of prospects visit the Valley, with the highest profile prospect being 5-star ATH Treyaun Webb out of Jacksonville, Florida. Webb rates as the #4 Athlete in the 2023 class and has already picked up 44 offers. Will Clemson be #45?
One of the top defensive tackles in the country, 5-star Travis Shaw of Greensboro, NC, is scheduled to be in town. The #1 player from the state of NC is a heavy lean towards Clemson and if he commits to Clemson in the future, it would be another one that "got away" from the closed borders of North Carolina. Keep an eye on this big man.
The weekend promises to be loaded with high profile athletes. 5-star Safety Keon Sabb leads this group, arriving on June 11th. Sabb, 6-2 200, is coming in from Bradenton, Florida. He has picked up 34 offers so far. Could #35 be right around the corner? Joining Sabb will be two big offensive linemen from Mt. Pleasant, SC. Monroe Freeling is considered the #1 player in the state of South Carolina. The 4-star Freeling stands 6-7 276 and ranks as the #9 OT in the countryinthe2023class.JacobAshely,5-5300, playsalongsideFreelingatOceanside Collegiate Academy in Mt. Pleasant.
Two players of particular interest to Clemson play in the secondary. 5-star CB Jeadyn Lukus of nearby Mauldin, SC, and 4-star Toriano Pride, Jr., of St. Louis, Missouri, looks to be paying the Clemson campus a visit. Both of these young stars look to be leaning towards Clemson.
4-star Enai White, 6-5 230 DE out of Philadelphia, PA, has indicated he would visit either Clemson or Georgia this weekend, but as of this posting, he hasn't decided. We will find out where this weekend.
Saturday, current Clemson commit QB Cade Klubnik is going to be on campus. Klubnik comes in as the next quarterback in line to take over for DJ once he leaves for the NFL. Yes, Dorothy, he will be a 1st round pick if not THE first round pick in the 2023 or 2024 NFL draft.
Joining Klubnik on Saturday will be newly anointed 5-star RB Branson Robinson out of Madison, Mississippi. Branson is currently ranked as the #5 RB in the 2022 class and the #1 player in the state of Mississippi. He is considered a Georgia lean right now. 4-star DE DJ Wesolak, 6-3 240, will also be on his visit. The 4-star Wesolak hails from Boonville, Missouri, and currently is rated as the #10 DE in the country.
There will be more prospects obviously but these kids are the ones everyone is looking at right now. Stay tuned for more information on these and others.