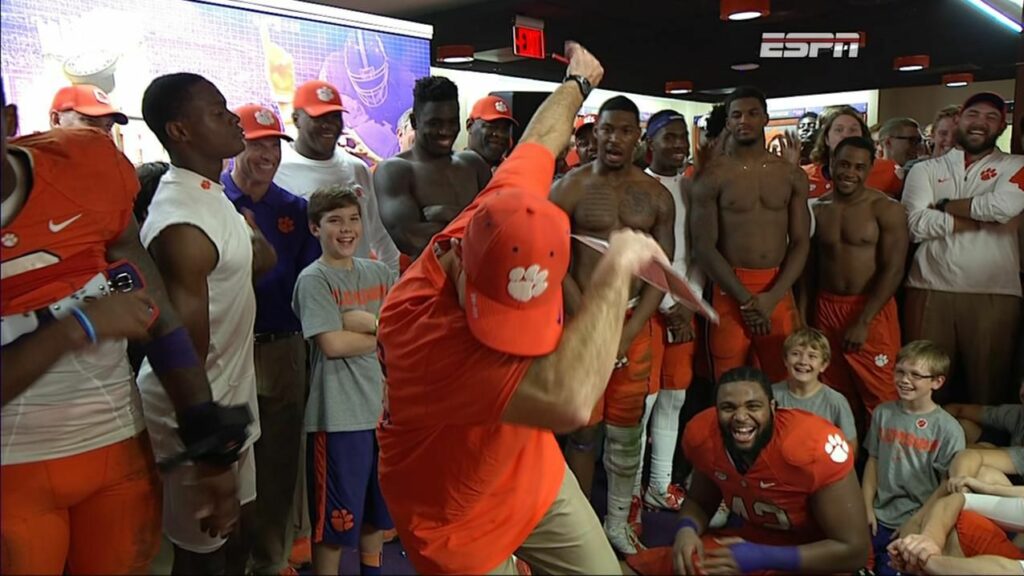 By: Lisa Laskey (Contributor/Staff Writer)
"We win, we dance" has been a Clemson tradition going back several years.  But it's not just dancing that is making it's mark on Clemson football, music is as well.  
The music goes beyond Tiger Band playing Tiger Rag. It is becoming an intrinsic part in creating practice and focus mindset and routine that Clemson Passing Games Coordinator and Tight Ends Coach Kyle Rchardson is implementing as part of practice.
Clemson Tight End Sage Ennis commented Wednesday in an after practice interview that he loves the Wheezy Whitney Wednesdays.
Coach Richardson told the group that he has always used music to creative a routine. At Clemson, Tuesdays are Tupac Tuesdays, Wednesday's are Wheezy Whitney Wednesday. Fridays are Focus Fridays. Thursdays are Throwback Thursdays and Coach Richardson says those are primarily hits fom the 90's and early 2000's that they are't as hip to.
Richardson explained "They are really coming along on the Wheezy Whitney Wednesdays. We had a 6 am position meeting this morning, and i went to wake them up – I'm going to crank something up loud and before I could even hit it, Banks Pope says 'I think I'd like to have a little Whitney Houston to get me ready'."
"Of course, at the top of our lungs 'I will always love you!" Coach Richardson said as he concluded the presser.