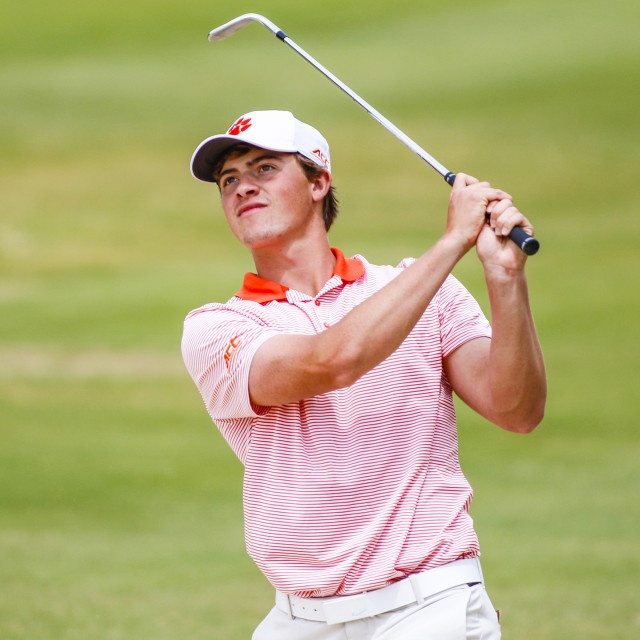 Pettit Fires Opening Round 69 at US Amateur
Clemson, SC—Clemson senior Turk Pettit fired a two-under par 69 in the opening round of the United States Amateur at Bandon Trail Golf Course in Bandon, Oregon on Monday and stands in a tie for 17th place after the opening 18 holes. Pettit needs to finish in the top 64 after Tuesday's second round to advance to match play on Wednesday.
Three members of the current Clemson golf team are competing in the top men's amateur tournament in the United States. Joining Pettit are junior Jacob Bridgeman and senior Colby Patton. It is the first time since 2016 Clemson has had three golfers in the event.
Pettit had four birdies and two bogeys in scoring his 69 on the par 71 Bandon Trail course. He made birdie on three of the four holes on the course that measure over 500 yards, including the par five ninth that is 576 yards. He had nine-hole scores of 35-34 and is six shots off the lead of McClure Meissner, the rising senior at SMU who had a 64 on the Bandon Dunes course.
Pettit, who was the 67th ranked player in college golf this year according to Golfweek, will play the Bandon Dunes course on Tuesday. As a freshman in March of 2018, Pettit finished third at the Bandon Dunes Invitational while playing for the Tigers. He posted scores of 69-68-65 in scoring an 11-under par 202, the second lowest 54-hole score of his career.
Bridgeman, the highest ranked Clemson player this year with a #33 ranking by Golfweek, shot a four over par 76 at Bandon Dunes on Monday and stands in 126th place. He had two birdies and six bogeys, but played the last six holes in one-under-par.
Patton, the son of 1989 US Amateur Championship Chris Patton, shot a 79 on the Bandon Dunes course in the opening round. Like Bridgeman, Patton finished strong, playing the final five holes in even par. Patton had a pair of double bogeys on the front nine that hurt his overall score in his first career round in the national amateur.