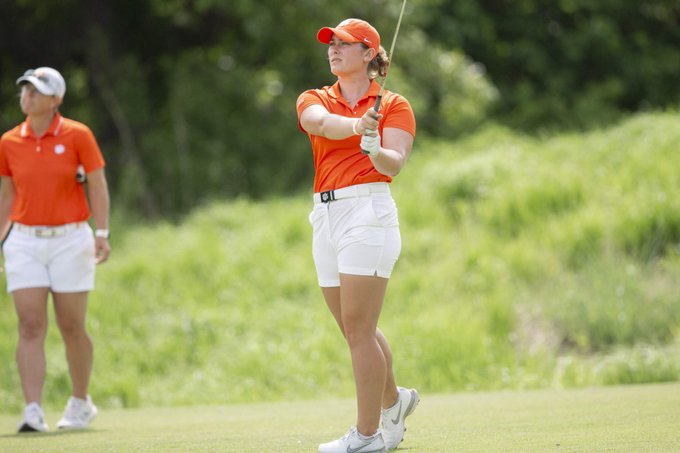 Pancake and Grewal Both Under Cutline after Round 1 of US Women's Amateur
Clemson, S.C—Clemson golfers Annabelle Pancake and Savannah Grewal both stand above the 64-player cutline after the first round of the United States Women's Amateur at Chambers Bay in University Place, Washington. The top 64 player after Tuesday's second round of stroke play will advance to the match play portion of the event that will determine the champion.
The tournament is being played on the rare par 73 Chambers Bay Course that is 6,541 yards in length. The course that opened in 2007, is one of the top courses in the nation. It was the site of the 2015 United States Open won by Jordan Spieth.
Pancake, who had a late afternoon tee time, had an opening round even-par 73 to rank in a tie for 29th place after the opening 18 holes, while Grewal's one-over-par 74 is in a tie for 45th. Sixteen players are tied for 62nd place at two-over-par.
Pancake, who will be a junior on the Clemson team this fall, had 12 pars, three birdies and three bogeys on Monday. She made birdies on the par five first hole, the par four 12th hole and the par three 15th. She played the last seven holes in two-under-par. The Zionsville, Indiana native has had an outstanding summer, highlighted by a second-place finish at the Western Amateur two weeks ago.
Grewal, who had a morning tee time on Monday, had four birdies, three bogeys, one double bogey and 10 pars in scoring 74.  She birdied the first and second holes to get off to a great start, then made birdies on the 15h and 18th holes, both par fives.   The  538-yard 18th hole was the fifth toughest hole on the course on Monday.