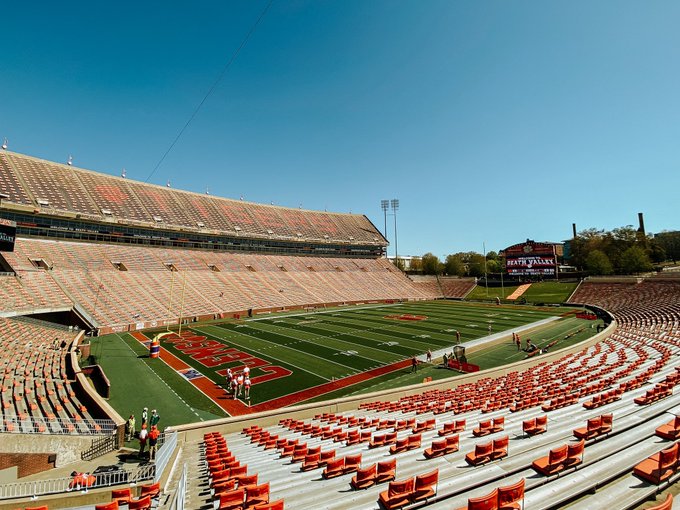 There is nothing like the Spring Game in Clemson in early April. The university used to schedule the spring game around a baseball weekend. Normally, 30,000+ would be there ready for a full day of Clemson football and baseball, and maybe softball depending on the schedule. This year, a pandemic reared its ugly head and things are different. There won't be as many fans on campus today. Clemson baseball is playing in Raleigh. Clemson softball is hosting UNC for a noon game. And yes, Clemson spring football will start at 1pm.
There are many things to take notice of during the spring game. There are many battles that will continue long after the final seconds tick off in Death Valley this afternoon.
Quarterback is one position that appears to be all but spoken for. D.J. Uiagalelei is without question the front runner. It should be exciting watching him throw darts all over the field. The battle at quarterback is for the next man up. Taisun Phommachanh has the edge simply because he has been on campus 2 years already and is familiar with the system. Hunter Helms flashed his talents in the Georgia Tech game last year but did not get much playing time. Two quarterbacks will be in later, Bubba Chandler and Will Taylor. In today's game, you'll see a lot of Helms and Taisun for sure.
Wide receivers to watch, one word….many. The big question is, will Justyn Ross play today? My guess is no. Who will play? EJ Williams is primed to make a big step this year. Veterans Frank Ladson and Joe Ngata look to make that move to consistency. Robbie Spector is another player in the mix but will not suit up today. The new kids on the block are pushing the veterans. Ajou Ajou is a raw talent that is getting better every practice. The Collins Towers, Dacari and Beaux came into the spring ready to compete.
Keep an eye on TE Jake Briningstool, #9 on the White Team today. This young man is the TE of the future. It will be interesting to see how the other tight ends on the roster improve their game. Davis Allen, Jaelyn Lay, and Brandon Galloway are all veterans that need to take that next step. Newcomer Sage Innis is expected to push the veterans but he will not play today.
All eyes will be on #1 in the orange, Will Shipley. The heralded running back has been bragged on and pumped up by Clemson coaches for his work and preparedness this spring. Another newcomer, Phil Mafah is also showing out. These two will light fires on returning running backs Lyn-J Dixon, Chaz Mellusi, Kobe Pace, and Michael Dukes, as well as 6-year man Darien Rencher.
The offensive line will see a deep rotation. Jordan McFadden will move over to left tackle and new starter Walker Parks will start out as the starting right tackle. Center is going to be a battle. One of the favorites in this battle, however, will probably not be playing today; Mason Trotter. Hunter Rayburn and incoming freshman Ryan Linthiculm will see lots of time in front of the Clemson quarterbacks. There will be others cross training, see who else will make that move. Starting guard Matt Bockhorst will also not be playing today.
Defensively, there are a lot of familiar faces returning all over the field. It's the new faces that people will have to become accustomed to.
It's going to be hard to miss Peyton Page. #55 is a big, big man. The first half, the regulars will see plenty of reps. Bryan Bresee, Myles Murphy, Tyler Davis, Xavier Thomas are all names we know, but the names to look out for on the line are Page, Demonte Capehart, Tre Williams, and Cade Denhoff.
James Skalski and Baylon Spector return for the Tigers at linebacker but neither probably won't play today. Instead, you'll be seeing a big group of youngsters trying to make up ground on those two veterans. Trenton Simpson is a star in the making. Kane Patterson, Keith MaGuire, Sergio Allen, Kevin Swint and Lavonta Bentley will see a lot of action early, as will incoming freshman Jeremiah Trotter, Jr. Jake Venables is returning from a broken arm. Clemson is not lacking depth at linebacker.
The secondary welcomes back Nolan Turner for another at the safety position, as well as Joseph Charleston and Lanndon Zanders. Backups Tyler Venables, Ray Thornton III and Jalyn Phillips will be pushing these guys for playing time, as will sophomore RJ Mickens. Incoming freshman Andrew Mukuba, not playing today, is expected to provide stiff competition in the fall.
Cornerbacks took a beating in the game against Ohio State. Coach Brent Venables is taking that game very serious in retooling his defense to make sure that doesn't happen again. Derion Kendrick was expected to return as starter at one CB but he decided to hit the transfer portal. This opens up a chance for young corners like Sheridon Jones, Mario Goodrich, Andrew Booth, Malcolm Greene, and Fred Davis II to take that next step and show their readiness to be next man up. Incoming freshman Nate Wiggins will see a lot of time on the field today due to multiple injuries at cornerback.
Not expected to play:
Andrew Mukuba, KJ Henry,Justyn Ross, Baylon Spector, Brannon Spector ,Malcolm Green, Nolan Turner, Trent Howard, Braden Galloway, Frank Ladson, Mario Goodrich, Etinosa Reuben, Lannden Zanders, James Skalski ,Matt Bockhorst ,Luke Price and Sage Ennis.
The Run Pass Option (RPO) has been a big part of Clemson's offense over the past 10 years or so with Tajh Boyd, Deshaun Watson and Trevor Lawrence using their legs to open up the offense. With DJ Uiagalelei, will they continue to utilize this part of the offense? Will someone emerge to replace Cornell Powell, Amari Rodgers and Jackson Carmen on offense? Who will start in place of Kendricks opening at corner? Enjoy the game.