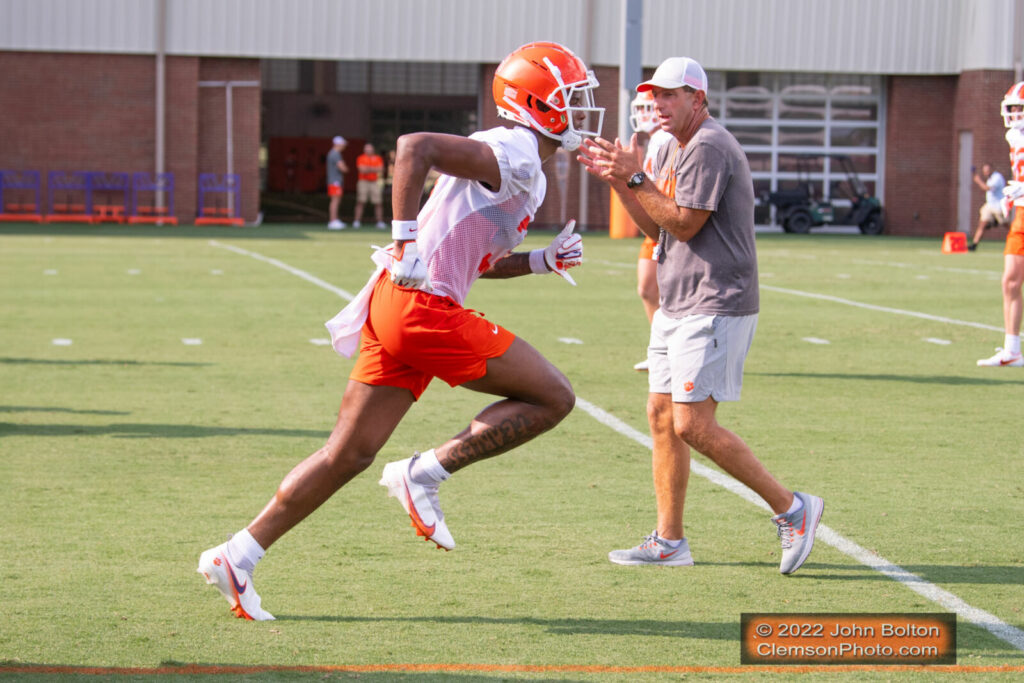 Buckle Up: WR Room Catches Injury Bug
By: Grayson Mann
Buckle up, Tiger Fans.
The start of fall camp for the Clemson Tigers marked a turning point from last year, a season dominated by so many injuries and a lack of continuity within the lineup. Every game, the Tigers had to ship in and ship out several players to accommodate the needs of the team at that present time.
This week has not been ideal for that turning point.
Adam Randall was the only receiver in his position group to miss the start of fall camp, still nursing a knee injury but progressing very well. Joesph Ngata is banged up and was seen in yellow this week after making an athletic grab in practice the day prior. Now, the injuries seem to pile up.
WRs Beaux Collins, Troy Stellato, and E.J. Williams are all facing their own injuries.

Beaux Collins was in street clothes and appears to have a shoulder injury. Coach Swinney has stated he does not expect him to miss the start of the season. This injury is brutal as fall camp is the time for this offense to build momentum and establish what works and what needs to be fixed before Georgia Tech. With Collins being a major part of the offense this year, his time out will be a significant blow to this team.
EJ Williams is in yellow and practicing, so it does not appear that his injury is significant either, but not something you want to hear in the middle of camp.
Troy Stellato was carted off today during Friday's practice, adding to the wideouts who have caught the injury bug this week.
The hope is that all have a speedy recovery as the season gets closer to kickoff in Atlanta on September 5th.