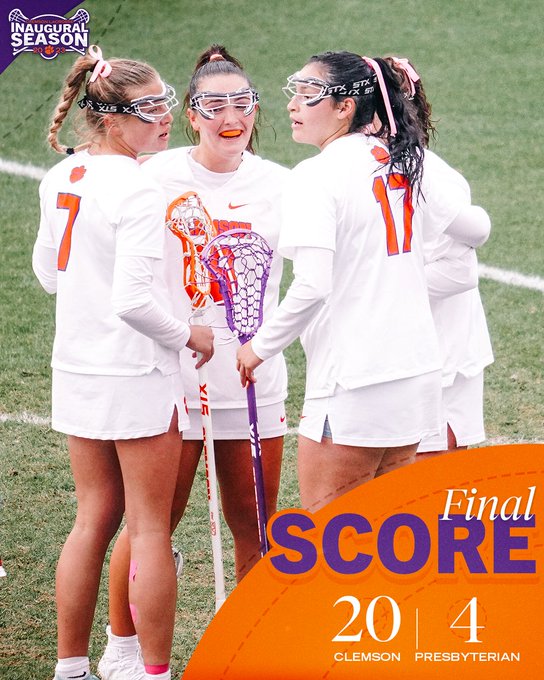 No.22/14 Clemson Close Out Non-Conference Play With A 20-4 Win Over Presbyterian
Clemson, S.C. — The Clemson Tigers Lacrosse team (9-3) finished their out of conference season strong, defeating the Presbyterian Blue Hoses 20-4 at Historic Riggs Field on Wednesday, March 22.
"Today was a great effort to finish our out of conference schedule" said Assistant Coach Bill Olin. "Our staff was proud of the way the offense shared the ball and our connection on the offensive end. Defensively, we had some great moments in our individual defensive efforts. We are looking forward to getting back to ACC play."
Clemson won practically every statistical measure. The Tigers won 65% of the draws and outshot the Blue Hoses 34-9. On the defensive end, Clemson forced 10 turnovers and forced four unsuccessful clears. 
A total of 11 Tigers would register goals on the day. Gianna New put up an impressive performance right from the first whistle, scoring five goals in the first quarter. Clemson's offense was in sync as the team collected 15 assists on their 20 goals. Freshman Sofia Chepenik fed four of those assists, along with notching three goals of her own.
The Tigers return to conference play Sunday, March 26, where they will travel to Chapel Hill to play the No.3 North Carolina Tar Heels.
For complete coverage of the Clemson women's lacrosse team, follow @ClemsonWlax on Instagram and Twitter and @ClemsonWLacrosse on Facebook.