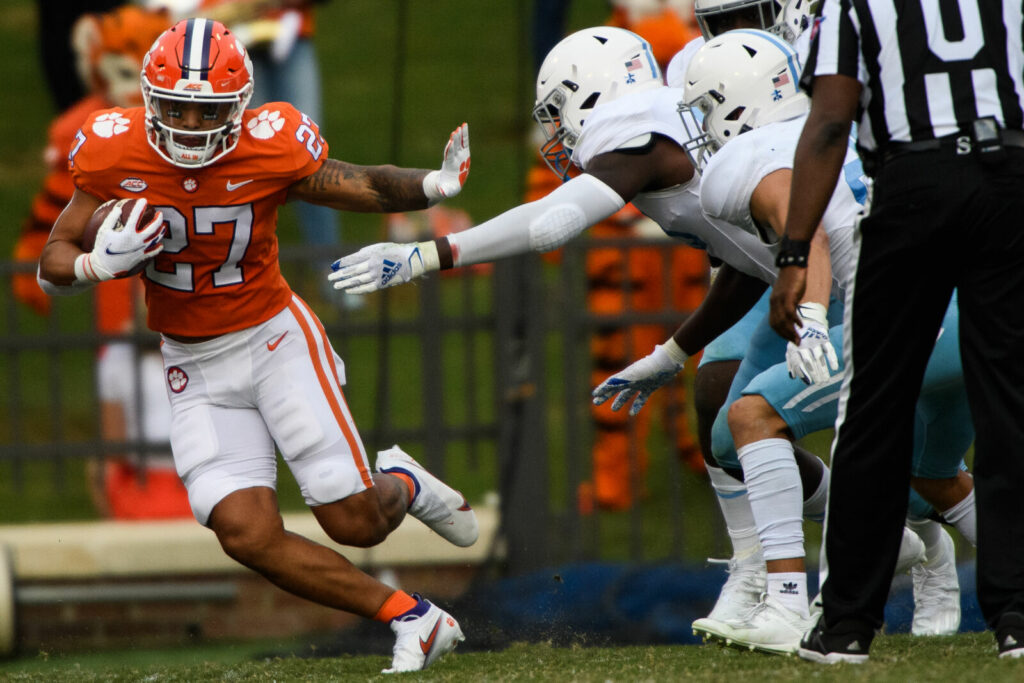 The running back room at Clemson will be missing a familiar face this year. I'm not talking about Travis Etienne. He was expected to be gone. I'm talking about sophomore Chez Mellusi. No one outside the locker room really saw Mellusi entering the transfer portal. What the reinvigoration of the portal has actually done is give guys the opportunity to transfer when they see playing time is going to be sparse. College football is changing and for this writer, not for the best. The portal, the endorsements of Student-athletes for money. It's not what college sports were intended for. You go to college to get an education, then if you're good enough, you play sports. That philosophy was thrown out the window a long time ago with recruiting, big money, and professional sports reaching down with their long arms, offering millions. College football is now a big business. So much to love about college football, yet, there are many changes that are causing it to lose some of its luster.
With Mellusi leaving, the running back group loses a little depth, and not much more. Lyn-J Dixon is the odds-on favorite to start the season as RB1 but there is competition behind him. Returners include 10 years (lol) running back Darien Rencher. It feels like he and Hunter Renfrow are on equal ground in longevity. Michael Dukes returns, as does Kobe Pace. Pace had a great spring game and looks to be the big back the goal-line offense needs. Two outstanding freshmen, Will Shipley and Phil Mafah are the starts of the future and will make their reps count. Do not be surprised if one or both make significant contributions early.
We all hate to see Clemson players hit the transfer portal. There have been several that left in the past that did not really excel outside of Death Valley once they left. I'm not going to name names. We all know who they are. Some have taken the time to get their degree, then go in search of getting more playing time. This Clemson program brings in top notch talent every year. A guy might have been a 4-star talent coming out of high school but beware, the Tigers are looking to bring in top talent every year, including a 5-star that just might beat you out. The transfer portal is more about playing time and in some instances, hurt feelings. This is the difference between student-athletes and athlete-students. More "bubbles" get burst in the transition from high school to college. "Big Man on Campus" sometimes translates from high school to college, but more often than not, it doesn't. Natural talent will get you results in high school, but not always at the next level. Trevor Lawrence has been "The Man" at both levels. Travis Etienne can be on that list.
I guess my point is, the transfer portal is not for everyone. Coach Dabo Swinney is not in favor of it. He never has. There have been a few that have entered Clemson via this route, but none made a huge impact. Clemson has now lost 5 players this year to the portal, including previous 5-star Demarckus Bowman, CB Derion Kendrick and now another running back, Chez Mellusi. 15 years ago, players of this caliber leaving Clemson would have been considered a catastrophe. Today, with Clemson anyway, it's next man up.