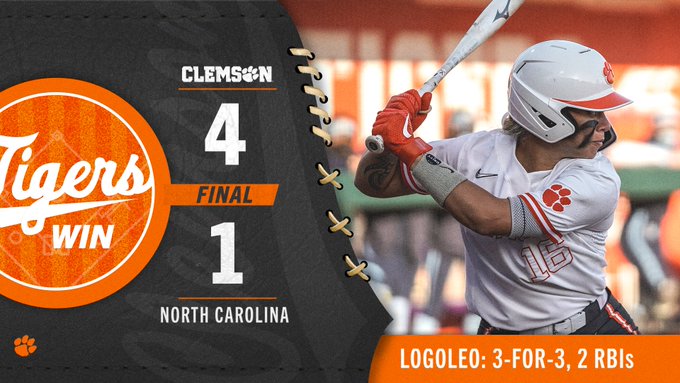 Logoleo, Cagle Lead Tigers to Victory Over UNC
CLEMSON, S.C. — Clemson outfielder Alia Logoleo went 3-for-3 with a pair of doubles and RBIs to lead the Tigers to victory in a 4-1 defeat over North Carolina at McWhorter Stadium Thursday evening. The Tigers combined for nine hits from five different players. Clemson righty ace Valerie Cagle (14-3) secured the win in the circle after going the distance for the 14th time this season, while striking out 12 Tar Heel batters.
With the win, Clemson improved to 23-4 on the season and 14-4 in ACC play, while North Carolina fell to 10-9 overall and 6-4 in league games.
The Tigers struck first with bases loaded in the top of the second after an error by the North Carolina shortstop allowed Logoleo, who was on third, to touch home safely. With two outs and a full count in the top of the fourth, the Tar Heels tied the game, 1-1, on an RBI-single to right-centerfield. However, Clemson responded in the bottom half of the fourth as McKenzie Clark (2-for-3) registered an RBI-double down the left-field line on an 11-pitch at-bat. Clark's double was her fifth of the season. Logoleo's third hit and second double of the day came on a shot off of the centerfield wall in the bottom of the fifth to give the Tigers their 4-1 lead.
With her pair of RBIs in Thursday's contest, Logoleo now has 12 RBIs on the season.
North Carolina's lefty Brittany Pickett, who entered Friday's contest third in the ACC in ERA (1.19) suffered the loss, falling to 8-5 on the season.
Up next, Clemson and the Tar Heels return to McWhorter Stadium on Friday for a doubleheader. First pitch of game one is scheduled for 1 p.m. Both games are slated to stream on ACCNX.
For complete coverage of the Tiger softball team, follow @ClemsonSoftball on Twitter and Instagram and Facebook.