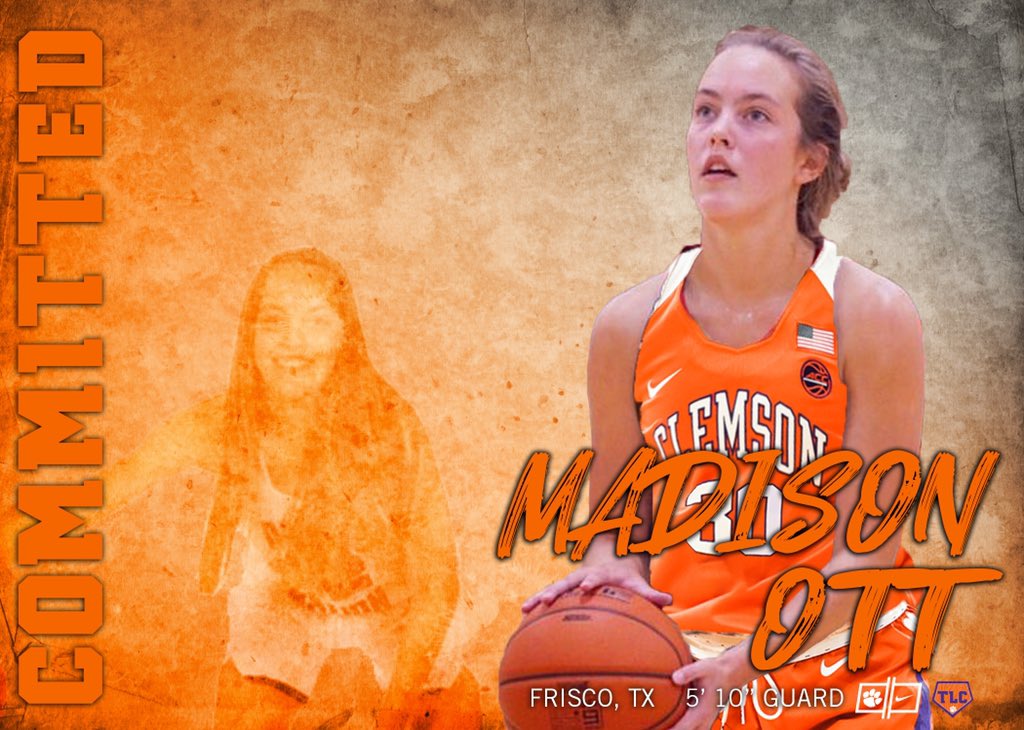 By: Neil Burnett
Clemson women's basketball Coach Amanda Butler got good news yesterday. Frisco, Texas, all-state point guard Madison Ott will be playing for her tigers in the near future.
Ott plays for Centennial high school in Frisco, Texas. As a junior, the 5-10 Ott averaged 15.8 points a game to go along with 3.7 assists and 4.1 rebounds. Centennial was the No. 4 seed from District 9-5A last season, but Ott helped the team reach the 3rd round of the playoffs, and the team nearly pulled off a big upset once there, losing to the eventual 5A state champions. Ott averaged 16 points in the playoffs, including a 25-point game in a big win over District 10-5A champion Wylie East in the first round. Centennial finished the season 24-13.
"She has had offers from a total of 13 schools with ACU, SFA, and UTSA being the biggest from Texas. Madi is the complete package. She is like a coach on the court. She knows where all 5 people on her team are supposed to be going at all times. She is a phenomenal communicator who always is finding someone to praise, encourage, or give instruction to. Madi has incredible ball handling skills and has developed a pretty good mid- range as well as 3 pt game to her arsenal. She has helped guide us to the 3rd round of the playoffs in consecutive years and has established herself as one of the best players on the DFW metroplex as well as the state. Madi is fiercely loyal to her program and coaches and made an instant rapport with coachesGray-Miller and Butler from get go. She will outwork and prove any doubters wrong on her quest to be the best player that Clemson needs her to be. Her work ethic and dedication in the classroom has earned her top 10 percent status in high school and there is no doubt studies will be very important at the next level." — Head Coach Brad Blalock, Centennial High School, Frisco, Texas.
Ott became the 3rd in the 2021 class, joining F Makayla Elmore, Bascom, Ohio, and G Sydney Standifer, Argyle, Texas.