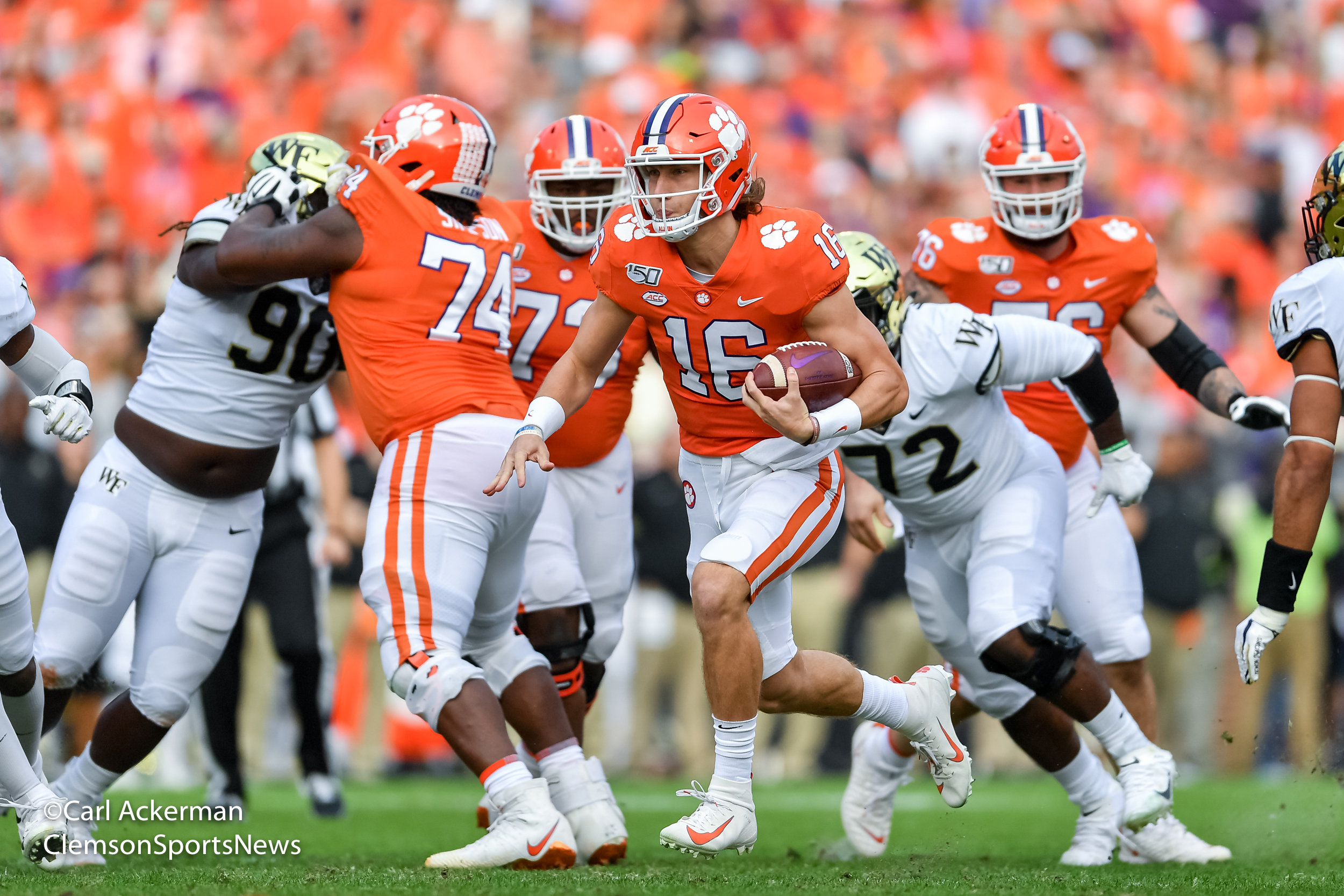 The Football Writers Association of America announced today that Clemson offensive lineman John Simpson has been named as one of six semifinalists for the Outland Trophy, presented annually to the nation's top interior lineman on offense or defense. Additional information from the FWAA is included below.
2019 OUTLAND TROPHY SEMIFINALISTS UNVEILED
OMAHA (FWAA) – Six semifinalists for the 2019 Outland Trophy – five offensive linemen and one defensive tackle – were announced Wednesday by the Greater Omaha Sports Committee. The six semifinalists are players from six schools at four different positions representing four different conferences.
The 2019 Outland Trophy, presented by the National Foundation for Infectious Diseases (NFID), is awarded annually to the nation's best college interior lineman on offense or defense.
NFID is presenting the trophy to help increase awareness about the importance of annual influenza (flu) prevention. Getting vaccinated each year is your best line of defense against the flu. The All-America Committee of the Football Writers Association of America (FWAA) selected the semifinalists.
The field for the 2019 Outland Trophy is as follows, listed in alphabetical order: Wisconsin center Tyler Biadasz, Auburn defensive tackle Derrick Brown, Oregon offensive tackle Penei Sewell, Clemson guard John Simpson, Georgia offensive tackle Andrew Thomas and Iowa offensive tackle Tristan Wirfs.
Former University of Pittsburgh tackle Mark May, the 1980 Outland Trophy winner, is serving as the Outland Trophy #FightFlu ambassador on behalf of NFID. May is making media appearances on behalf of the #FightFlu public awareness campaign to remind everyone six months and older to get an annual flu vaccine.
The six semifinalists will be paired to three finalists next Monday. The recipient of the 74th Outland Trophy will be announced during ESPN's The Home Depot College Football Awards on Dec. 12, live from the College Football Hall of Fame in Atlanta. The official presentation to the winner will be made at the National Foundation for Infectious Diseases Outland Trophy Award Dinner sponsored by Werner Enterprises on Jan. 15, 2020 in Omaha, Neb.
John Simpson, G, Clemson (6-4, 330, Sr., North Charleston, S.C.): Simpson has been a regular in the ACC weekly honor roll with three Offensive Lineman of the Week awards, the latest coming Nov. 11 after grading at 90 percent with four knockdowns in a 55-10 win over N.C. State. Simpson lines up inside a line that has Clemson's offense still ascending with record-setting numbers, averaging 543.1 yards per game, third nationally. It has reached 50 points in a fourth straight game for the first time in program history (and 45-plus in six straight) and has posted 500 or more yards in six straight games. As for pass protection, Simpson is part of a line that has allowed only 12 sacks in its last 19 games. He became the first Clemson offensive lineman to score a touchdown since 2011 with a one-yard plunge against N.C. State. His senior class at Clemson is 52-3 overall the past four seasons. The Tigers have never had an Outland winner but had two semifinalists last year (defensive tackle Christian Wilkins and offensive tackle Mitch Hyatt).