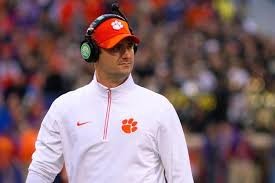 2018 Allstate Sugar Bowl – Clemson Co-Offensive Coordinator
Jeff Scott Quotes – 12-29-17
Q. Can you talk about the excitement to be here in New Orleans and what it means to this program to be back after some fifty‑plus years?
COACH SCOTT: Yeah, it's very exciting. Coach Swinney kind of has this special skill or talent of maybe predicting the future. And at the very beginning of the year, he always starts off his talk with a bunch of numbers. And he kind of uses those numbers as goals for our season. And one of those numbers was the number of years since Clemson had been to the Sugar Bowl. And that was one of our goals from the very beginning in August, and it's great to be here.
I think our players and coaches understand the history of the Sugar Bowl. The last time I was here was actually as a coach's kid. My dad was coaching Florida State, and they played here in 1989 against Auburn. So I have great memories of that. I was 8, 9 years old running around. It's great to be back as a coach at a historical bowl game.
Q. Alabama is doing well on the defensive side of the ball. What do you see differently from them this season than you saw from them last year in the championship game?
COACH SCOTT: There are a few new faces and new names but the same results. Schematically, they're very similar to what they've done the last two years. I think the best teams know what they want to do and they do it well. And I think probably the same could be said about us offensively. We're not a whole lot different than maybe who we've been the last two years.
But, you know, it's very impressive that with some of the departures they've had over the last few years defensively that there's no drop‑off whatsoever. Very physical. They make you earn everything. There are no free plays out there. Literally every run and every pass completion, there's a guy right there ‑‑
So the biggest thing for us is really to focus on ourselves. We got a lot of respect for our opponents. But part of our plan is really focusing on our execution and to be sure that we go out and give ourselves the best chance to be successful.
Q. Do you see the progression of Kelly [Bryant]? Do you see a different guy each and every week that's gone out and gotten better to be ready for this moment in this situation?
COACH SCOTT: Yeah, I think the biggest difference from where he was the first 2 1/2 years to where he showed up in August, he was a different player, a different quarterback, the confidence that he had, the ability to throw the ball, understanding what we're doing offensively. It was really night and day from where he was, even in the past spring.
Once the season started, I think obviously being a first‑year starter, there's a lot of lessons that you learn each and every week. But really from our perspective, he's been the same all year long. That's one of the reasons that we're sitting here today, is because of his consistency. That's one of the best traits that you can have in your quarterback, is some that's very consistent and doesn't play up or play down in certain games, in certain moments.
He's just been very consistent. Whatever we've asked him to do in order to win a game, he's done it. In some games, we've thrown it a little bit more. In some games, we've asked him to run the ball and do different things. And he's always risen to that challenge. And I think it's quite remarkable for him his first year to play the way he has and lead this team.
Q. Coach, can you talk about the respect you have for Minkah Fitzpatrick.
COACH SCOTT: Great player. Kind of over the last few years we've had the opportunity to play a lot of great players and guys that we respect and have a great skill set. I think he's probably one of the most complete players that we've studied over the last few years. Very technically sound. He doesn't get out of position very much at all. He uses his hands very well. He has his eyes in the right spot. And not only does he know what they want to do defensively, you can tell he spends a lot of time in the film room. He anticipates things very well. And I definitely would say is one of the best players that we have faced in the past and probably will this year.
Q. Talking to Jalen Hurts yesterday, he's glad now that he has that year under his belt as opposed to starting in this type of game last year as a true freshman. Do you have any concerns with Kelly [Bryant] now that the stakes are getting higher? I know he was in the ACC championship. Is there any question marks how he will handle it because the stakes are getting higher?
COACH SCOTT: For us, not really because this has kind of become the norm. That's a great spot to be. I would say four, five years ago we couldn't sit up here and say that playing in a playoff game is the norm.
I know this is his first playoff game. Really, the playoff for us started when we played Auburn, it felt like. We just had so many big games this year and even in the past, big games where everything is on the line. And we played some very talented teams and talented defenses.
But, again, the message that Coach Swinney has really instilled in our guys is it's not about who we play. It's not about where we play. It's not about what time we play. It's about how we play and it's about us. And all those other factors really should not have any implication on our success. We control our success. That's really the mind‑set that our guys have.
So we have a lot of confidence in Kelly. We've got other guys. Justin Falcinelli starts at center. It's his first time playing in a playoff game. Really that's not been our focus at all. Our focus has really been on ourselves and doing all the things that we can do to get ourselves ready to go.
Q. Coach, you've had at Clemson such stability at the core where Alabama has had a lot of turnover. How much do you think that helps that you guys have been around for this run the last three playoffs?
COACH SCOTT: I mean, I think just speaking from Clemson's side, I do think our stability has been very important for us. There's a comfort level on our headsets, in our game planning. I think even for our players, they know what to expect from us. We know what to expect from them. It's been kind of part of our winning formula, I would say.
I would also say just looking across the field, it's very remarkable the consistency that Alabama's been able to play with at a very high level and losing multiple coaches. I think that says a lot about Coach [Nick] Saban and his program. But we're very proud of the consistency and stability that we've had at Clemson.
I think a large part of that credit goes to Coach Swinney. He has an environment ‑‑ he's built an environment at Clemson that coaches don't want to leave, they want to stay. And I really feel blessed to be there and be a part of that.
Q. Your guys have got to be pretty excited about this challenge that they've obviously faced the last two years, going for round three. Have you sensed a sentiment from these guys knowing that they are getting ready to battle one of the best defenses in the country?
COACH SCOTT: Yeah, it's definitely a huge challenge for those guys. Every time I talked to our offensive line, I remind them that they're one of the reasons that we're here. Personally I coached wide receivers. We've had a lot of great receivers over the last eight or nine years come through Clemson.
I really feel like the change in our program and in our offense the last three years, a lot of that credit goes to those guys up front on the offensive line because the skill guys can only take you so far. Even a great quarterback can only take you so far. At some point, you have got to win in the trenches.
I feel like our guys up front really took a huge step forward about three years ago, and I think these guys understand that. They know the importance. It really starts up front for us. We can't do anything running the ball or on the perimeter without those guys, and I think they see it as definitely a challenge.
Alabama has one of the best front sevens that we'll play all year. There's a lot of respect for those guys, especially the guys that have played and even the guys that didn't play the last two years. They were on the sidelines, and they saw what type of battle that was against Alabama. You're not going into the game kind of guessing what it's going to be like. You know there's an expectation that you know what you're going to get from those guys up front. It's definitely a challenge, and we look forward to it