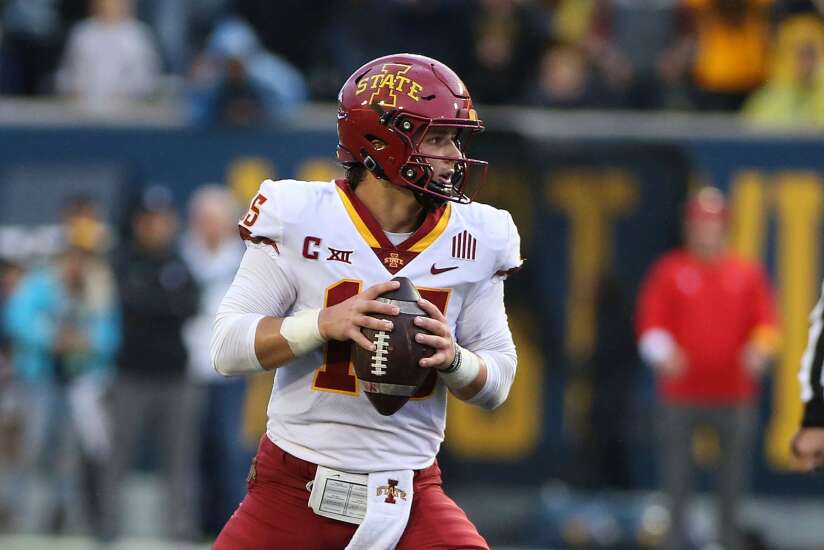 #15 – QB Brock Purdy. 6-1/220, Senior. Purdy has thrown for 2,984 yards, 73% completion percentage, 18 touchdowns, 7 interceptions, and was sacked 20 times during the year. Although not much of a runner, Purdy is dangerous through the air. In his last four games, he threw for 1,241 yards, 6 touchdowns with 3 interceptions. He was also sacked 10 times but 7 of those were in a 28-21 loss to Oklahoma.
Purdy is the greatest QB in Iowa State history, owning 27 school records. He has the most wins among all QBs in school history, and has 63 career touchdown passes, 13 more than second place. He has been named an All-Big 12 recipient three times.
#28 – RB Breece Hall. 6-1 220. Junior. Hall is a big, bruising running back that leads this team in rushing and touchdowns scored. He rushed for 1,472 yards with a 5.8 YPC, and 20 touchdowns. In his last game against TCU, Hall rushed for 242 yards on 18 carries and 3 touchdowns in a 48-14 win. In his two previous games, in losses against Oklahoma and Texas Tech, he rushed for a combined 109 yards on 37 carries. Hall is also the 3rd leading receiver with 36 receptions.
#8 – WR Xavier Hutchinson, 6-3 210. Senior. Hutchinson is the leading receiver for the Cyclones, hauling in 82 receptions for 953 yards and 5 touchdowns. He has caught at least 7 passes in the last 4 games for Iowa State and is the main target for Purdy.
#88 – TE Charlie Kolar. 6-6 260. R-Senior. Kolar is a huge target and is the second leading receiver on the team. He has amassed 58 receptions for 773 yards and 5 touchdowns. In the recent loss to Oklahoma, he hauled in 12 passes for 152 yards and a touchdown. In the loss to Texas Tech, he had 8 receptions for 76 yards and two touchdowns. The Clemson defense will have their hands full with Kolar.