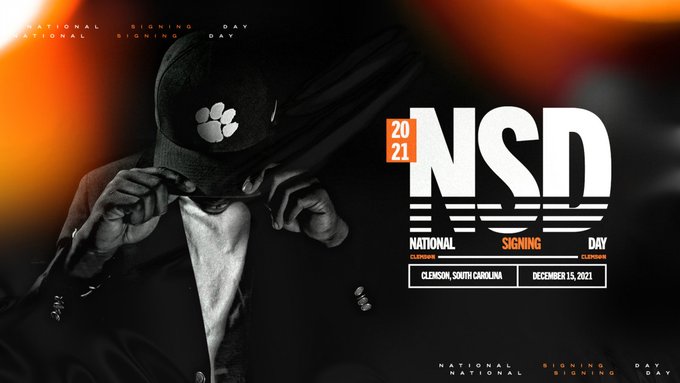 The Deja Vu recruiting class of 2022, compares greatly to Dabo's first recruiting class in 2009. On February 4th, 2009, Dabo and the Tigers signed a small class, led by Quarterback Tajh Boyd. This year's 2022 class is eerily very similar.
At the time, Clemson signed a smaller than usual class because they wanted to move a few scholarships to the 2010 class. Due to the transfer portal, this Clemson team had no such plan to save scholarships but they still only signed 12 players…..initially.
The bulk of top prospects are now signing on the early signing day in December. The February Signing Day could see a few more added to the Clemson roster.
5-star QB Cade Klubnik leads this "Class of 12", and is ranked as the #1 QB in the country by most services. He is set to lead his Westlake team into the State Championship game this weekend. All he has done the last two years is throw for 6466 yards, 74 touchdowns, and only 5 interceptions. He has also rushed for over 1000 yards and added 27 more touchdowns.
Two WR's from the state of South Carolina will follow this talented QB to Death Valley. 4-star receiver Adam Randall out of Myrtle Beach and 4-star WR Antonio Williams from Dutch Fork High School in Irmo, SC.
Randall caught passes for 1,267 yards in his senior year and 16 touchdowns. He also rushed for 330 yards and added 7 more touchdowns. Myrtle Beach finished the season 9-2. Dutch Fork finished the season at 12-1, losing to Gaffney in the State Championship. Williams finished the season with 1,625 yards receiving and 15 touchdowns.
3-star TE Josh Sapp, whose father Patrick Sapp is a former Clemson player, joins teammate 4-star OL Collin Sadler in signing with the Tigers. Sapp hauled in 50 passes for 995 yards and 17 touchdowns his senior year.
Sadler, 6-5 285, will be joined on the offensive line by massive Blake Miller out of Strongsville, Ohio. Miller, 6-6 315, is rated as the #17 OT in the country.
Clemson lost three IMG recruits when Brent Venables left for Oklahoma. These are the ones we have to simply move on from. The defensive recruits that stayed the course are to be commended.
4-star CB Jeadyn Lukus out of nearby Mauldin, SC, is the 2nd ranked player in the state of SC and the #7 ranked CB in the country. He is joined by fellow 4-star secondary prospects in Toriano Pride, Missouri, and Sherrod Covil, Jr., Virginia. Pride is rated as the #3 player in the state of Missouri and the #9 CB in the country. Covil is ranked 6th in the state of Virginia and the 13th ranked safety in the country. Don't sleep on this secondary class.
Wade Woodaz, 6-3 205, comes in vastly underrated and reminds me of current Clemson safety, Nolan Turner. Out of Tampa, Florida, Woodaz played linebacker and safety for his 14-1 Jesuit High School team that finished runner up in the State Championship game.
The Tigers signed two kickers in this class. Current Tiger kicker BT Potter has decided to return for another year, but Clemson is just stocking up. Robert Gunn III helped lead Pinellas Park High School to a 9-2 record.
"Robert is without a doubt a Power 5 FBS scholarship-ready kicker/punter and the best 2022 kicker in the country. I believe he will be kicking in the NFL one day." — KickingWorld.com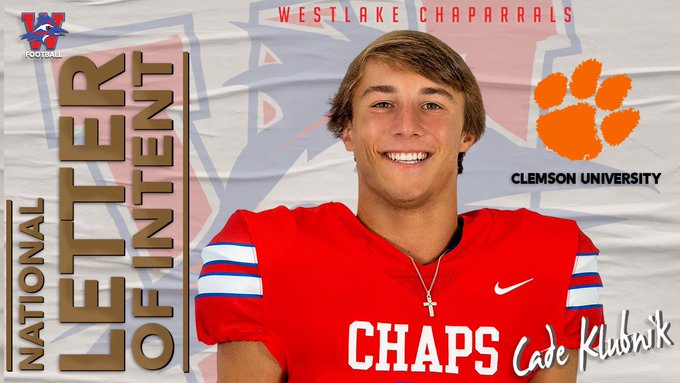 Bradley Pinion was a 6-5 229 punter for the Clemson Tigers for three seasons and is now punting in the NFL. Jackson Smith is a 6-5 227 punter who is joining the Clemson class of 2022.
In May, 2021, Smith attended a Kohl's Showcase Kicking Camp. It was his first Kohl's ranking event. He scored over 103 points punting from the pocket and got "hot" in the afternoon during his drill work session. According to ProKicker, Smith is the only prospect in his class to earn a 5-star rating for both kicking and punting.
It is a small class, but it is a potent class. The class in 2009 had an overall star rating of 0.8981 and finished ranked 6th in the ACC and 36th in the country. It's going to be a long day for the Clemson fans today. Will there be any surprises? Will Dabo dip into the portal? Will there be more to come for the second signing day? There are over 2,000 players in the transfer portal, meaning, there are a lot of high school prospects that won't sign until February. Coach Swinney and his staff will have 2 months to continue to evaluate and add to this 2022 class. The Clemson Tigers class is not yet finished.