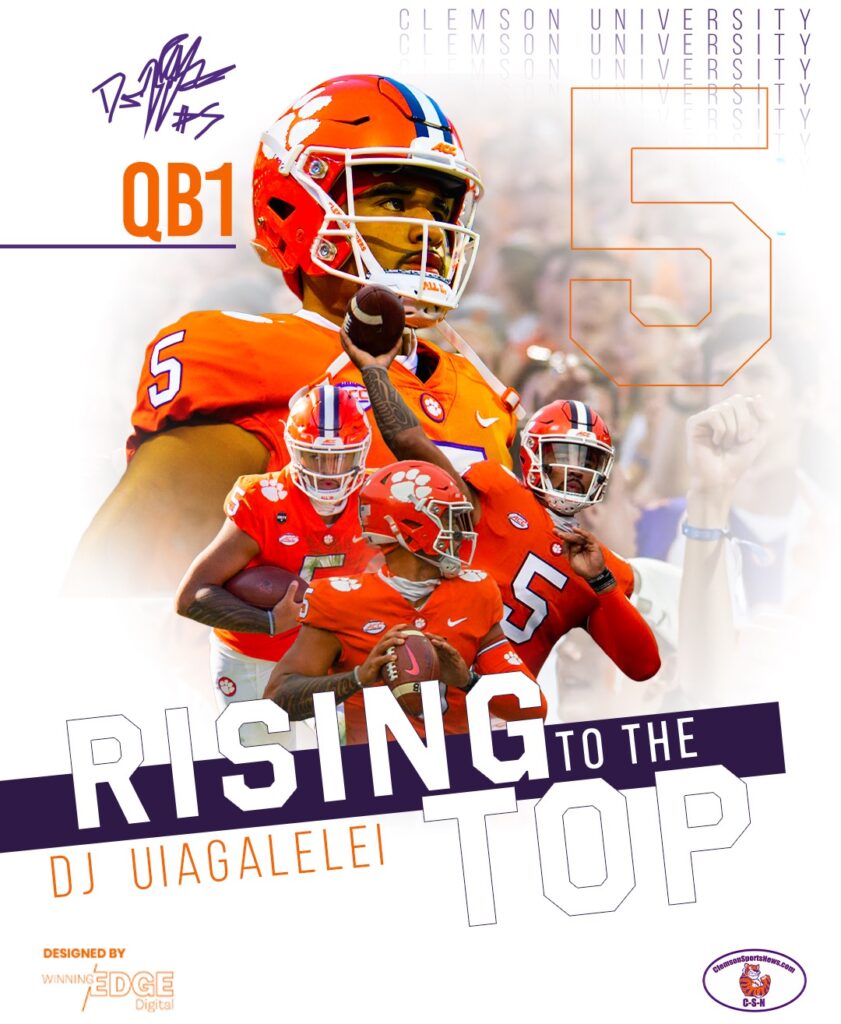 Clemson looks toward the 2021 Football season and an opening clash with what should be one of the top 5 teams in the nation as a September date in Charlotte is looming in the shape and form of the Georgia Bulldogs. The Tigers also look to open the newest chapter at the quarterback position as "Big Cinco" or DJ Uiagalelei now set to assume "QB1" duties for the Clemson offense. After three years of award-winning and a 34-2 starting record as a Tiger, Trevor Lawrence will be short of impossible to replace. And that is not going to happen anyway. But the newest Clemson quarterback comes with his own legend growing.. from the practice fields of California to now his time at the helm either in mop-up duty or the two starts the young gunslinger has under his belt already. Coming out of St John Bosco High School out in Inland Empire, California … DJ has been playing against top competition and in big-game situations since pee wee ball. With a lot of attention and accolades during his high school career, this #1 QB had a litany of offers from all over the power five.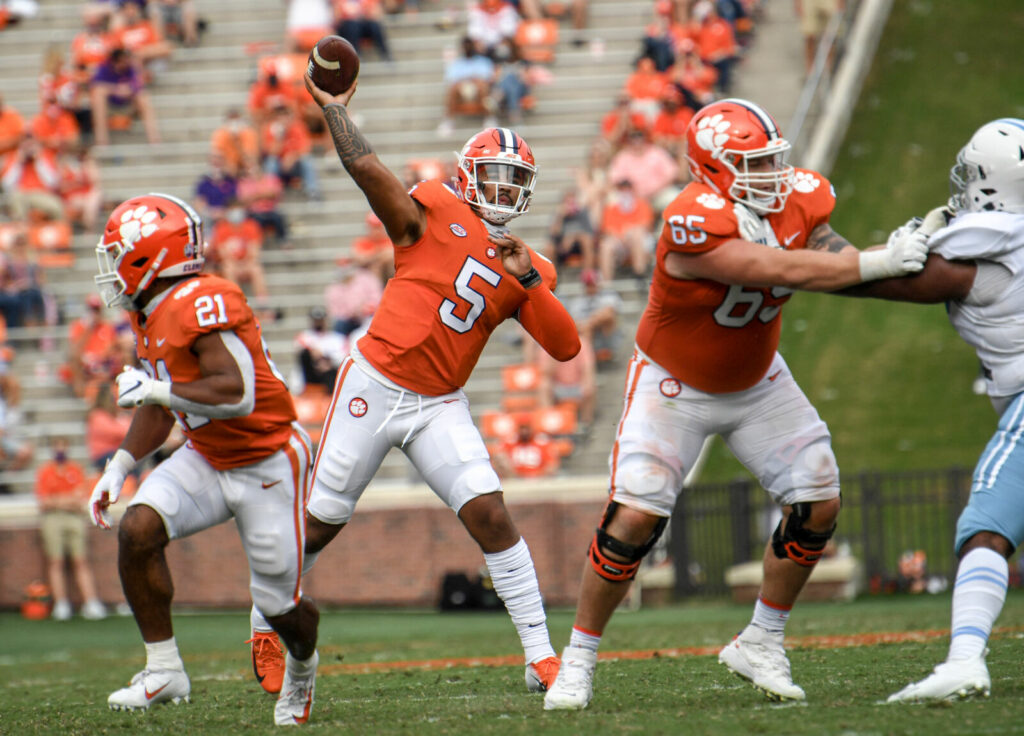 In 2020 not expected to do much more than mop-up duty with Lawrence at the helm of the offense, DJ managed to use his time on the gridiron to continue to develop his overall game. Late in the season Lawrence contracted Covid19 and was forced to sit for Boston College and then Notre Dame in a highly anticipated clash in South Bend. The Freshman was undaunted as he managed a win at home over BC with his arm and leg talent. But the marquee game was to be the match up with the Irish and DJ's first road start and against at the time the #3 team in the nation. Big Cinco managed to throw for over 425 yards and (the most ever versus an Irish Football team) and with a depleted roster came oh so close to the win. But in the meantime gained valuable experience and time under scrutiny from top-tier defenses.
Now the mantle has been passed as Lawrence announced his entry to the NFL draft and its now officially "BIG CINCO" who will grab the reign's and guide this 2021 version of the Tigers offense to another ACC title, and another appearance in the College Football Playoff. Stay tuned as CSN for the updates as Spring football is just right around the corner and we will be here in Tigertown on the ground to provide you all the news and updates coming out of camp.
Courtesy Clemson Athletics:
2020: Made collegiate debut at Wake Forest, completing 2-of-3 passes for 16 yards and rushing once for three yards … completed 8-of-11 passes for 75 yards and rushed three times for seven yards with two touchdowns vs. The Citadel, becoming the first freshman quarterback at Clemson with two rushing touchdowns in a game since Kelly Bryant at Miami in 2015 … rushed twice for five yards and completed a pass vs. Virginia … rushed for 17 yards vs. No. 7 Miami … available but held out as a precaution at Georgia Tech … went 1-for-3 for 11 yards vs. Syracuse … made his first career start vs. Boston College and completed 30-of-41 passes for 342 yards with two passing touchdowns and no interceptions while also rushing six times for 25 yards with a rushing touchdown … led Clemson to the largest comeback in Memorial Stadium history (18 points) in that game, earning ACC Rookie of the Week honors and sharing team offensive player of the game honors … with that performance against Boston College, joined Deshaun Watson and Trevor Lawrence as the only true freshmen in Clemson history to win their starting debuts, and his 342 passing yards were the third-most by a Clemson freshman (true or redshirt) in his starting debut, trailing Watson's 435 yards against North Carolina in 2014 and Charlie Whitehurst's 420 yards against Duke in 2002 … earned ACC Rookie of the Week for a second straight week and shared team offensive player of the game honors after completing 29-of-44 passes for a career-high 439 yards with two passing touchdowns at No. 4 Notre Dame while also adding a rushing touchdown … his 439 passing yards at Notre Dame were the third-most in a game in school history and broke the school freshman record of 435, set by Deshaun Watson against North Carolina in 2014 … the 439 passing yards at Notre Dame were also most ever thrown against the Irish by an opposing quarterback, breaking the mark of 425 held by USC's Carson Palmer in 2002 … completed 7-of-12 passes for 31 yards and a touchdown vs. Pitt … played one snap at Virginia Tech, a handoff to Darien Rencher that resulted in a 50-yard touchdown.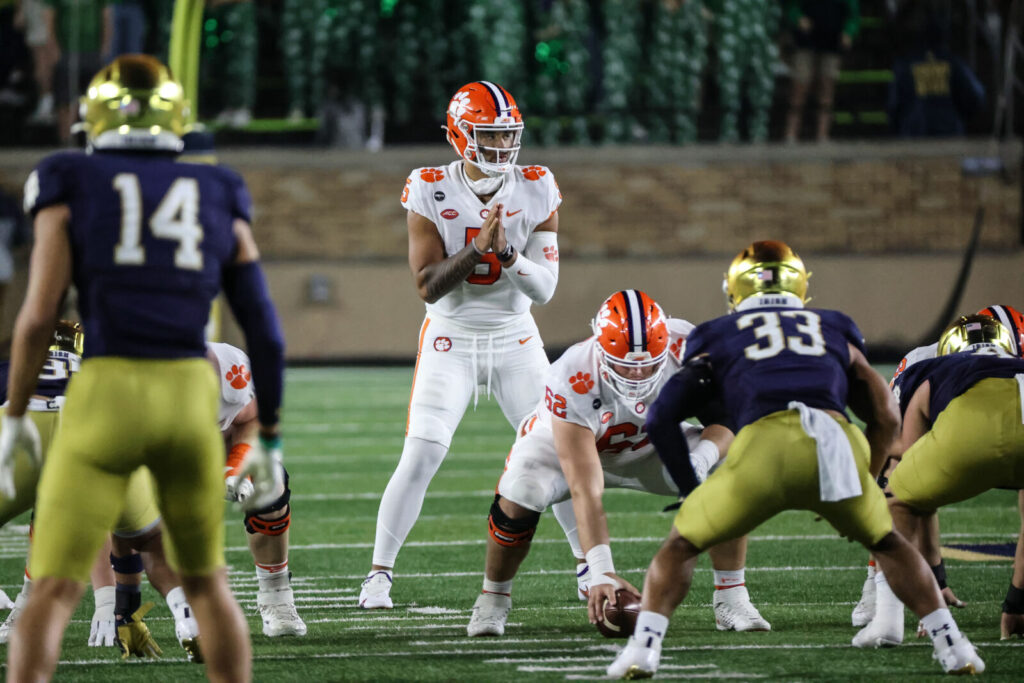 Before Clemson: Played for Jason Negro at St. John Bosco High in Bellflower, Calif., and was listed as the top player in the nation by PrepStar at the time of his signing and ranked second according to Rivals.com behind Clemson signee and classmate Bryan Bresee … was the top quarterback in the nation according to Rivals.com and PrepStar … named a USA Today All-American after leading his team to No. 1 ranking by MaxPreps and USA Today after guiding them to a 7A state championship in California … played in the U.S. Army All-American Bowl … National Offensive Player of the Year and first-team All-American by USA Today in 2018 as a junior … threw for 10,496 yards in his high school career and had 127 career touchdowns against just 11 interceptions … completed 585-of-871 passes for a 66 percent completion mark … averaged 18 yards per completion … also rushed for 1,103 yards and 18 touchdowns in his career, a 6.1 yard-per-carry average … ranked as the No. 1 overall player in the nation, the best quarterback and best player in California by PrepStar … ranked as the No. 2 overall player in the nation by Rivals.com, which also called him the top quarterback and top player in California … 247Sports ranked him the No. 2 overall player in the nation, the top pro-style quarterback and top player from California … led his team to a 13-1 record and state championship in 2019 going 24-of-29 for 410 yards and four touchdowns while also gaining 67 rushing yards on just five carries with another touchdown on the ground … completed 222-of-344 passes for 4,225 yards and 48 touchdowns against just two interceptions in 2019, averaging 19 yards per completion and 12.3 yards per attempt … added 412 yards rushing and eight touchdowns … as a junior in 2018, led team to a 13-1 record and completed 179-of-257 passes for 3,366 yards and 48 touchdowns against just seven interceptions on the year and added 50 carries for 312 yards and six rushing touchdowns … as a sophomore in 2017, completed 184-of-270 for 2,905 yards and 31 touchdowns against just two interceptions … posted 67 rushes for 379 yards and four touchdowns that year … committed to Clemson on May 5, 2019 … recruited to Clemson by Brandon Streeter.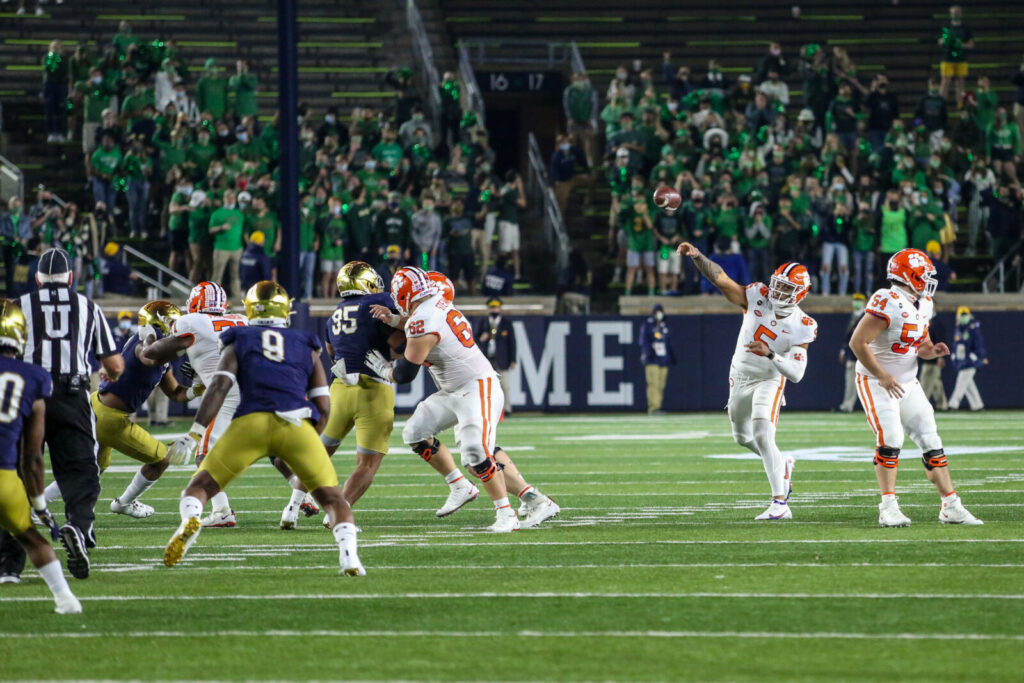 Personal: Born April 17, 2001 … enrolled at Clemson in January 2020 … communication major … name pronounced ooh-ee-AHN-guh-luh-lay.