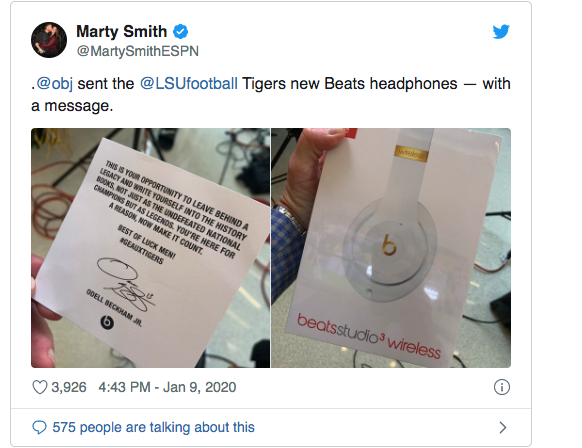 Where is Bill Murray when you need him
The week before Clemson beat OSU to advance to the championship game, basketball "legend" Lebron James sent a gift to the buckeyes, with a motivational message. Ohio Native James gave the entire team Beats headphones and sent the group a motivational note.
"Best of luck men! You guys are here for a reason so just enjoy the moment and make the most of it! Don't settle for nothing less than greatness! O-H … #GoBucks!"
James has given the football headphones previously, providing the Buckeyes team with new Beats ahead of their National Championship matchup against Oregon back in 2015. That year, he worked with the NCAA to make sure the school and players would not be violating any rules by accepting the headphones. It seemed to have worked for that game, OSU beat Oregon 42-20. Umm, not this year.
In steps LSU alum Odell Beckham with a similar gesture to the LSU team. Thanks to Beckham, each LSU player was sent a pair of Beats Studio 3 wireless headphones — along with a personalized note wishing them good luck.
"This is your opportunity to leave behind a legacy and write yourself into the history books, not just as the national champions but as legends. You're here for a reason, now make it count."
The NCAA allows bowls to award up to $550 worth of gifts to each player on the participating teams, so the two stars' generosity did not run afoul of NCAA rules, except that the bowls give players from each team the gifts, not just a favorite.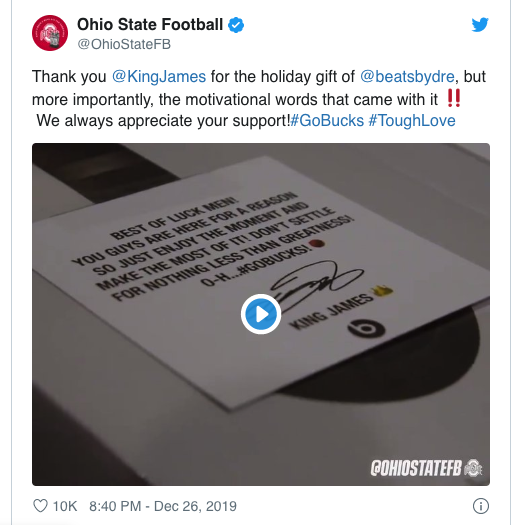 Where is Bill Murray when we need him? Wait, Clemson doesn't need extra motivation or new Beats headsets with motivational messages. This Clemson team lives on motivation and disrespect from all over college football. Coach Dabo Swinney is the master of motivation. However, if Bill Murray was to provide a gift for the Clemson players and a motivational message, it would probably go something like this "Boys, this is just like being at the barbershop…..NEXT!!!!!! Do your thing." The gift? Who knows, Bill Murray would come up with something. The Beats headphones gift is 0-1 this season, maybe 0-2?