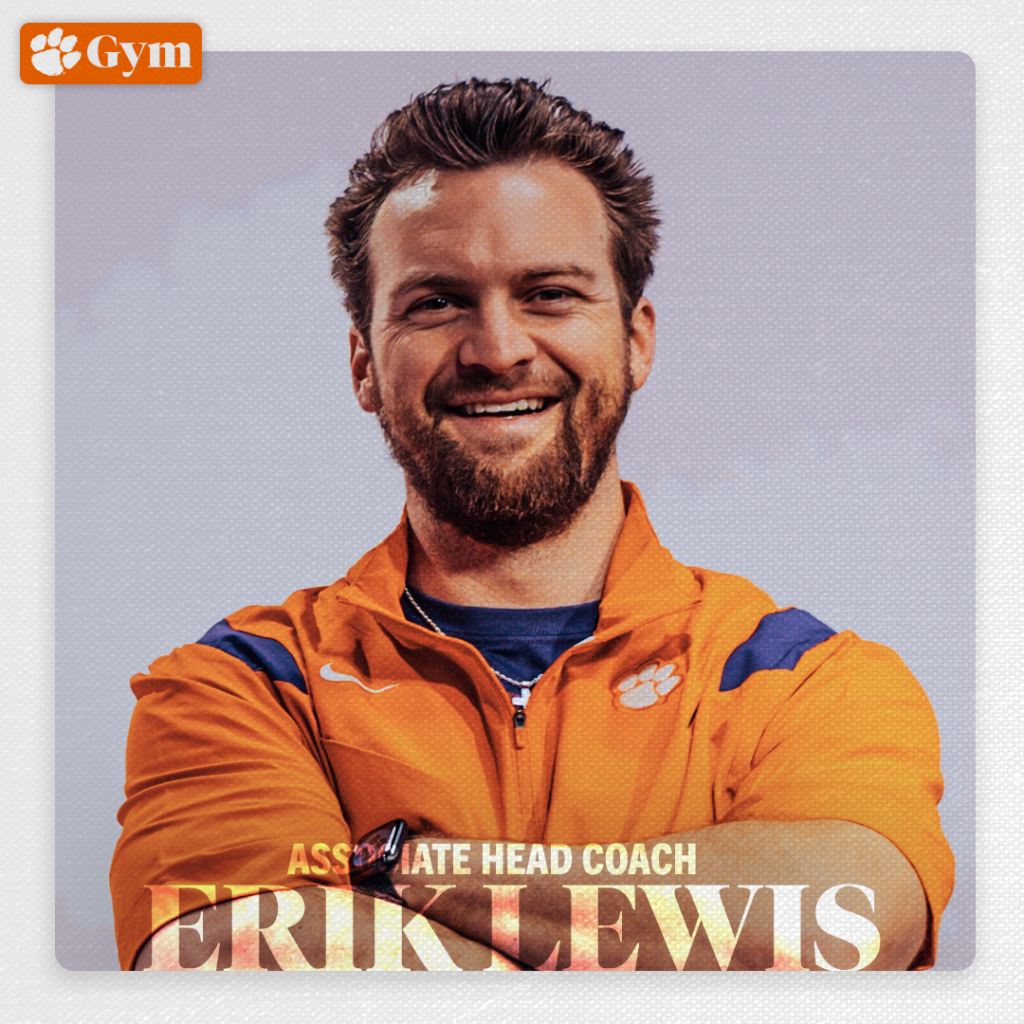 CLEMSON, S.C. – Newly appointed Head Coach Amy Smith announced the addition of Associate Head Coach Erik Lewis to her staff on Thursday. Lewis joins Smith after working together for four years at Utah State, serving as an assistant coach and associate head coach.
"I can't express how excited I am to add gymnastics at Clemson," said Lewis. "The opportunity to join the Clemson family and to be a part of this process was something I could not pass up. I can't wait to get there and get to work."
"I am beyond thrilled to announce the addition of Erik Lewis to the Clemson Gymnastics staff," remarked Smith. "Erik has been an integral part in building the successes that we have seen at Utah State in the past few years, not only gymnastically but academically as well. He and I work incredibly well together, our goals and vision of what we can achieve here totally align, and I am so excited to embark on this new adventure with him. We truly believe the possibilities are endless here. We are in constant collaboration trying to create the best possible experience for our student-athletes and are so excited to build off of that here at Clemson."
During the 2022 campaign, Lewis helped lead the Aggies to their first-ever MRGC conference championship. He coached Brianna Brooks to the highest NQS (National Qualifying Score) and single-season average in program history on the uneven bars. He coached Rebecca Wells who won the all-around title at the conference championship. Under Coach Lewis, freshman Brie Clark became an All-American on the floor exercise. Clark also recorded the highest NQS in program history on floor.
During the 2020 campaign, Lewis helped coach the MRGC Gymnast of the Year (DeHarde) and MRGC Freshman of the Year (Sofi Sullivan). DeHarde also earned MRGC co-beam and co-floor Specialist of the Year accolades, and was named to the first team on both events.
"He is an incredible recruiter, the ultimate hype man and a true student of the sport," said Smith. "His ability to meet the student-athletes where they are and work with them from there is a huge asset and will fit perfectly with Clemson Gymnastics. He and I are incredibly excited to get out in the South Carolina community, hit the road recruiting, and spread the word on all the great things Clemson has to offer."
Lewis is no stranger to the area as he spent time as a program director at Roswell Gymnastics in Roswell, Georgia and at Armory Athletics in Montgomery, Alabama.
Lewis graduated from Auburn University at Montgomery in 2013 with a bachelor's degree in biology with a specialization in Pre-Health Sciences and from Utah State in 2022 with a master's degree in Sports Management. He hails from Prattville, Alabama.
For complete coverage of the Clemson women's gymnastics team, follow @Clemsongymnastics on Instagram and Facebook and @ClemsonGym on Twitter.