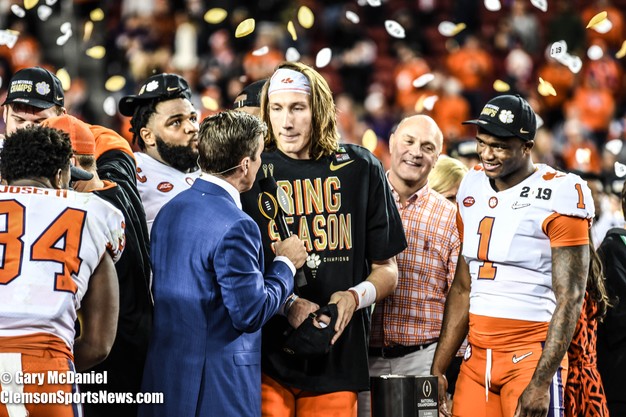 SANTA CLARA, CA-
It all came down to this game, Alabama and Clemson met for the fourth time in four years for the national title game. The Tigers answered quickly with an AJ Terrell pick 6 off of an Tua Tagovailoa pass and from that play on it was quickly downhill for the Tide. Freshman quarterback Trevor Lawrence became the first true freshman to lead his team to the national title and win.
First Half
Freshman Trevor Lawrence came out first with a quick three and out but the dynamic freshman would strike on his second series with a handoff to Travis Etienne, who would take it 17 yards to put the Tigers up 14-7. Lawrence would hand off to Travis Etienne who would do his thing and rush 1 yard for a touchdown to put the Tigers up 21-6. Travis Etienne had quite a bit of a first half, after a Trayvon Mullen interception, Trevor Lawrence would find Travis Etienne for a 5-yard touchdown that put the Tigers up 28-16 with 4:30 left to go in the second quarter.
BT Potter, throughout his freshman season, kicked bombs placing opposing teams deep into their own territory and the national championship game was no exception. Potter would continue to place the Tide into their own territory.
Justyn Ross made an appearance in the first quarter.
First Half Stats
Clemson Alabama
Total yards 224 266
Pass Yards 197 158
Rush Yards 27 108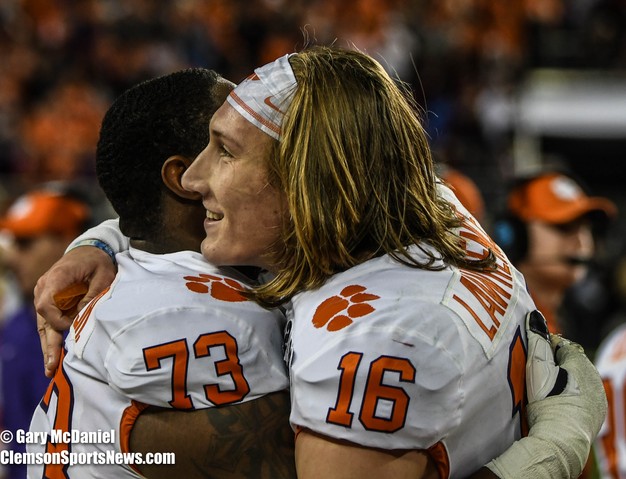 Second Half
In his first appearance of the half, Trevor Lawrence would find Justyn Ross for a 74-yard pass touchdown with 8:26 left in the half to put the Tigers up 37-16. Lawrence would find Ross for a 37-yard completion that would bring the Tigers to the UA38 yard line. Lawrence would find Tee Higgins for a 5-yard touchdown pass to extend the lead to 44-16 with 21 seconds left in the 3rd quarter.
Like in the first half, BT Potter would continue to kick bombs. Although, after his first kickoff of the second half, Jacobs would run it for 30 yards. His next appearance he would
Justyn Ross 74-yard pass complete for a touchdown.
Xavier Thomas made an appearance, Derion Kendrick made an appearance, Chase Brice came in at quarterback with 2:45 left in the game, Lyn-J Dixon made an appearance.
Final Game Stats
Clemson Alabama
Total Yards 482 443
Pass Yards 347 295
Rush Yards 135 148
Congratulations to Coach Swinney and the Tigers on their 2 national championships in 3 years, it has been so much fun to cover this team this season and C U next season!
Brought to you by our Sponsor :