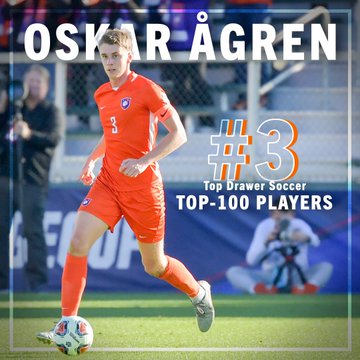 CLEMSON, S.C. — Oskar Ågren, Hamady Diop, Ousmane Sylla and George Marks were all named to the United Soccer Coaches All South Region team. Ågren earned first team honors, while Diop and Sylla were both placed on the second team. Marks rounded out Clemson's representation on the third team. All four of those players were All-ACC team members as well.
Ågren was Clemson's lone All-American, as he was tabbed to the second-team. He is also a finalist for the MAC Hermann Trophy, to be awarded on January 7, 2022. He has dominated all season from the center back position, leading Clemson to 10 shutouts including a clean sheet in the National Championship when the Tigers allowed just two shots on goal. He also scored five goals this season and converted on both of his two penalty attempts in shootouts.
Diop starred alongside Ågren at center back, starting in 20 games and racking up nine points. He too scored on each of his two attempts in shootouts en route to the National Championship.
Sylla, a second team All-ACC member, was a crucial part of the Tigers' offense from the attacking midfield role. His 17 points were third most on the team, and his five goals were tied with Ågren for third-most.
Marks, who was named College Cup Defensive MVP in large part due to his late-game heroics against Notre Dame in the semifinal, finished the season with 16 wins and eight solo shutouts, putting him third in Clemson history for his career in those categories. He was a second-team All-ACC member.
For all the information regarding Clemson men's soccer, visit ClemsonTigers.com and follow @ClemsonMSoccer on Twitter and Instagram.