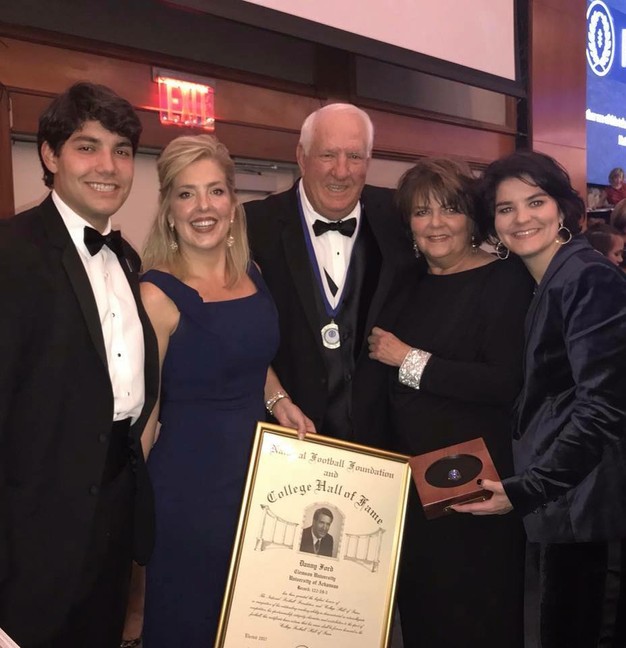 Courtesy CFB Hall of Fame
Danny Ford
Details
Position: Coach

School: Clemson, Arkansas

High School: Gadsden City HS (Gadsden, AL)

Years: 1978-1989, 1993-1997

Inducted: 2017

Place of Birth: Gadsden, AL

Date of Birth: Dec 19, 1947
Member Biography
Record: 122-59-5 (66.9%)
The youngest coach in college football history to win a national championship, Danny Ford was only 33 when he led Clemson to a perfect 12-0 season in 1981 after defeating Nebraska in the Orange Bowl. After coaching one of the most successful runs in Clemson history from 1978-89, he also coached at Arkansas from 1993-97.
He guided the Tigers to six wins in eight bowl games, the second-most bowl victories among ACC coaches, with five coming against Hall of Fame coaches. The 1981 AFCA and Eddie Robinson Coach of the Year coached Clemson to a school-record 41 consecutive weeks in the AP Top 20 and eight top 20 seasons, including four in the top 10. A two-time ACC Coach of the Year, Ford led the Tigers to five conference titles and his 51 wins over his first six years is an ACC record.
Ford's 76.0 winning percentage with the Tigers ranks first in school history among coaches who served at least three seasons, and he is second in wins at Clemson (96) behind only College Football Hall of Fame coach Frank Howard. Ford never had a losing season at Clemson, guided them to the second most postseason appearances in school history and led the university to its first national championship in any sport.
At Arkansas, Ford led the Razorbacks to the 1995 SEC Western Division title, a spot in the conference championship game and a bowl berth.
During his career at both universities, Ford coached 15 First Team All-Americans, including Hall of Famers Jeff Davis and Terry Kinard at Clemson. He also coached 73 first team all-conference selections, 21 Academic All-ACC players, three ACC Players of the Year, two ACC Rookies of the Year and two recipients of the ACC Jacobs Blocking Trophy. He also coached 1978 NFF National Scholar-Athlete Steve Fuller.
Ford was a team captain and earned First Team All-SEC honors playing for College Football Hall of Fame coach Bear Bryantat Alabama. Before becoming Clemson's head coach, he served an assistant coach at Clemson, Virginia Tech and on Bryant's 1973 national championship team. A member of the Clemson Ring of Honor, Ford is enshrined in the Clemson, Orange Bowl, Peach Bowl, State of Alabama Sports and State of South Carolina Sports halls of fame. A scholarship at Clemson has been named in his honor.