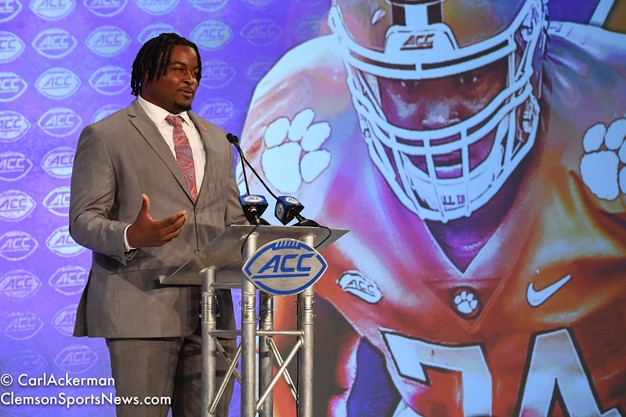 Charlotte,NC
John Simpson – ACC Kickoff
It's no lie that John Simpson was a hit at this years ACC Kickoff. After Clemson drew some criticism for not bringing star quarterback Trevor Lawrence, Simpson decided to improvise. The 330 pound offensive guard dawned a blonde wig he wore while conducting interviews on radio row. Simpson was all smiles as he jokingly referred to himself as "John Lawrence."
Simpson enters into the 2019 season having played 1,318 snaps in over 36 games in his career as a Tiger. Simpson played both guard spots in 2017 before landing the starting role.
The hottest question to ask the Tigers was to get their opinion on Alabama linebacker Dylan Moses saying that Georgia was the best team the Tide played not Clemson. While Nick Saban blames the lack of focus for their loss.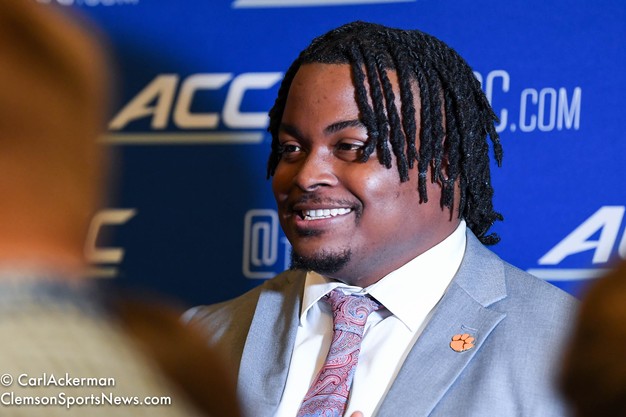 It's been six months since the Tigers dismantled the Crimson Tide in Santa Clara, California to claim their second national title in two years and all it's been is a flood of excuses pouring out of Tuscaloosa, Alabama.
"They've got their opinions" Simpson said "That's how it's gonna be. They've got their opinions and we've got ours."
"No one ever gives us our credit when it's due. I mean, what more can we do?" he said. "We've beat them twice and beat them pretty good the second time. Like, why is there even an excuse?" Simpson said.
"Alabama, they're good, they're great. They've been great for so long and now they're losing and no one wants to see that." Simpson said.
Brought to you by our Sponsor: