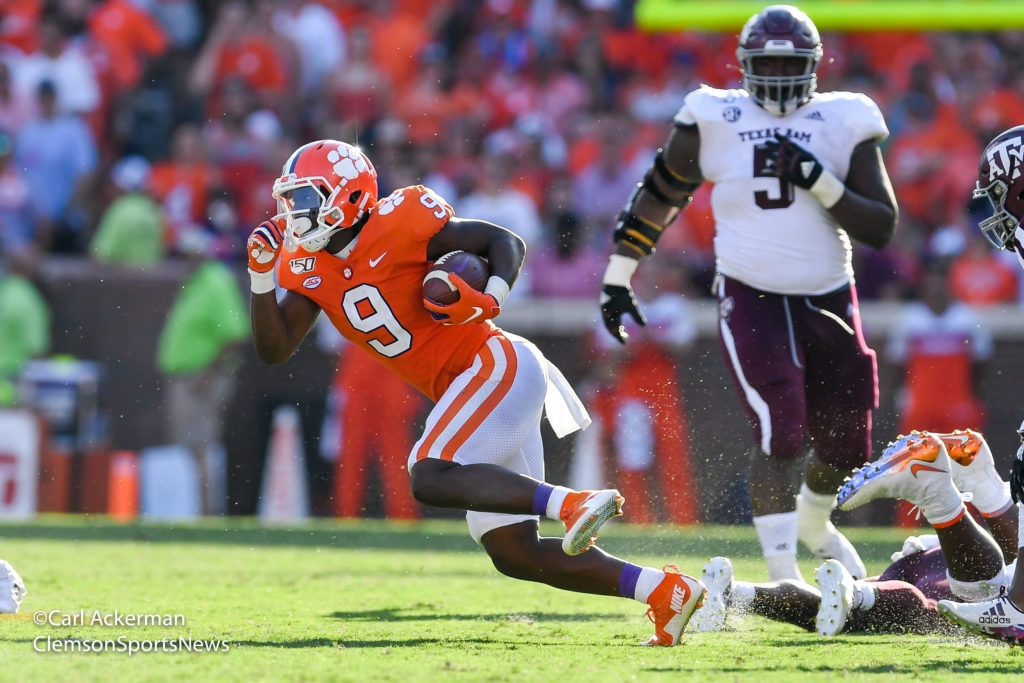 By: Zachary Wagner
When Clemson plays its first home game on September 12th against the Louisville Cardinals, the university will celebrate the 125th year of Clemson Football. In 124 years of football, the Tigers have recorded 758 wins, three national championships and 243 total players picked in the NFL Draft. Clemson has a rich history of talent on the football field, and that history is far from being written off.
Today we will be looking at Clemson Sports News top-10 running backs of all time at Clemson University. I have polled the four employees of CSN who have been fans of Clemson for their whole life. Keep reading to see who made thier lists.
The Mount Rushmore:
#1: As you can expect, everyones list was different. The only thing the group did not differ on though was who was the best running back in the history of Clemson Football. The honor of being CSN's greatest RB is none other than… Travis Etienne. Etienne has broken record after record for the Tigers, and more records are on the cusp of breaking for the senior running back from Louisianna.
Etienne enters his final season in the orange and white with 4,105 career rushing yards and 62 total touchdowns. Etienne broke the ACC record for career rushing touchdowns (52) and total touchdowns (57) in a two touchdown performance last November against in-state rival South Carolina. Etienne is the only player in Clemson history to record two seasons of 1,500 rushing yards.
Etienne also won ACC Player of the Year in back-to-back seasons (2018-2019). The Lousiana native broke the record books at Clemson during his sophomore season in 2018, setting new school records for rushing yards in a season (1,658), yards per carry (8.1), rushing touchdowns (24), total touchdowns (26) and points scored (156).
In the College Football National Championship Game against LSU, Etienne broke Raymond Priester's all-time Clemson rushing yards record (3,966) and became the only Tiger in school history to break the 4,000 yard mark. What does Etienne have cooked up for 2020?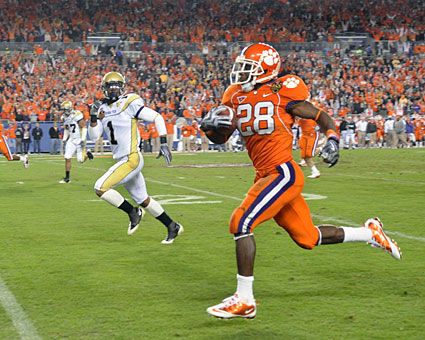 #2: The group also had a unanimous decision on the second greatest back in Clemson history, C.J. Spiller. Spiller played for the Tigers between 2006-09, winning ACC Player of the Year in 2009 and was voted a unanimous All-American in the same year.
Spiller set the ACC record for all-purpose yards in '09 as the senior had 2,680 all-purpose yards in helping lead the Tigers to the ACC Championship game in Head Coach Dabo Swinney's first full season.
The Florida native sits at fourth on the all-time Clemson rushing yards list with 3,547 career rushing yards. Spiller's career touchdowns record was broken last season by Etienne, but until then Spiller sat atop the school's history with 51.
Two school records that Spiller still owns is career kickoff returns with 7, and the record that may stand for a long, long time: 7,588 total all-purpose yards.
#3: Raymond Priester takes the third spot on CSN's "Mount Rushmore" of Clemson running backs. Priester held the Clemson all-time career rushing yards record for 23 years with 3,966 before Etienne broke it last season.
The South Carolina native was a Tiger from 1994 through 1997 before being drafted in the fifth round of the 1998 NFL draft by the St. Louis Rams. At the time of graduation, Priester held the Clemson record for most 100-yard rushing games with 14.
Priester was named second-team all ACC his sophomore and junior season before being named first-team All-ACC as a senior.
#4: Taking our final spot on the CSN "Mount Rushmore" of running backs is: Kenny Flowers. Flowers played from 1983 through 1986 for the Tigers and ranks eighth in Clemsons history for all-time rushing yards with 2914. The Florida native was picked up in the second round of the 1987 NFL Draft by the Atlanta Falcons where he played for two years.
Flowers' best season with the Tigers came in his junior campaign, rushing for over 1200 yards and finding the endzone on 13 touchdowns. The 13 touchdowns was an ACC best that year and the 1200 yards ranked him second in the conference during the 1985 college football season.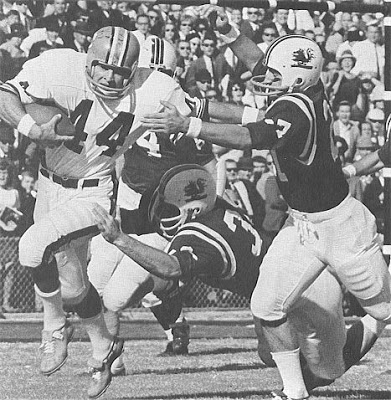 The Others:
Some other running backs that made our staffs list include some household names for Tiger fans everywhere. Some of the running backs on this list date back to the 1930's and some are from the 2010's.
Banks McFadden:
Banks McFadden is often considered the greatest all-around athlete that has ever stepped foot on campus at Clemson University. McFadden was a three sport athlete for the Tigers (football,basketball,track) and is the only Clemson athlete to be named an All-American in two sports in 1939 (football,basketball). McFadden also led the Tigers to their first ever bowl bid, a 6-3 win over Boston College in the 1940 Cotton Bowl. In 1939, McFadden was voted the Associated Press' "Athlete of the Year".
McFadden was then drafted #4 overall in the 1940 NFL Draft by the Brooklyn Dodgers where he played a single season before serving in the military during World War Two. Following his service and return to the states, McFadden served as the Clemson Men's Basketball Head Coach 1946-56.
The South Carolina native was inducted into the College Football Hall of Fame in 1959. McFadden's number is retired in two sports at Clemson, basketball (No. 23) and football (No. 66).
Wayne Gallman:
Gallman played three seasons for the Tigers and won a National Championship in 2017 as the starting running back. Gallman ranks 6th on Clemson's all-time rushing yards leaders with 3,429 career rushing yards. After the 2017 National Championship season, Gallman entered his name into the NFL Draft, where he was drafted in the fourth round by the New York Giants. Gallman was named Second-Team All-ACC in both 2015 and 2016.
James Davis:
James Davis ranks 3rd all-time in Clemson's history with 3,881 rushing yards over four seasons with the Tigers (2005-08). Davis was selected by the Cleveland Browns in the 2009 NFL Draft.
During his sophomore and junior campaign, Davis reached the 1,000-yard mark in back-to-back seasons. In 2006, Davis rushed for an ACC best 17 touchdowns and 1,187 yards on the ground. Davis's 47 career rushing touchdowns puts him fifth on the ACC record board. Davis held the Clemson rushing touchdowns record until Etienne took over the top spot during the 2019 season.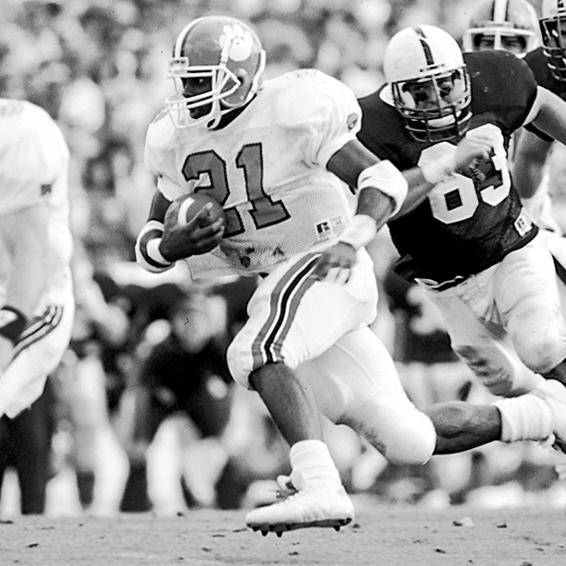 Terry Allen:
Terry Allen spent the 1987-89 college football seasons leading the Clemson Tiger rushing attack. Allen ranks ninth on Clemsons all-time rushing yards leaderboard and helped the Tigers to three straight 10-win seasons under Head Coach Danny Ford. Davis was selected in the 1990 NFL Draft. Davis spent a decade in the NFL and was named to the Pro-Bowl in 1996.
During his playing days in the Tiger orange, Davis led the ACC in rushing yards in 1987 (973) and 1988 (1192) and had an ACC best 10 touchdowns in 1989. Allen was named the ACC Rookie of the Year in 1987.
Davis returned to campus in 2015 to finish his degree and served a role as a student-coach intern from 2015-17 helping co-offensive coordinator Jeff Scott with the running backs.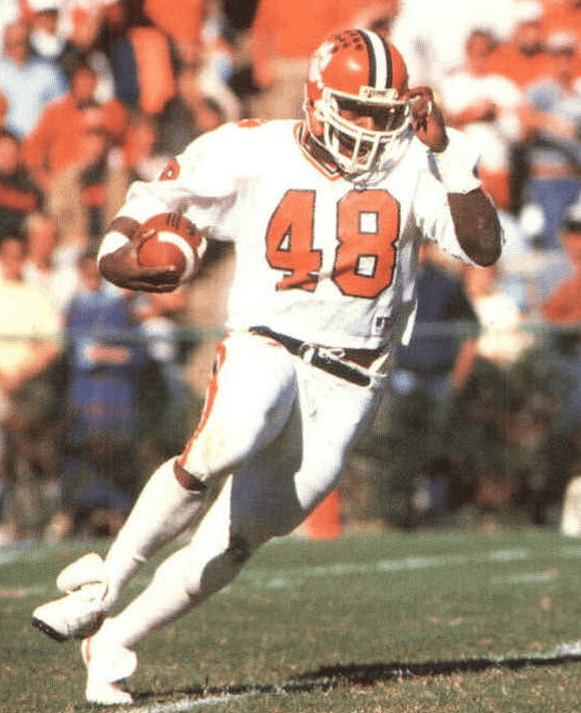 The Lists:
Joe Bostic,11 Year NFL Veteran and All Pro,
2X All-American offensive lineman at Clemson:
Travis Etienne
Raymond Priester
James Davis
C.J. Spiller
Banks McFadden
Andre Ellington
Wayne Gallman
Travis Zachery
Kenny Flowers
Terry Allen
Mark Sturgis, CSN's Live "Host" and On Air personality:
Travis Etienne
C.J. Spiller
Banks McFadden
Raymond Priester
Fred Cone
Kenny Flowers
James Davis
Don King
Terry Allen
(tie) Ken Callicut and Lester Brown
Neil Burnett, CSN Recruiting Analyst/Writer:
C.J. Spiller
Wayne Gallman
Travis Etienne
Andre Ellington
Raymond Priester
Ray Yuager
James Davis
Kevin Mack
Reggie Merriweather
Terry Allen
Gary McDaniel, Publisher & Staff Writer CSN: 
Travis Etienne
C.J. Spiller
Kenny Flowers
Cliff Austin
Raymond Priester
Wayne Gallman
Banks McFadden
Terry Allen
Lester Brown
Buddy Gore
Honorabe mentions: James Davis, Ken Callicutt, Marvin Sims, Travis Zachery and Fred Cone
Sound off in the comments what you think of our staffs lists and create your own top-10 all time running backs at Clemson!