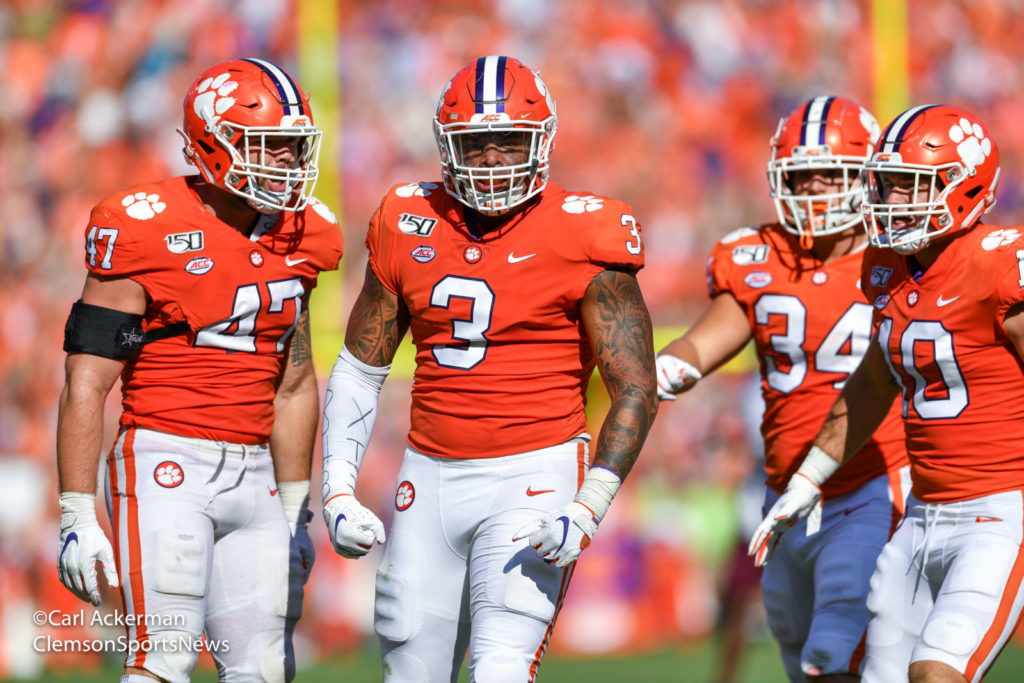 The Clemson Tigers will play host to #12 Wake Forest this Saturday and there are a lot of firsts going on here. This is the first time in a LONG time where Clemson goes into a game with Wake Forest ranked below the Demon Deacons. The first time in a LONG time where Clemson is not in line to win another Atlantic Division Championship. This is an odd year for many reasons but this game is literally the biggest game for Clemson this year. Wake Forest could lose this game and still win the Atlantic Division. Clemson needs to win just to have a chance. For Clemson to be unranked and Wake Forest currently ranked #12, it's odd that the Demon Deacons are a 4.5 point underdog.
Sam Hartman leads a very potent Wake Forest offense, currently ranked 18th in the country in Passing Efficiency, throwing for over 3100 yards, 30 touchdowns with only 8 interceptions. The talented sophomore has some big weapons on the outside to throw to in WR Jaquarli Roberson (51-860-8 TDs) and A.T. Perry (47-918-11 TDs). The leading rushers for the Deacs are Christian Beal-Smith (107-533-7) and Justice Ellison (94-477-6). Hartmann is the team's 4th leading rusher, chipping in with 75 rushes for 328 yards and 9 touchdowns.
In the last six games, Wake Forest is 5-1, outscoring their opponents by a 48.6 to 39.0 per game average. They score a lot, but they give up a lot. This could work in the TIgers favor.
Looking at some of the rankings in college football, Clemson is ranked #1 in Red Zone Defense while Wake Forest is ranked 44th. The Tigers are ranked 3rd in scoring defense with 15.3 while Wake Forest is 86th in the country, giving up 29.1 points a game.
Anyone following this Clemson team knows how the injury bug has affected this offense. The Tigers took another hit last week with the loss of WR Justyn Ross. However, Wake Forest comes in with a swiss-cheese defense, and facing a Clemson offense that will rely heavily on the run game to control the game and keep the WF offense off the field.
This Clemson offense will welcome back RBs Will Shipley and Kobe Pace after both were rested last week recuperating from minor injuries. The Demon Deacons are giving up over 200 yards rushing and over 230 passing each game. Look for the Tigers to have success against this porous WF defense.
On the other side, this Clemson defense has been the heart and soul of this team, and kept the Tigers in every game. They will have their hands full for sure, but if history means anything, Coach Brent Venables will have his team ready to take on their explosive offense.
This is the last game in the valley for several players, to include LB's James Skalski and Baylon Spector. For the year, Skalsi has been in on the most snaps on the team (555) recording 86 tackles, 3 tackles for loss and a half a sack. Skalski runs the defense, calls formations and is the steadying force behind the line. Spector has been in on 476 snaps getting in on 67 tackles with 3 tackles for loss and 2 sacks. S Nolan Turner is the other "Super Senior" that will be suiting for the last time in the Valley.
This defense will be tested but they have been tested all year, no matter what the pundits say about the ACC and the strength of the conference. The ACC has 7 quarterbacks currently ranked in the Top 38 in the country. It seems like every week, the Tigers are facing a fast, mobile quarterback (aside from SC State and UConn).
In order for the Tigers to get to the ACC Championship game, several things have to happen. NC State has to lose one of their last two games against Syracuse and UNC, and Wake Forest needs to lose to Clemson and Boston College. BC has their starting quarterback off injury and playing well. All Clemson can do is take care of business on Saturday.
Clemson in another close one 31-23.