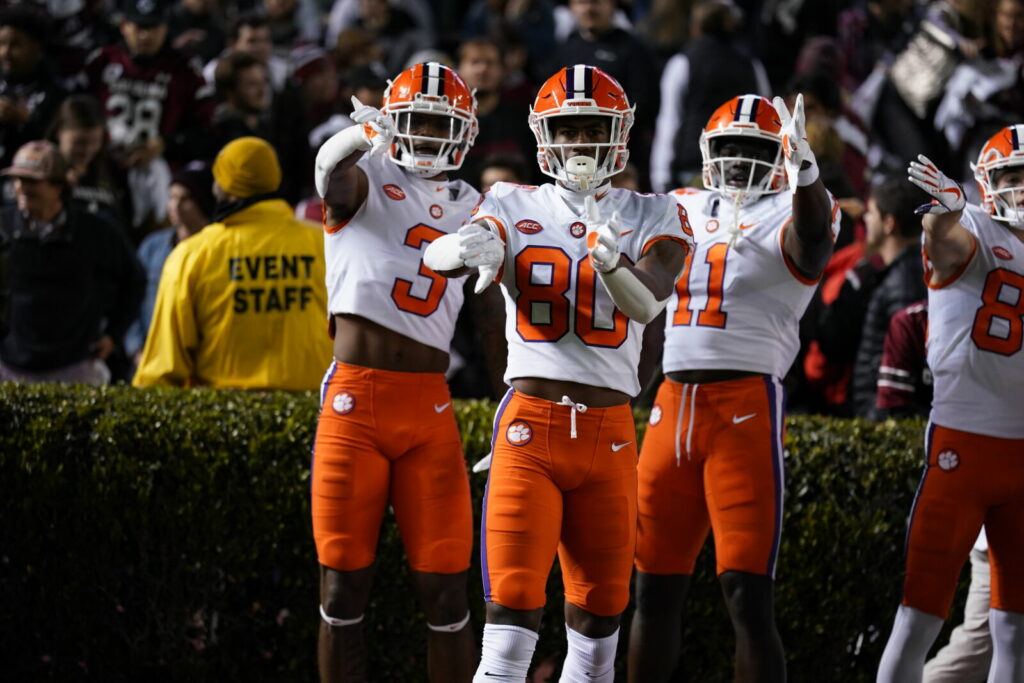 The Clemson Tigers put a hurtin' on their "rival" South Carolina Gamecocks last Saturday night, but you wouldn't know it. There is a part of the USC fanbase that would love to end this rivalry.
"Outscored 68-3 over the last two games. Cancel the series, and shut out by the worst Clemson team in 10 years. As a USC fan, and alum, I don't want to play this game anymore." The author of this post went on and on about stopping this long time series, a series Clemson leads 72-42 (ties don't count, I'm not kissing my sister). What's enlightening here is that 90% of the responses on this thread AGREED WITH HIM!
This program has so many things wrong with it, I am 100% surprised the SEC Conference still has them as a member. Yes, USC beat Florida and Auburn this year, which by the way, was the main thrust behind Gamecock Nation feeling they had a shot at breaking the Clemson 6-game winning streak. So basically, the USC fanbase went from sugar to "sugar honey ice tea" in just 60 minutes of football.
Let's take a look at what makes USC a "storied program" and some traditions associated.
The USC pep song is "Stand to the Rear". The first line of the song is "Will everyone here kindly step to the rear and let a winner lead the way." Well, they certainly have been doing that for a long time.
Behind their stadium, they use a Caboose for tailgating and partying, which the last time I checked ALWAYS is the last car in every train. Coincidence?
The USC mascot is a bird which has lost every fight it has ever been in and is devoured as a meal by most carnivores on earth. It eats its own body excrement, and seriously, how can anyone in the stadium not laugh when a rooster crowing is the battle cry to get everyone excited. Does anyone else really get worked up when before the game starts, a guy or girl (not sure which it is this year) comes from behind a makeshift shower curtain and jumps up and down like a crazed chicken. I guess the crowd goes crazy because most have been tailgating since 8AM on a lot of alcoholic beverages and they don't need much motivation to scream and yell.
Ever notice the thousands of white surrender flags waving in the crowd when their team comes out and at various times during the game? Come on, I think it's still part of the alcohol effect that would make fans twirl those over their heads as if it really makes a difference in the game.
Does anyone remember the 5-game winning streak by USC when Steve Spurrier was there? Yeah, USC fans will never let us forget it. The thing that sticks out in my head are the number of kids that listened to their parents and thought it was funny to 5-bomb in pictures with Clemson coaches. Yeah, that was classy and memorable. Clemson fans don't forget things like this.
Several years ago, Clemson played, and beat, LSU in Atlanta in the Peach Bowl. Low and behold, who shows up. Yes, several USC fans who actually paid good money to have sweatshirts made up saying "USC 4 LSU". USC fans really do tow the SEC bandwagon like no other. It wouldn't be far-fetched if the roots of fanbases screaming "SEC SEC SEC" couldn't be traced back to USC being brought into the SEC conference. I could be wrong here.
.
Come on, every fanbase has their share of fanatics and not so friendly fans, but USC seems to have cornered the market as a whole. I have friends who are Gamecock fans, and they can get "testy" but not to the extent we see in Columbia. Somewhere, there is someone who has brought up how redneck, mean and nasty Clemson fans are.
Last Saturday night, as the Clemson buses pulled into Clemson-owned Willy Brice Stadium, a rather rowdy and loud Gamecock crowd went into a "F**K You Dabo" chant. Once again, I could be mistaken, but I don't ever recall Clemson fans doing this to a single Gamecock coach in history. Just another sign of the USC fan base class. Surprisingly, there were no reports of fans chucking water bottles or batteries at the players, as they have been known to do in the past. That was much appreciated.
All week, media experts, fans, and SEC "analysts" were predicting a USC win. Roman Harper of the SEC Network was nowhere to be found after making this bold statement "IF USC wins? USC is going to win and probably by double digits." It was that "SEC is better than ACC" BS, and we still don't know where he is today. Mind you, Harper is paid by the SEC network to be a homer. We really don't know if that was him or someone else talking.
Today, on Twitter, another bold USC fan had this to say. "USC was on it's 3td and last quarterback. With a misfit team, and a slew of first year coaches, I'll take our future over yours." Really? Clemson, a team full of freshmen at the skill positions, just ran roughshod over a Gamecock defense that was an SEC defense (not that that means anything). The Tigers currently sit at #10 in the nation in recruiting with only 14 commitments so far (there will be more). USC is ranked 21st, which isn't bad for a 6-6 team. Most of their commits go there to play in the SEC and can't get an offer by the top shelf teams like Alabama, Georgia or Missouri.
There is a reason why 30-0 happened on Saturday night. Actually, there's more than one reason. Coaching, player development, recruiting and just plain out "Clemson wanted it more.". All of the bad mouthing pre-game by the media, fans and "expert analysts" will not change the fact that Clemson is a better program. USC wants out of the rivalry. The school administration won't go for this, but if the fans had their way (we are glad they won't). The Clemson South Carolina game is put to rest for 2021. It's time to move on to Clemson's bowl game wherever that might be. I wonder if we will see any USC fans at that game? For the record, when USC visits Death Valley next November, it will have been 3.250 days since the last USC victory over Clemson. That is 7 Christmas dinners, 8 Thanksgiving dinners, and a whole lot of bragging right days for Clemson fans. Until then….GO TIGERS!