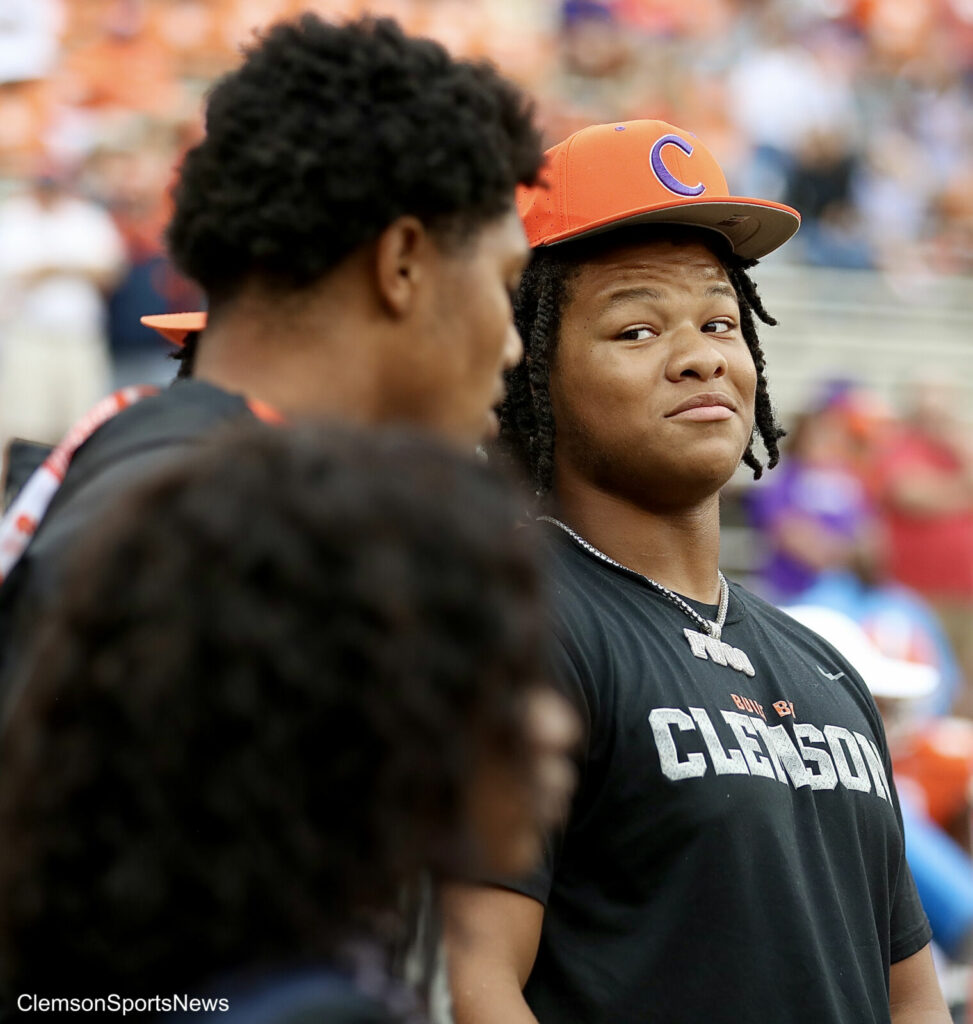 The Clemson Tigers host the Louisiana Tech Bulldogs on Saturday, while at the same time welcoming a large number of prospects.
Clemson commits 5-star quarterback Christopher Vizzina and CB Shelton Lewis will be in attendance, no doubt whispering in the ears of a few prospects.
The #1 Athlete in the country, 5-star Mike Mathews, will be visiting the valley. Mathews, 6-1 180, is also ranked as the #3 player in the state of Georgia in the 2024 class. Mathews lists Georgia, Notre Dame, Alabama and Clemson among his 28 offers.
2024 4-star Cornerback Omillion Agard will be in attendance. Agard, 5-10 165, has 30 offers to date and is ranked at the #4 CB in Pennsylvania and the #18 player at his position in the country. Alabama, Clemson, and Florida State are among his suitors.
2024 TE KingJoseph Edwards, 6-5 242, is already considered a Georgia lean, but will make his way to the Valley to watch the Tigers host Louisiana Tech. The 4-star prospect currently has 34 offers.
4-star Linebacker and ESPN Top 300 Zavier Hamilton is set to make his presence known in the Valley to watch the Tigers. The 2024 Hamilton, 6-1 212, has 15 offers to date, to include Auburn, Florida State, Clemson and Georgia.
2024 Offensive lineman 4-star Ben Roebuck will be on hand to check out Clemson's performance on the line. Roebuck, 6-7 320, is out of Lakewood, Ohio, and has 20 offers to date.
3-star Georgia WR Kyle Vaka will also be on hand. Vaka, 6-0 170, is ranked as the #8 WR in the state of Georgia. In his first 3 games this year, the 2024 prospect has 10 catches for 225 yards and two touchdowns.
Another 2024 3-star WR out of the state of Georgia, Sacovie White, 5-10 175, is reportedly high on Clemson, White recently picked up a Georgia offer and last year, was selected to the Georgia Region 7-AAAAA first team selection at WR.
2023 O'Myireia Daniels, 6-3 180, CB, Gaffney 2023 Gabriel Fortson, 6-4 300, IOL, 3-star
2023 Cameron Perfater, 6-2 225, DE/TE Greenville
2024 Graham Uter. 6-5 275, Daphne, AL
2024 Steven O'Dell, 6-7 290, Broome HS, OL 2024 David Washington Jr, 6-0 185, WR
2024 Thomas Guerrero, Punter, Greenville HS
2025 Josh Moody, QB, 6-1 183, Buffalo, WV
2025 Tre Boughton, TE, 6-0 215, Woodmont HS, SC 2025 Jordan Floyd, OL, 6-7 285, Parkview HS, Lilburn GA 2025 Cortez Smith, OL, 6-4 275, Parkview HS, GA
2025 Bryce Hudson, OL, 6-4 290, Grayson HS, GA
2025 Terry Ezeala, DL, 6-2 305, Georgia Lean