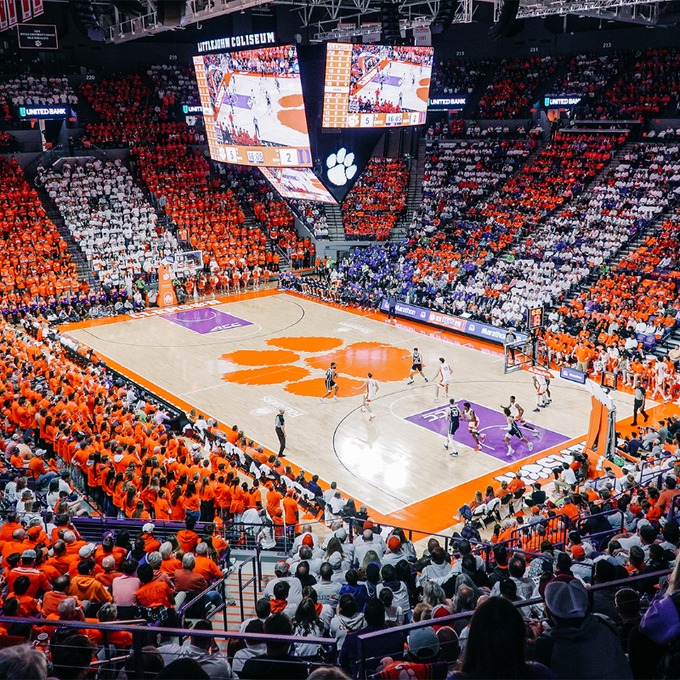 Clemson Rallies to Take Down No. 24 Duke 72-64 on Saturday
PJ Hall nets 26 and Brevin Galloway pours in 17 in the victory

CLEMSON, S.C. – Clemson University men's basketball earned a hard-fought win over No. 24 Duke on Saturday. The win for Clemson helped secure Head Coach Brad Brownell's 400th of his career.
The Tigers (15-3, 7-0 ACC) were led by PJ Hall (Spartanburg, S.C./Dorman) who scored a season-high 26 points. Hall scored 18 of his 26 points in the first half and connected on 10 of his 16 field goal attempts, while adding four rebounds to his stat line.
Brevin Galloway (Anderson, S.C./Seneca) netted a season-high 17 points which included a massive 3-point play along with a timely 3-pointer to give the Tigers momentum late in the second half.
The unsung hero of the night for the Tigers was Ian Schieffelin (Loganville, Ga./Grayson) who was everywhere for the Tigers. Schieffelin recorded six points, eight rebounds, and a season-high six assists. Schieffelin put himself in great defensive positions all night long and drew three charges against the Blue Devils (13-5, 4-3 ACC).
Clemson trailed by just four at the break (34-30) after battling back from a 10-2 run by Duke toward the end of the opening stanza.
It was the fifth halftime deficit overcome to win this season and the fourth in ACC play.
The Tigers erased an eight-point Blue Devil lead in the second half with an 8-0 run and ended up taking a 47-46 lead, but Duke responded with a 6-0 run to force a Tiger timeout.
Hall and Galloway combined for the next 11 Clemson points, including a Galloway 3-pointer to put Clemson ahead 56-54 with 6:24 left. Galloway followed that up with a 3-point play to give Clemson a six point advantage. The Tigers would lead by as many as 10 with 12 seconds left in the game and would finish the game off with an eight-point victory.
Clemson returns to the floor on Tuesday, Jan. 17 when it travels to Wake Forest. Tip time is set for 9 p.m. on RSN.