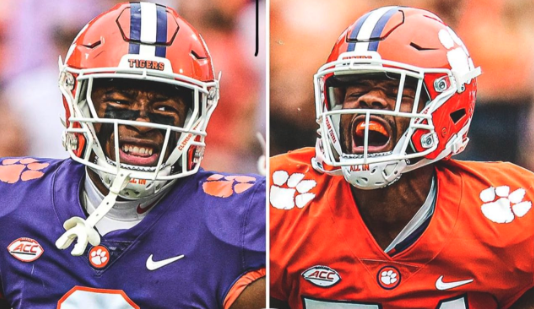 The Walter Camp Football Foundation announced on Friday that Clemson linebackers Jeremiah Trotter Jr. and Barrett Carter have been selected to its 2023 Preseason All-America Team. Trotter earned selection on the first-team defense, while Carter garnered selection on the second team. More information from the Walter Camp Football Foundation is included below.

2023 Walter Camp Preseason FBS All-America Teams, presented by 777 Partners
2023 will mark the 134th edition of the nation's oldest college football All-America team
The 2023 Walter Camp Preseason Football Bowl Subdivision All-America Teams are presented by 777 Partners,a Miami-based private investment firm that invests across several high growth business sectors with a strong focus on financial services. The firm invests across six different industries: insurance, consumer and commercial finance, litigation finance, direct lending, sports, media and entertainment, and aviation. These industries represent areas ofunbridled performance, each one supported by the other in one world-class shared services mode
A Little History
Walter Camp is the nation's oldest college football All-America team. Walter Camp, "The Father of Americanfootball," first selected an All-America team in 1889. Camp – a former Yale University athlete and football coach– is also credited with developing play from scrimmage, set plays, the numerical assessment of goals and tries and the restriction of play to eleven men per side.
The Walter Camp Football Foundation – a New Haven-based all-volunteer group – was founded in 1967 to perpetuate the ideals of Camp and to continue the tradition of selecting annually an All-America team.
Typically announced in early December, the Walter Camp All-America teams are selected by the FBS head coaches and sports information directors.
• From 1889 to 1964, eleven players were selected.
• In 1965, both offensive and defensive teams were picked.
• In 1972, the first punter (Ray Guy, Southern Mississippi) was honored.
• In 1975, the first placekicker (Chris Bahr, Penn State) was selected.
• In 1998, the first-ever Second Team All-America team was recognized.
• In 2001, the first kick returner (Herb Haygood, Michigan State) was picked.
Good to See You Again
Twelve players who earned 2022 Walter Camp All-America First and Second Team honors are on the 2023 preseason list, led by USC junior quarterback Caleb Williams. Williams, who was also selected as the 2022 WalterCamp Player of Year, was a First Team honoree last season. Three other 2022 First Team honorees – Ohio State WR Marvin Harrison, Jr.; Michigan RB Blake Corum; and Indiana KR Jaylin Lucas – are 2023 preseason First Team All-Americans.
FIRST TEAM OFFENSE
| | | | | | |
| --- | --- | --- | --- | --- | --- |
| Pos. | Name, School | Hgt | Wgt. | Class | Hometown |
| WR | Marvin Harrison, Jr., Ohio State * | 6-4 | 2-5 | Jr. | Philadelphia, PA |
| WR | Rome Odunze, Washington | 6-3 | 211 | Jr. | Las Vegas, NV |
| TE | Brock Bowers, Georgia # | 6-4 | 230 | Jr. | Napa, CA |
| OL | Joe Alt, Notre Dame # | 6-7 | 317 | Jr. | North Oaks, MN |
| OL | Olu Fashanu, Penn State # | 6-6 | 323 | Jr. | Waldorf, MD |
| OL | Cooper Beebe, Kansas State | 6-4 | 332 | Sr. | Kansas City, MO |
| OL | Graham Barton, Duke | 6-5 | 311 | Sr. | Brentwood, TN |
| C | Drake Nugent, Michigan | 6-1 | 300 | Gr. | Lone Tree, CO |
| QB | Caleb Williams, USC * | 6-1 | 220 | Jr. | Washington, D.C. |
| RB | Blake Corum, Michigan * | 5-8 | 210 | Sr. | Marshall, VA |
| RB | Quinshon Judkins, Ole Miss | 5-11 | 210 | So. | Pike Road, AL |
| PK | Joshua Karty, Stanford | 6-2 | 207 | Sr. | Burlington, NC |
FIRST TEAM DEFENSE
| | | | | | |
| --- | --- | --- | --- | --- | --- |
| Pos. | Name, School | Hgt | Wgt. | Class | Hometown |
| DL | Jared Verse, Florida State | 6-4 | 248 | Jr. | Dayton, OH |
| DL | Jer'Zhan Newton, Illinois # | 6-2 | 295 | So. | St. Petersburg, FL |
| DL | Dantay Corleone, Cincinnati | 6-2 | 320 | So. | Cincinnati, OH |
| DL | Bralen Trice, Washington | 6-4 | 267 | Jr. | Phoenix, AZ |
| LB | Tommy Eichenberg, Ohio State # | 6-2 | 239 | Gr. | Cleveland, OH |
| LB | Jeremiah Trotter, Jr., Clemson | 6-0 | 230 | Jr. | Hainesport, NJ |
| LB | Harold Perkins, Jr., LSU | 6-1 | 220 | So. | New Orleans, LA |
| DB | Kool-Aid McKinstry, Alabama | 6-1 | 195 | Jr. | Birmingham, AL |
| DB | Kamren Kinchens, Miami | 5-11 | 202 | Jr. | Miami, FL |
| DB | Calen Bullock, USC | 6-3 | 190 | Jr. | Pasadena, CA |
| DB | Kalen King, Penn State # | 5-11 | 190 | Jr. | Detroit, MI |
| P | Kai Kroeger, South Carolina # | 6-4 | 220 | Sr. | Lake Forest, IL |
| KR | Jaylin Lucas, Indiana * | 5-9 | 185 | So. | Houma, LA |
SECOND TEAM OFFENSE
| | | | | | |
| --- | --- | --- | --- | --- | --- |
| Pos. | Name, School | Hgt | Wgt. | Class | Hometown |
| WR | Emeka Egbuka, Ohio State | 6-1 | 205 | Jr. | Steilacoom, WA |
| WR | Xavier Worthy, Texas | 6-1 | 164 | Jr. | Fresno, CA |
| TE | Brevyn Spann-Ford, Minnesota | 6-7 | 270 | Sr. | St. Cloud, MN |
| OL | Zak Zinter, Michigan | 6-6 | 315 | Sr. | North Andover, MA |
| OL | Christian Haynes, Connecticut | 6-3 | 305 | Sr. | Bowie, MD |
| OL | Beaux Limmer, Arkansas | 6-5 | 306 | Sr. | Tyler, TX |
| OL | JC Latham, Alabama | 6-6 | 335 | Jr. | Oak Creek, WI |
| C | Zach Frazier, West Virginia | 6-3 | 306 | Jr. | Fairmont, WV |
| | | | | | |
| --- | --- | --- | --- | --- | --- |
| QB | Drake Maye, North Carolina | 6-4 | 225 | So. | Huntersville, NC |
| RB | Braelon Allen, Wisconsin | 6-2 | 236 | Jr. | Fond Du Lac, WI |
| RB | Raheim Sanders, Arkansas | 6-2 | 237 | Jr. | Rockledge, FL |
| PK | Jonah Dalmas, Boise State | 5-8 | 172 | Sr. | Meridian, ID |
SECOND TEAM DEFENSE
| | | | | | |
| --- | --- | --- | --- | --- | --- |
| Pos. | Name, School | Hgt | Wgt. | Class | Hometown |
| DL | Mykel Williams, Georgia | 6-5 | 265 | So. | Columbus, GA |
| DL | Mekhi Wingo, LSU | 6-1 | 295 | Jr. | St. Louis, MO |
| DL | Chop Robinson, Penn State | 6-3 | 253 | Jr. | Gaithersburg, MD |
| DL | Leonard Taylor, Miami | 6-3 | 305 | Jr. | Miami, FL |
| LB | Jason Henderson, Old Dominion | 6-1 | 225 | Jr. | Dingsman Ferry, PA |
| LB | Barrett Carter, Clemson | 6-1 | 225 | Jr. | Suwanee, GA |
| LB | Jamon Dumas-Johnson, Georgia | 6-1 | 245 | Jr. | Hyattsville, MD |
| DB | Quinyon Mitchell, Toledo # | 6-0 | 200 | Jr. | Williston, FL |
| DB | Ben Morrison, Notre Dame | 6-0 | 179 | So. | Phoenix, AZ |
| DB | Malaki Starks, Georgia | 6-1 | 205 | So. | Jefferson, GA |
| DB | Cole Bishop, LSU | 6-2 | 206 | Jr. | Peachtree City, GA |
| P | Tory Taylor, Iowa | 6-4 | 230 | Sr. | Melbourne, Australia |
| KR | Lideatrick Griffin, Mississippi State # | 5-10 | 185 | Sr. | Philadelphia, PA |
* – 2022 First Team Walter Camp All-America selection
# – 2022 Second Team Walter Camp All-America selection