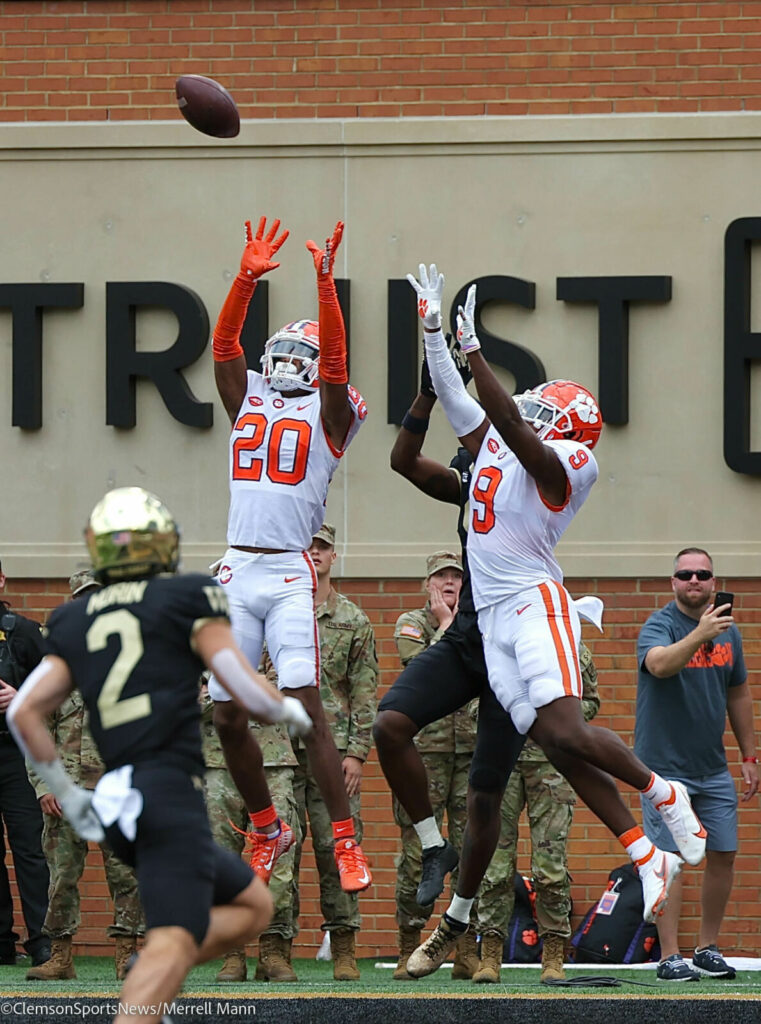 The Midseason Report
By: Grayson Mann
Your Clemson Tigers are 7-0, undefeated, and things appear to be humming as Dabo Swinney and company look toward the final stretch of the season, hoping to accomplish many of the goals they set out to realize as they started the offseason workouts, fall camp and more.
When you write the story of the 2022 Tigers, you must include a prologue chapter detailing how the 2021 season shaped this team for the better. At this time last year, Clemson was 4-3, coming from a crushing loss on the road to Pittsburgh. In this game, they made head-scratching mistakes, DJ was benched, and they lost their starting center for the rest of the year in a season where the injury bug set up a season-long residence in Clemson. It seemed like the rest of the world was ready to count out the Tigers, claiming this was the beginning of the end for Swinney's dynastic run at Clemson. The Tigers blocked out the noise and went on to win six straight, which included a trouncing of the Gamecocks in Columbia, a win over the top ten Demon Deacons, and a bowl win over tough-out Iowa State. The Tigers overcame every type of adversity and spent the spring and summer convincing fans and the college football world that 2021 was a fluke, not the standard.
Words were not going to convince the Clemson faithful; many had hoped this team could will their way back into the postseason, but still had many questions going into the offseason. What would year two with DJ under center look like? Would Cade Klubnik take over the gig? Could this defense carry the load similar to last year? Who would step up at wide receiver? Who replaces NFL corners, Andrew Booth and Mario Goodrich? Can this team stay healthy? As you can see, there was much baggage going into this year and a lot for Clemson to answer. Looking back on what was a chaotic offseason, many of those questions have been answered, with the Tigers standing at 7-0 and in the driver's seat for the ACC crown and a shot at the College Football Playoff.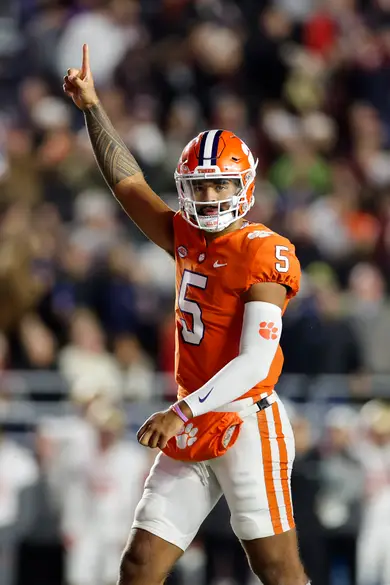 When you compare this first half of the season to 2021, the difference is night and day. DJ Uiagalelei has not only made significant strides within his game but is playing like a top quarterback in the conference and one of the best at his position in the country. DJ is not the only player who has stepped onto the scene as offensively as Beaux Collins and Antonio Williams have been meaningful connections for DJ5, with Williams quickly becoming a fan favorite as he is on his way to a historic freshman campaign within Clemson's history. On the defensive side, Barrett Carter has emerged as one of the best young linebackers in the country, adding an athleticism that this Clemson team has not seen since Isaiah Simmons.
Let's examine each phase of the game: offense, defense, and special teams, and hand out some midseason report cards.
Offense: To say the offense of the Clemson Tigers in 2021 had their struggles would be an understatement. The Tigers, through seven games, just produced twenty points a game, which included four games under that twenty-point mark. To be fair, injuries are a significant reason they struggled, but it was not everything. 2021 would also mark a brand-new transition and significant shake-up within the coaching staff, as Brent Venables and Tony Elliot would accept the head coaching jobs at Oklahoma and Virginia. Brandon Streeter would take over as the new offensive coordinator, who previously served as the passing game coordinator under Tony Elliot. So how has Streeter's side of the ball faired through the first seven games? The good news is that the offense has drastically improved from last year in many areas, but two stand out; red zone efficiency and points per game. Last year, the Tigers struggled to move the ball and consistently put up points on the board, but so far are 35/35 on red zone trips. They have their sure-fire kicker in B.T. Potter, racking up points and the offense making the most of each drive and finding different ways to score. CSN released an article this week about the middle eight, where Clemson's offense has also found success in averaging eleven points per game in that stretch. The offense has been highly opportunistic, scoring on key turnovers and not letting those freebies slip away. The Tigers have also been simply scoring points, averaging around 38 points per game, a near twenty-point jump from last year's first seven games at twenty points per game. Streeter's offense, at times, has struggled to get going and finish games, most notably struggling to start at BC and stalling out in FSU, nearly coughing up a twenty-point lead. Overall, the offense is leaps and bounds ahead of last year, which is worth celebrating. If the team can find ways to finish and start games more efficiently, this team can be considered a national title favorite.
Grade: A-
Defense: As I said above, the story of the 2022 Tigers cannot be told without including the 2021 season as your prologue. The defense is certainly a part of the positive aspect of the infamous 10-3 finish from last year. This defense gave up under 15 points per game with Venables in the driver's seat. The defense was deep and healthy except for Bryan Bresee and kept Clemson in every game. Once Brent left for Oklahoma, it was time for Wes Goodwin to take the keys to the defense. Goodwin previously was the linebackers coach under Venables. The question for Goodwin was could he keep things rolling on defense? Without some hiccups along the way, Goodwin has coached some great games this season with Boston College and NC State, where he held ACC preseason player of the year, Devin Leary, to twenty points with one score coming in garbage time and kept a trap game at bay holding the Eagles to three points on the road.
There were doubts early on in the season when Clemson gave up nearly fifty to Wake Forest, but context is everything. Clemson's secondary came into that game with an arm tied behind their back, and Hartman exploited those injuries to their advantage. Goodwin's defense at times has been exceptional, defending the run, then getting gashed against Florida State. Goodwin's pass defense held Jurkovec and Leary at bay then struggled against Wake. Despite the occasional inconsistencies, the defense has held its own. The offense and defense have had growing pains, but Goodwin and Streeter appear to start gaining comfort within their roles.
Grade: B
Special Teams: Special teams is a part of football that goes entirely under the radar until things go incredibly wrong. B.T. Potter is the one to start with, as he has been efficient all year. Potter's best game came against Wake Forest, where he went 4-4 on kicks, including a 52-yard field goal tied for a career-long. B.T. has also become the highest-scoring kicker in Clemson's history, beating former Clemson kicker Chandler Catanzaro who also kicked in the NFL, following an illustrious career with the Tigers. On the punting side, new punter Aidan Swanson has been a solid replacement for long-time punter Will Spiers who averaged 41.8 yards a punt in 2021. This season, Swanson has been just under that, averaging 40.8 yards per punt. In the return game, we have not seen much from the Tigers, with just two long returns from Shipley and Williams that provided much-needed sparks against Wake and FSU, respectively. Overall, special teams are doing their job and have flown under the radar, with about the same production from 2021.
Grade: B+
This Tigers team has made significant strides and is among the few remaining undefeated squads in college football. They will need to keep things rolling against the top fifteen Syracuse Orange, who come to town undefeated, hoping to pull off a monumental upset.
Offense Grade – A-
How can you NOT give this offense a grade of A-. The contrast between 2021 and 2022 is apples and oranges. At this time last year, Clemson had passed the 30-point line ONCE, against SC State. QB DJ Uiagalelei was completing 54% of his passes, had four touchdowns and five interceptions. His wide receivers were the walking wounded, and the offensive line was still trying to figure it out with several injuries hampering cohesiveness.
Fast forward to 2022, a 7-0 record and 30+ points in every game. The offensive line has played the same five each game, and the WR's have stayed healthy (knock on wood), also adding a future star in freshman Antonio Williams. DJ is completing 64% of his passes, throwing for 17 touchdowns and only TWO interceptions. Could it be better? Absolutely. Sometimes, the production of the offense is directly related to coaching philosophy, and there are times where the coaches might be going a little too conservative, but how do you argue with success? Coach Dabo Swinney is about winning, whether it's by 1 or 20. Based on actual results on the field, you have to give the offense an A-.
Defensive Grade: C-
This defense was supposed to be one of the best in college football. It does have its moments but they aren't all good. Granted, the Tigers are ranked #2 in rushing defense, but pass defense is ranked 94th in the country. There is a direct correlation between these rankings. Teams find it very hard to run against the Tigers, so they pass. Through seven games, teams have thrown 280 passes against the Tiger secondary, completing 179 (64%). Injuries and other "events" have played a big part in the inconsistency but let's be honest. The Tigers have gone against some very good quarterbacks, and it's not over. Tyler Van Dyke (Miami), Malik Cunningham (Louisville) and Garret Schrader (Syracuse) are in line to test out this defense. This is not to mention the ACC Championship game. If UNC stays the course, they could throw Drake Maye into that mix.
The defense is finally healthy and with a week of practice as a unit, look for this team to get better in the 2nd half of the season. While C- is a weak grade for such a "promoted defense", there is plenty of opportunity for Wes Goodwin's charges to up that grade.
Special Teams Grade: B+
BT Potter simply is one of the best place kickers in college football. Potter has been successful on 13 of 15 field goal attempts, and 30-30 in extra points. This is the definition of "money". The punt game, however, has had an up and down season. Aidan Swanson is finally getting his chance to start and is averaging 40.6 yards a punt. Of his 33 punts, six have landed inside the 20.