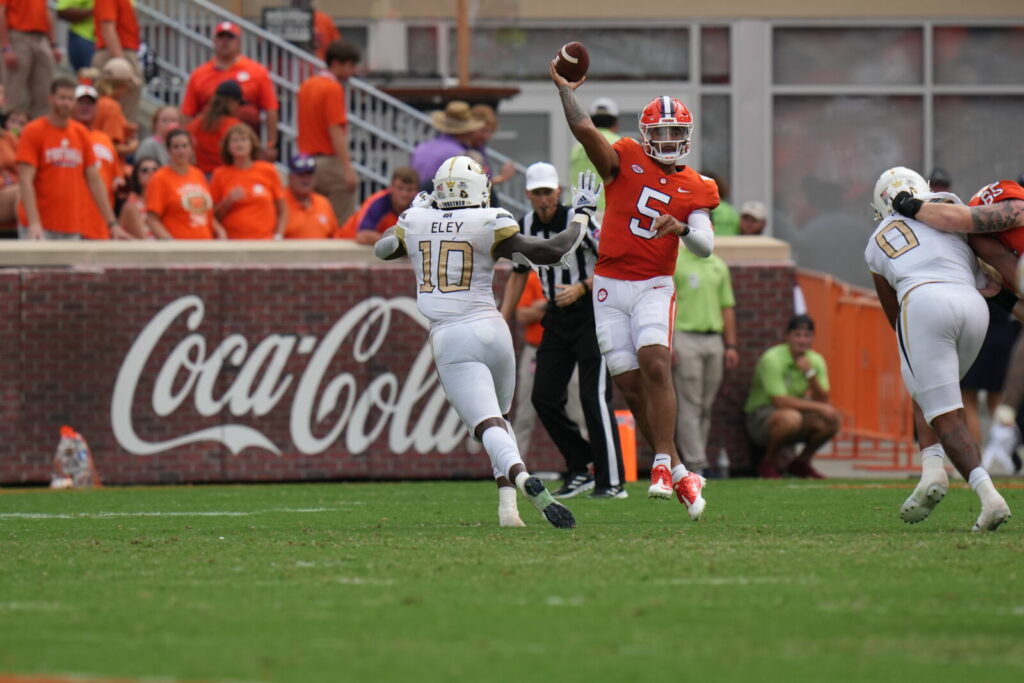 The Clemson Tigers have a spoiled fan base. Yes, it's true. Coach Dabo Swinney's team has put together 10 incredible years. We all know. No need to repeat the National Champions, ACC Championships or College Football Playoff appearances.
Fans have been "Sunday Morning Couch Coaches" forever, it's part of being a fan. We all know more than the coaching staff. It's a given. Do you think that any of us would have handed the ball off to a RB at the one yard line with 15 seconds left on the clock? Heck no, quarterback sneak it and the clock runs out. Game over. Even if that had of happened, the "social coaching staff" would still not have been happy.
For the past six years, Clemson fans flocked to the games to watch former Clemson legends Deshaun Watson and Trevor Lawrence throw the ball all over the field. Even those two had their "What the heck is he doing" moments from the fans. They all do. Last year, Lawrence had to sit out two games due to Covid and current quarterback DJ Uiagalelei started and put up some amazing stats, leading to a bright and prosperous outlook to 2021. What a short honeymoon.
Clemson football did not get into the 2nd half before a certain portion of the fanbase were calling to bench DJ and "give the 2nd team guy a chance." This rhetoric went on for two weeks and died down over the SC State game, but reared its ugly head once again in this past weekend's game with Georgia Tech. Facebook, Twitter, Instagram, you name it. The "social media coaching staff" was in full force. "The offensive line stinks." "Maybe we need to bench DJ." "Elliott and Caldwell need to go." On and on and on and on. I even saw one guy defend his rhetoric by saying "Ya know, I'm a better fan than you because I am pissed off." Really?
Coaches and players see this stuff. These kids and coaches are working hard every day out on the practice field. It's their blood, sweat and tears that hit the playing field, not the fans, but it just doesn't register with a certain portion of fans that think it's their "right" to complain when things aren't going the way THEY think should be done. Hey, go for it.
The fans that have come onboard the last 10 years have only known success. The fans of years and years appreciate the current success. We have lived through the 2-9 seasons, the 4-7 seasons. The Florida State teams who dominated Clemson and the ACC for years. The Spurrier years that led to the 5-game winning streak that coot fans will cherish forever, though it will never happen again.
The Clemson fan base is no different than any other college football fan base. They get mad when we lose. Maybe "mad" isn't the right word. Hurt? Disappointed? Upset? No one likes to lose. Clemson hasn't done it very often in the last 10 years so it's not something Clemson fans are accustomed to. The fans have also come to expect winning big every weekend. This Clemson team has the tools and the experience to carry on that tradition of winning big, but they are off to a slow start. Time to leave the coaching to the coaches and playing to the players, and enjoy the ride. It is already three games into a long season, it will be over before you know it.