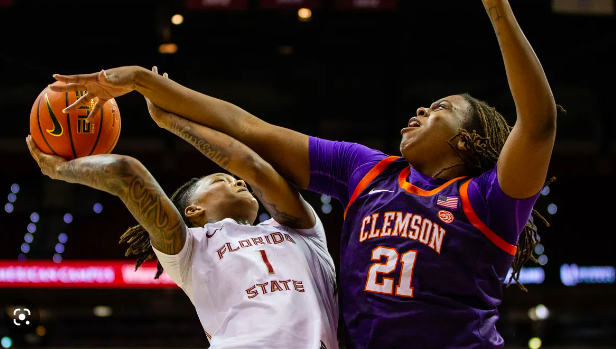 Clemson Falls at Florida State
Tallahassee, Fla. – Ta'Niya Latson finished with 31 to lead Florida State by Clemson, 93-62, on Thursday evening inside the Donald L. Tucker Center in Tallahassee, Fla. The win moves the Seminoles to 15-2 (4-0 ACC) on the season, while the loss drops the Tigers to 11-5 (2-2 ACC).
Clemson was led by Daisha Bradford, Amari Robinson and Ruby Whitehorn on the night with 13 points each, while Bradford also added eight rebounds and six assists and Robinson pulled down nine boards. Eno Inyang finished the night with her first-career double-double, with 10 points and 11 rebounds.
Florida State jumped out to the early 14-4 lead in the first quarter, but Clemson, led by Inyang, was able to cut the lead to three at 18-15. Florida State used a 8-0 run to end the quarter to take an 11-point lead after the game's first 10 minutes. The Seminoles opened up a 19-point lead over the Tigers in the second quarter, taking an 18-point advantage into the halftime locker rooms.
Robinson single handedly kept the Tigers in the game in the third quarter, scoring 13 points on 5-of-6 shooting with three threes. Clemson cut the lead to 11 twice, but Ta'Niya Latson used her own 6-0 run to close out the quarter and push FSU's lead back to 17 heading into the game's final ten. Florida State outscored Clemson 26-12 in the final quarter to seal the victory.
The Tigers return to the court on Sunday, welcoming Syracuse to Littlejohn Coliseum for a 2:00 p.m. matchup.