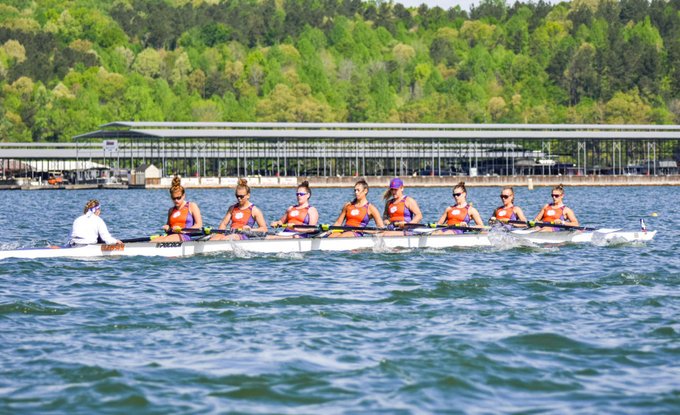 Clemson Earns Gold in Two Grand Finals at Lake Wheeler Invitational
RALEIGH, N.C. — With an outstanding performance that bodes well for the upcoming ACC Championship, Clemson took home the gold in two grand finals at the Lake Wheeler Invitational on Saturday. The Tigers won a pair of nail-biters, defeating runner-up No. 13 Duke by less than a second in both the 2V8+ and 1V4+ grand finals.
Clemson earned silver for its overall showing, finishing with an impressive 82 points, just one shy of gold medalist Duke and its 83 points. Central Florida rounded out with podium by collecting bronze with 66 points. Miami and North Carolina tied for fourth with 45 points, while Boston College came in sixth with 24 points. Wisconsin's lightweight squad finished in seventh with 20 points, and Stetson placed eighth with 17 points.
On a cool, cloudy Saturday morning with light winds, the Tigers fared well on the waters of Lake Wheeler. In addition to winning its 2V8+ and 1V4+ races in thrilling fashion, Clemson was the runner-up in the 1V8+, 2V4+ and 3V8+ grand finals. A strong showing in Friday's heats foreshadowed the Tigers' excellence in Saturday's finals, and Clemson lived up to expectations and then some, earning first place in a race over a ranked opponent for the first time since 2018. Better yet, the Tigers accomplished that feat twice by edging out Duke, the lone ranked team competing in the event, in two grand finals.
Coxswain Katie Herbolsheimer and the Clemson 2V8+ boat overcame a shaky start on Saturday and roared into the lead down the stretch, crossing the finish line with a winning time of 6:49.802. Prior to that, the Tigers' 1V4+ boat, which was coxed by Julia Suplick, defeated Duke to give Clemson its first victory in a race featuring a ranked opponent in three years. The Blue Devils won gold in the 1V8+ grand final to close out the two-day, eight-team regatta, giving them the overall gold for the event, which Duke and North Carolina co-hosted.
Clemson will renew its rivalry with Duke when the Blue Devils and other conference opponents head to Clemson, S.C., for the ACC Championship on May 14-15. The Tigers are hosting the event at their Lake Hartwell boathouse. The heats will take place on Friday morning, and the finals will close out the ACC rowing season on Saturday morning.
For complete coverage of the Clemson rowing team, follow @ClemsonRowing on Facebook, Instagram and Twitter.
Results:
Point Totals
1. Duke 83
2. Clemson 82
3. Central Florida 66T4. Miami 45
T4. North Carolina 45
6. Boston College 24
7. Wisconsin 20
8. Stetson 17
1V8+
1. Duke 6:42.649
2. Clemson 6:46.106
3. Central Florida 6:50.126
4. Miami 6:52.599
2V8+
1. Clemson 6:49.802
2. Duke 6:50.088
3. Central Florida 7:02.932
4. Miami 7:16.368
1V4+
1. Clemson 7:33.477
2. Duke 7:33.941
3. Central Florida 7:39.291
4. North Carolina 7:50.741
2V4+
1. Duke 7:38.248
2. Clemson 7:41.168
3. Central Florida 7:46.015
4. North Carolina 7:47.742
3V8+
1. Duke 7:05.794
2. Clemson 7:09.351
3. Central Florida 7:13.614
4. North Carolina 7:30.710
5. Miami 7:41.781
Clemson Lineups:
1V8+
Kate Hadley (Cox), Rachel Twitty (Stroke), Anna Luttrell, Lori Belanger, Cate Schrieber, Kaley Wojciechowski, Isabel Velasquez, Claudia Scherbin, Maura Chozick
2V8+
Katie Herbolsheimer (Cox), Bridget Kane (Stroke), Jaysen Hall, Meghan McLean, Ikelle Iturbe, Karli Robinson, Elise Sum, Auburn Dantice, Alex Thull
3V8+
Christina Minyo (Cox), Charlotte Taylor (Stroke), Abby Dutton, Isabella Dudley, Amelia Rinehart, Gracie Collins, Kaila Wallace, Summer Ratley, Alexis Holliday
1V4+
Emily Ash (Stroke), Ellie Loehrer, Jasmine Lewis, Cate Smith, Julia Suplick (Cox)
2V4+
Emerey Sampson (Stroke), Pepper Kolman, Avery Howard, Caroline Emerson, Sarah Adams (Cox)